If you want to use Snap Camera for Zoom and Google Meet to enjoy its magic Lenses during a video chat, what should you do? It is an easy task if you follow this guide from MiniTool. Now, let's look through it to find some details here.
You may have heard of this camera app – Snap Camera that is funny since it can bring the magic of Lenses to your live streams and video chats on PC & Mac. This can let you express yourself via Lenses, Bitmoji, Filters, and more.
Snap Camera can be used on Zoom, Google Chat, etc. for video chats with Lenses to make collaboration a bit fun. Well then, do you know how to use Snap Camera on Zoom & Google Meet? Move to the next parts to find the answer.
Snap Camera for Zoom
Download Snap Camera and Zoom
To use Snap Camera app for Zoom, you should make sure Zoom and Snap Camera are downloaded and installed on your Windows PC.
Tips:
Make sure your PC meets the system requirements of Snap Camera and Zoom before downloading them. Or else, you cannot use them. To find these demands, search for them on their official websites.
There are two useful related posts for you to refer to:
After installing them, launch Snap Camera via the search box on your PC, and then choose a filter to use on your face. Or you can search for a filter by typing a term in the Search field. Then start the next step.
Set up Snap Camera on Zoom
How to get Snapchat filters on Zoom? Launch Zoom and sign in it. Then, you can start the setup of Snap Camera.
Click the gear icon to open the Settings menu.
In the Video tab, go to Camera and choose Snap Camera from the drop-down menu as your input camera.
Now, you can make a meeting with a filter of Snap Camera that you have chosen. During a meet, you can change the filter. Just change a different one in Snap Camera and your face in Zoom will also change with that appearance.
Tips:
To return to your normal face, turn off Snap Camera and go to Zoom settings to choose your main camera from the Video tab.
Snap Camera for Google Meet
After knowing how to use Snap Camera on Zoom, some of you may want to use Google Meet for a video meeting. Well then, how to use Snap Camera on Google Meet? It is also easy to do and let us go to see the steps below.
Similarly, you need to download Snap Camera and install it on your PC. Launch it and choose a lens you wish to use in Google Meet. Then, set up Snap Camera in Google Meet.
Step 1: Visit the website of https://meet.google.com/ and sign in.
Step 2: Click Settings on the home page to open a dialog.
Step 3: In the Video tab, choose Snap Camera from the Camera section. Now after finishing the setup, you can start a funny meeting with Snapchat filters of Snap Camera.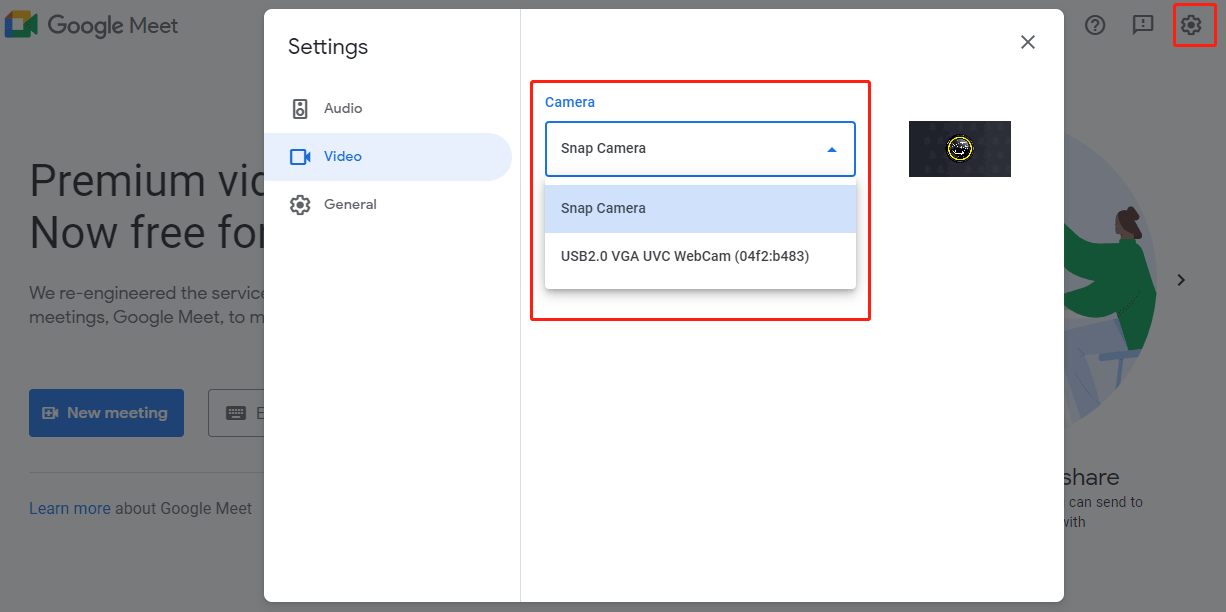 Final Words
That's the detailed information about Snap Camera for Zoom and Google Meet. If you want to have a funny video meeting with your friends or others, follow this guide to get Snapchat filters on Zoom and Google Meet.