What is Spotify? How to download Spotify for Windows 10/11 or Mac? How to install Spotify it on your machine? How to update Spotify? After reading this post from MiniTool, you can find answers to these questions and now let's go straight to the point.
What Is Spotify
Spotify is a free and popular music, podcast, and video service. On Spotify, you can play millions of songs, podcasts, and other content on your multiple devices including computers (Windows PCs and Macs), Android/iOS phones & tablets, speakers, TVs, and cars.
Spotify offers a free edition that allows you to play any song/album/artist/playlist/podcast, browse hundreds of readymade playlists, enjoy audiobooks and videos, get recommendations based on your taste, etc. To sum up, the basic functions are supported in Spotify Free Edition.
To get some advanced features like downloading tunes and playing offline, getting even better sound quality, listening without ads, etc., upgrade to the Premium edition.
If you want to get Spotify on your device, how to do it? Move to the next part to know more.
Spotify Download for PC (Windows 11/10)
To download Spotify for Windows 10/11 PC, there are multiple ways for you and let's see them.
Spotify Download via Official Website
Click the Download button and you will get the SpotifySetup.exe file.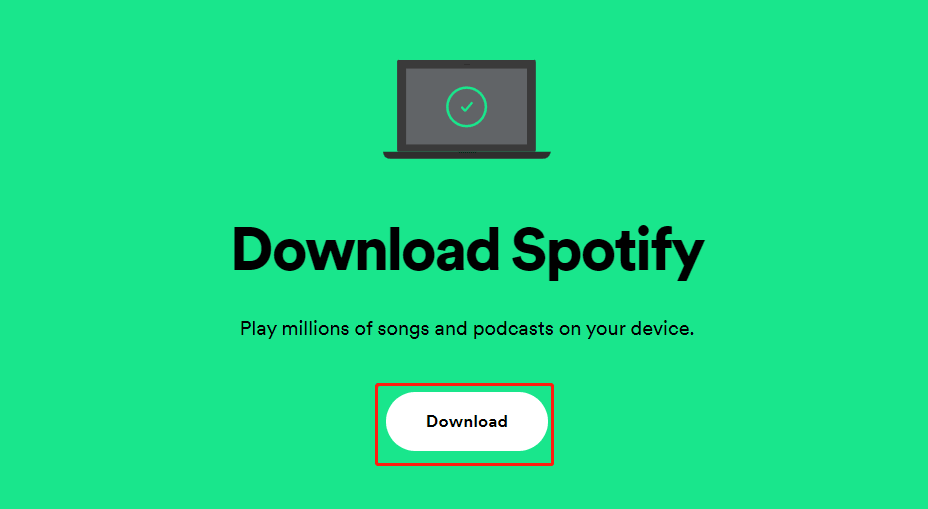 Spotify Download via Microsoft Store
Launch Microsoft Store in Windows 11/10.
Type Spotify in the search box and press Enter.
Click the Get button to download and install the music app on your PC.
Spotify Download via Uptodown
In addition, you can get Spotify via some third-party web pages and here we recommend the uptodown website. You can get some old versions and the latest versions from it.
Visit the page of Spotify for Windows from Uptodown.
Click the button of Latest version to download Spotify (the current version 1.1.87.612) or click Older versions to download the old one.
Install Spotify for Windows 11/10 PC
How to install Spotify on your computer? Just double-click on the setup file and the installer is downloading & installing Spotify. This may take 2 minutes (in our situation). After that, the Spotify app will open automatically. Log in and use it.
Spotify Download Mac & Install
If you are using a Mac, how to download Spotify on your machine? The official website allows you to download it and go to visit the page of Mac download - Spotify and then click the Download button to get the SpotifyInstaller.zip file. Unzip this file and install the app on your Mac with the Install Spotify setup.
Spotify Download for Android or iOS
If you want to use Spotify on your Android device, download and install it via Google Play Store. For iOS devices, go to App Store to get this app.
Spotify Update
How to upgrade Spotify if there is a new available update? Launch it, go to click the menu button (a blue dot is next to it), and then click Update Available. Restart Now.
If you want to update Spotify on your Android, find Spotify in Google Play and update it. On iOS, access App Store to find Spotify and update it manually.