Starfield is on the way. Are your PC ready for it? Now, you can check the Starfield system requirements in this
MiniTool
post to get your PC ready. Additionally, you can also get MiniTool software to help you upgrade your device and
recover lost and deleted files
on a PC.
Starfield's initial release date: September 6, 2023.
What Is Starfield?
Starfield is an upcoming action role-playing video game developed by Bethesda Game Studios and published by Bethesda Softworks. In 2018, it was formally announced during Bethesda's E3 presentation. After a long wait, there is definite news of its release. It is scheduled to be released on September 6, 2023 for Microsoft Windows and Xbox Series X/S.
Starfield on Steam
Starfield System Requirements
Starfield System Requirements are up. Not all computers can play this game.
Can I run Starfield on my Windows PC?
If you want to play this game on a Windows PC, your device should meet the Starfield PC requirements. How about Starfield specs for PC? Here are the minimum requirements and recommended requirements:
Starfield Minimum Requirements
The basic system requirements enable you to play Starfield at 720p or 1080p with a solid frame rate of 30 FPS on Low settings.
OS: Windows 10 version 21H1 (10.0.19043)
Processor: AMD Ryzen 5 2600X, Intel Core i7-6800K
Memory: 16 GB RAM
Graphics: AMD Radeon RX 5700, NVIDIA GeForce 1070 Ti
DirectX: DirectX Version 12
Storage: 125 GB available space
Additional Notes: SSD required
Starfield Recommended Requirements
The recommended Starfield system requirements allow you to experience medium or high settings, and enable you to enjoy a decently high framerate while playing at 1080p or 1440p.
OS: Windows 10/11 with the latest updates
Processor: AMD Ryzen 5 3600X, Intel i5-10600K
Memory: 16 GB RAM
Graphics: AMD Radeon RX 6800 XT, NVIDIA GeForce RTX 2080
DirectX: DirectX Version 12
Network: Broadband Internet connection
Storage: 125 GB available space
Additional Notes: SSD required
It's best if your computer meets the recommended system requirements.
Upgrade from HDD to SSD to Meet the System Requirements
From the above Starfield system requirements, you can see that HDD is not compatible. If you are using a hard disk drive but you want to play this game, you will need to upgrade your HDD to SSD for your computer.
To make thing easier, you can use MiniTool Partition Wizard. This is a professional partition manager that can help you migrate OS to another SSD/HDD, copy disk or partition, create or delete partition, etc.
You can use the Migrate OS to SSD/HD feature of this software to help you replace the HD with an SSD without data loss and without reinstalling Windows.
Now, you should prepare an SSD that has enough space to complete the OS migration, data transfer, and Starfield playing. Then, connect it to your computer.
Step 1: Download and install MiniTool Partition Wizard on your computer.
MiniTool Partition Wizard FreeClick to Download100%Clean & Safe
Step 2: Open the software, then click the key icon on the top to get a full edition.
Step 3: Click Migrate OS to SSD/HD from the left menu.
Step 4: Select I would like to replace my system disk with another hard disk if you want to replace the old HD. Of course, you can select I would like to move my operating system to another hard disk. And keep the original hard disk in my computer if you only need to clone the system to the SSD.
Step 5: Select the source disk and the destination disk.
Step 6: Follow the wizards to complete the task.
After these steps, you can make your computer boot from the SSD.
Recover Data if Some Files Get Deleted or Lost by Mistake
If you are looking for a data restore tool to help you get your lost and deleted files back, you can try MiniTool Power Data Recovery. This software can recover files from SSDs, HDs, SD cards, USB flash drives, and more.
With the MiniTool Power Data Recovery Free Edition, you can scan the drive to find your needed files and recover no more than 1 GB of files without paying any cent.
MiniTool Power Data Recovery FreeClick to Download100%Clean & Safe
After downloading and installing this software on your PC, you can use these steps to recover your data:
Step 1: Launch the software to enter its main interface.
Step 2: Hove over the drive you want to recover data from, then click the Scan button to start scanning the drive.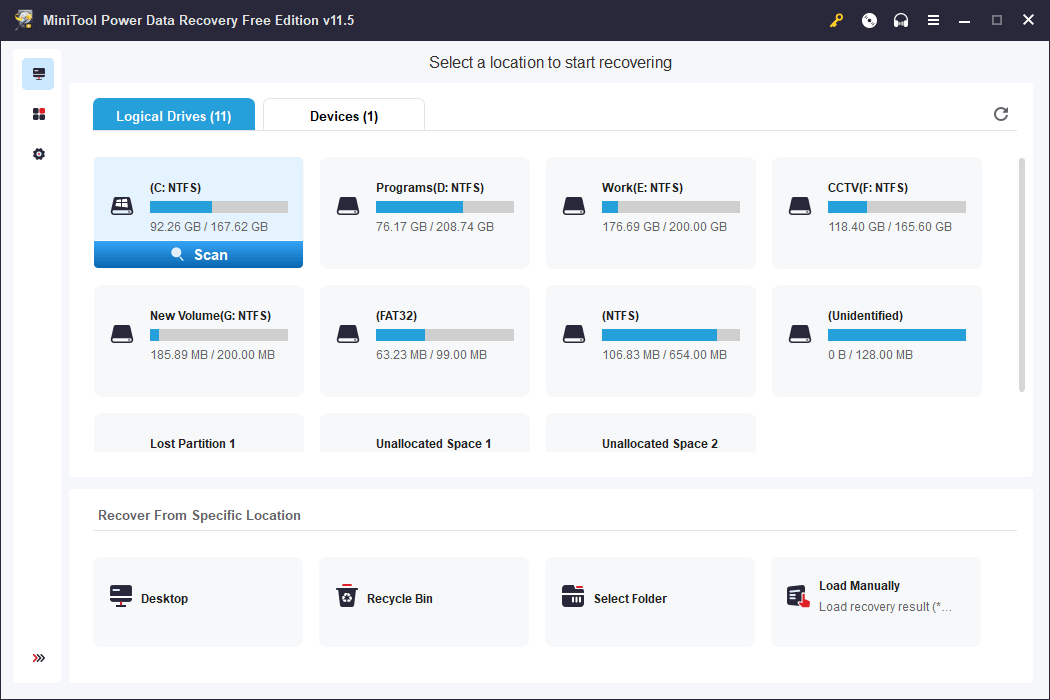 Step 3: When you scanning process ends, you can find your needed files from the scan results and select them.
Step 4: Click the Save button and choose a suitable folder to save them. The destination folder should not be the original location of the missing files. Otherwise, the deleted files could be overwritten and become unrecoverable.
If you want to use this software to recover more data, you can use a full edition.
Bottom Line
Want to play Starfield on your Windows computer? Your PC should meet the minimum system requirements for Starfield. This post lists the minimum and recommended system requirements. You can check if your PC can run Starfield.