Summary :
The error "the TPM could not be initialized" is a common issue on your Dell PC. If you are running into this annoying warning, how can you fix it in Windows 11? Now you can read this post from MiniTool to find solutions to fix the TPM error.
TPM Could Not Be Initialized Windows 11
Windows 11 is a brand new operating system from Microsoft and it brings a new user interface and features. To install it on your PC, the computer should meet the minimum system requirements of Windows 11. Among them, Windows 11 can only be installed on devices that have TPM 2.0.
However, according to users, an error message may appear saying "Warning: The TPM could not be initialized" when booting up your Windows 11 PC. This error often happens on a Dell computer.

Once starting with Windows 11, the operating system initializes at once and controls the TPM device. This is different from the previous systems, in which you must initialize TPM and set a password before using the machine. If there is an Internet connection, TPM may fail during Windows 11 startup, leading to the TPM Windows 11 error mentioned here.
Well then, how can you get rid of the not initialized TPM warning on Windows 11 PCs? Go to find solutions from the following part.
Solutions to Error "TPM Could Not Be Initialized" Windows 11
Disable TPM in BIOS
This is a useful solution that has been proved by some users. See how to disable TPM on your Dell PC.
Step 1: Boot your Dell computer and press F2 to enter the BIOS menu.
Step 2: Go to the Security tab on the left side and expand it.
Step 3: Click on the TPM option and then check the box of Disabled on the right side.
Step 4: Select Apply and reboot your computer to see if the TPM not initialized error is fixed.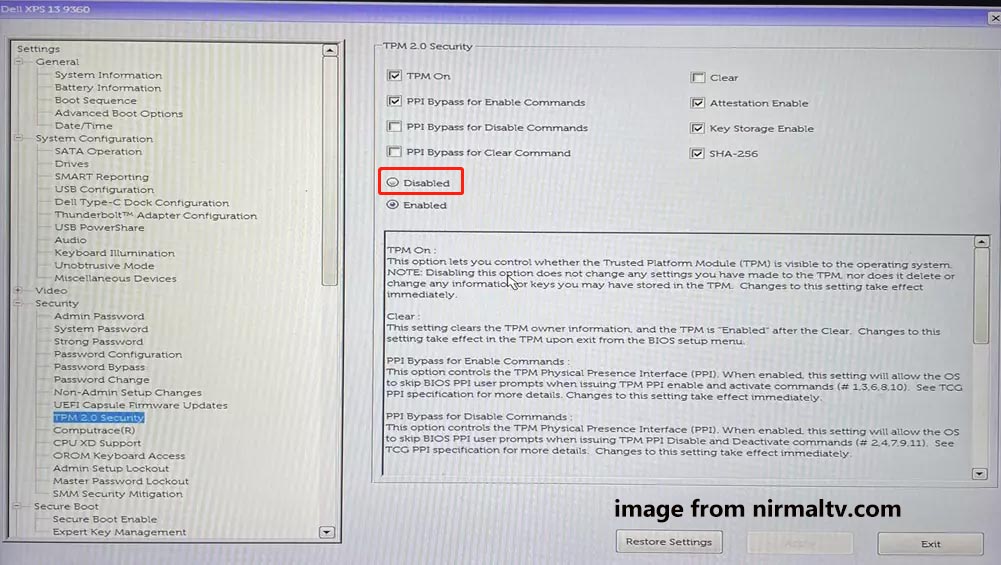 Disable Firewall on Windows 11
In Windows 11, network connection issues can lead to the uncompleted initialization of the TPM. This can happen on a PC that is separated from the domain by a firewall. To fix the error "TPM could not be initialized", try disabling Firewall to fix it.
Step 1: Type control panel to the search box and click the result to launch this app.
Step 2: Click System and Security > Windows Defender Firewall.
Step 3: Click Turn Windows Firewall On or Off and choose Turn Off Windows Firewall (Not Recommended).
Step 4: Click OK to save the change.
Clear TPM from the BIOS Menu
If your issue still appears, you can try to clear TPM from BIOS. Note that clearing TPM can lead to data loss and you should back up any data protected by TPM. After clearing it, it is also turned off.
How to back up Windows 11 computer to an external hard drive, USB flash drive, or other devices? See this post that focuses on Windows 11 backup.
Here is how to do it:
Step 1: Press F2 to enter BIOS when restarting your Dell PC.
Step 2: Choose Security, click the TPM option and then select Clear from the right side.
Step 3: Save the change and reboot the PC to see if the issue is resolved.
Related article: Your Computer's Trusted Platform Module Has Malfunctioned
Final Words
If you are encountering the error "TPM could not be initialized" on Windows 11 Dell PC, take it easy and you can fix it after trying these solutions above. Have a try now. If you have any other methods to fix the TPM Windows 11 error, leave a comment below.