Summary :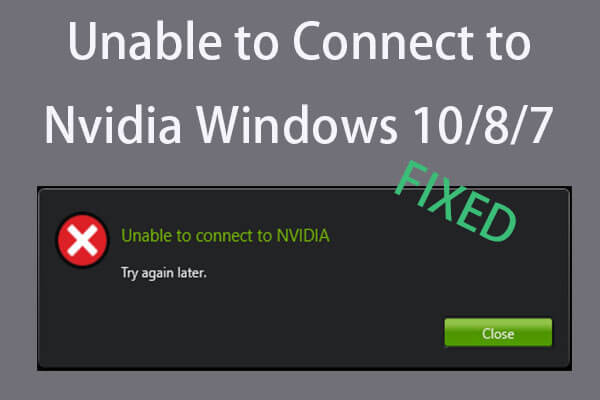 If you receive an error message "Unable to connect to Nvidia, Try again later." on your Windows 10/8/7 computer when you try to use Geforce Experience to update your display driver, you can check the 3 solutions in this post to fix this error. For other errors like data loss, computer backup and restore, MiniTool software helps.
When you meet the "Unable to connect to Nvidia" error on your Windows 10/8/7 computer, it often occurs with Nvidia Geforce Experience app. Geforce Experience is a part of Nvidia graphics driver. It can optimize game settings, automatically update video drivers, record videos, etc.

If you encounter this error on your computer, you can firstly check your Internet connection. Still, there are some other solutions to help you fix Unable to connect to Nvidia error on Windows 10/8/7. Check the 3 methods below.
Fix 1. Update Nvidia Graphics Card Driver
Outdated Nvidia graphics card driver may the cause of this issue. You can follow the steps below to update Nvidia graphics card driver.
Step 1. Open Device Manager on Windows 10. You can click Start, type device manager, and click Device Manager to open it.
Step 2. Click Display adapters in Device Manager window to expand it.
Step 3. Right-click on your Nvidia graphics card and select Update Driver.
Step 4. Then select Search automatically for updated driver software. And Windows will start automatically searching, downloading and installing latest version for your Nvidia graphics card.
Step 5. Restart your Windows 10/8/7 computer, and check if the Unable to connect to Nvidia error has been fixed.
Tip: You can also click Uninstall Device in Step 3 to uninstall the Nvidia graphics driver, and download the Nivida driver from Nvidia official website.
Windows 10 repair, recovery, reboot, reinstall, restore solutions. Learn how to create Windows 10 repair disk, recovery disk/USB drive/system image to repair Windows 10 OS issues.
Fix 2. Update Geforce Experience to Fix Unable to Connect to Nvidia Error
You can also upgrade the Geforce Experience to a newer version to see if it can solve this error on Windows 10. You can manually download the latest version of Geforce Experience from its official download site.
Fix 3. Solve Unable to Connect to Nvidia Issue by Disabling Nvidia Services
If the Nvidia Network Service is stuck in starting, it can cause the "Unable to connect to Nvidia" error, and it would also cause network connection issues. Follow the steps below to fix this error.
Step 1. You can press Windows + R, type services.msc, and press Enter to open Windows Services tool.
Step 2. Scroll down to find NVIDIA Network Service. Make sure its status is Starting.
Step 3. Then you can go to C:\ProgramData\NVIDIA Corporation\NetService\, find and delete NSManagedTasks.xml document. If you don't see this file, you can click Show Hidden Files in the main menu and check again.
Step 4. Then you can press Ctrl + Shift + Esc shortcut key to open Task Manager. Click Details tab, find and right-click NvStreamNetworkService.exe, and click End Task.
Step 6. At last, open Windows Services tool again and right-click NVIDIA Network Service and click Start to start it.
Bottom Line
With the 3 methods above, you should be able to fix the "Unable to connect to Nvidia" error now. If you have better ways to fix this issue, you can share with us.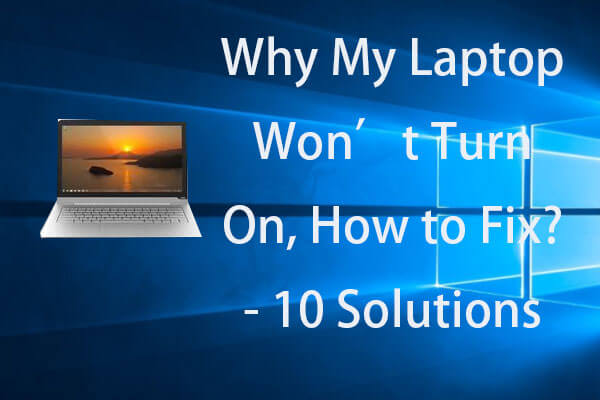 Why my laptop won't turn on? Check the 10 troubleshooting tips to fix (Windows 10) laptop/computer won't turn on or boot issue, incl. Asus/HP/Acer/Dell/Lenovo.