If you want to get information about the WAN Miniport, this post is what you need. You can know what WAN Miniport is, how to update the WAN Miniport driver and how to fix WAN Miniport driver issues? Now, this post from MiniTool provides details.
What Is WAN Miniport
A WAN (wide area network) is a telecommunications network used to cover a wide area. The WAN Miniport is a software adapter used by the operating system to access the WAN. In most cases, the WAN Miniport is used to connect to the Internet via the point-to-point protocol over the Ethernet connection.
There are two types of WAN Miniport drivers:
NDIS WAN - Supported by the old and new versions of the operating system, like other types, it manages the data transfer to and from the computer through the network adapter card.
CoNDIS WAN - Retains more functions for controlling WAN data communication, but is only supported by newer operating system versions.
How to Connect Through WAN Miniport
Then, we will introduce how to connect through WAN Miniport. Follow the guide below:
Step 1: Open Control Panel. Then, choose view by Category.
Step 2: Next, choose View network status and tasks in the Network and Internet part.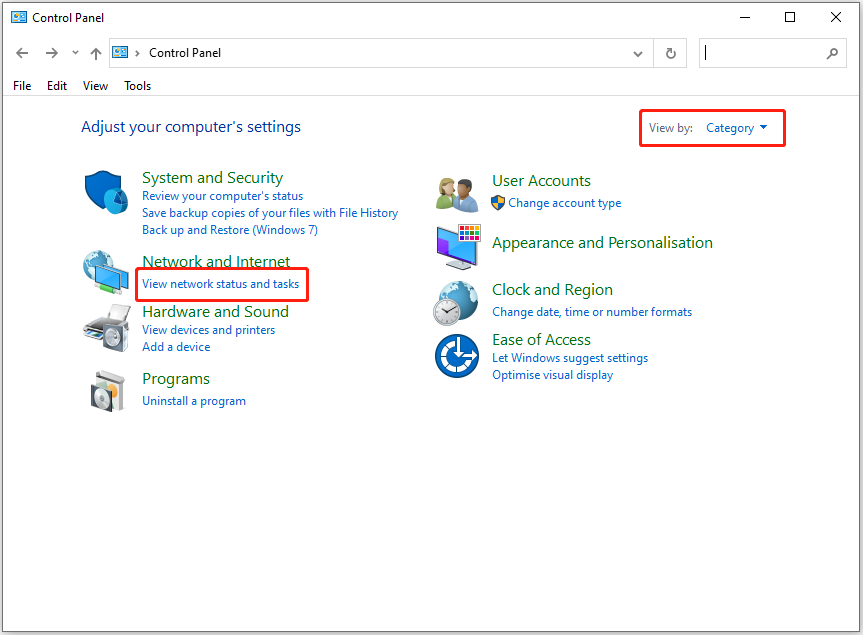 Step 3: Click the Set up a new connection or network link. Select Connect to the Internet and click Next.
Step 4: Click Broadband (PPPoE), and enter your user name in the User Name box and your password in the Password box. Type a name for your new connection in the Connection Name box.
Step 5: Click the Connect button to create and test the PPPoE connection.
How to Update WAN Miniport Driver
For your Internet connection to work smoothly and quickly, your WAN Miniport driver should always be kept up to date. Here is how to update WAN Miniport driver.
Step 1: Click the Search icon from Taskbar, type device manager, and click the relevant search result to open this app.
Step 2: Double-click the Network adapters category and select WAN Miniport.
Step 3: Then right-click it to choose the Update driver option.
Step 4: After that, you can choose the Search automatically for updated driver software option, and Windows will search your computer and the Internet for the latest driver software for your device.
If there is a newer update, it will be downloaded and installed automatically. Then, update your Windows to check if the problem still exists.
How to Fix WAN Miniport Driver Issues
Sometimes, you may encounter WAN Miniport driver issues when using it. Here is the users' feedback.
So an issue that has had me stumped for a few days now, after configuring a VPN connection through Windows 10, I noticed the necessary Wan MiniPorts are missing from Device Manager.
How to fix the issue? You can follow the guide below:
A clean and tidy computer is one of the best ways to fix the WAN Miniport issue. Thus, it's recommended to run SFC and DISM to fix it.
Step 1:  Input command prompt in the Search box. Then right-click Command Prompt and select Run as administrator to open the command window.
Step 2: Type the command sfc /scannow and then press Enter.
Wait patiently until the verification process 100% complete. Then reboot the computer to see whether the pmropn.exe issue still exists.
If sfc /scannow command is unable to fix pmropn.exe issues, you can run DISM to fix the Windows system image. So, to solve this DISM error code, please type the correct command.
Dism /Online /Cleanup-Image /CheckHealth
Dism /Online /Cleanup-Image /ScanHealth
Dism /Online /Cleanup-Image /RestoreHealth
After that, you can check whether you still encounter the WAN Miniport issue.
Final Words
How to connect through WAN Miniport driver? How to fix WAN Miniport driver issue? I hope now that you have found the answers in this post.