Quite a few people complain that they encounter DirectX unrecoverable error Warzone when gaming. Usually, this error has nothing to do with the game servers. Let's learn how to fix it by checking out this guide on MiniTool Website.
DirectX Encountered an Unrecoverable Error Warzone
Wondering why Warzone DirectX encountered an unrecoverable error? How to fix it? Don't worry, you are not alone because many other players are also complaining about DirectX unrecoverable error Warzone. Stop complaining now! Your problems can be fixed easily in this troubleshooting guide.
How to Fix Warzone DirectX Error Windows 10/11?
Fix 1: Check System Requirements
Your PC build may not meet the minimum system requirements of the game hence causing Warzone DirectX error. Just click here to see whether your computer meets these requirements or not. If not, it's time to upgrade.
Fix 2: Update DirectX
After checking the system requirements, you will see that Call of Duty: Warzone requires you to have at least DirectX 11. Here's how to update your DirectX:
Step 1. Press Win + R to bring up the Run dialog.
Step 2. Type dxdiag and hit Enter to launch DirectX Diagnostic Tool.
Step 3. In the System section, check your current DirectX Version.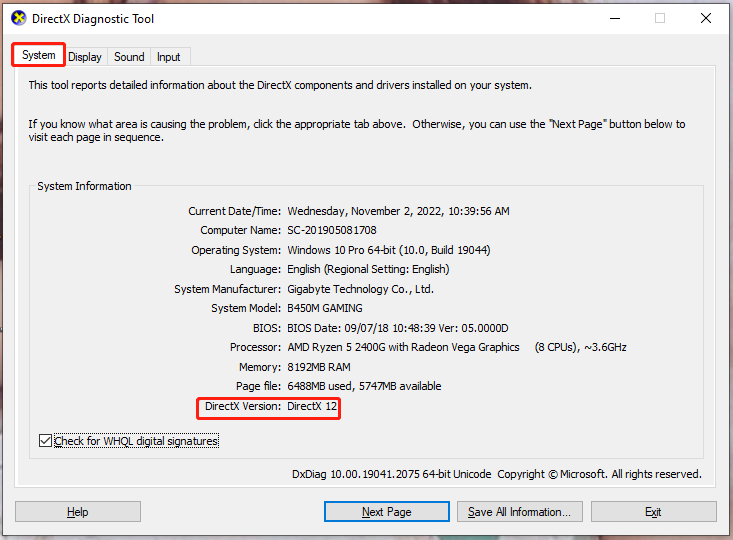 Step 4. DirectX will update automatically during the Windows Update process. If you need to update it, you can go to Settings > Update & Security > Windows Update > Check for updates.
Fix 3: Run Warzone in DirectX 11 Mode
If you are running the game on DirectX 12 mode at the moment, but you still encounter Warzone DirectX error. You can try running the game on DirectX 11 mode instead of DirectX 12 mode. It's reported that this method helps some people out. Follow these guidelines:
Step 1. Open the Battle.net launcher and find Call of Duty: Warzone from the game list.
Step 2. Press Option or the gear icon and then choose Game Settings.
Step 3. In Game Settings, check Additional Command Line Arguments.
Step 4. Type -DD11 and hit Done to save the changes.
Fix 4: Repair Game Files
The culprit of DirectX error Warzone can also be the corrupted or missing game files. You can use the Scan and Repair option to verify the integrity of game files.
Step 1. Open the Battle.net client and choose Call of Duty: Warzone in the left pane.
Step 2. Go to Options > Scan and Repair > Begin Scan.  
Fix 5: Update Graphics Driver
Call of Duty: Warzone relies on your GPU heavily. If the driver is outdated, it is likely to trigger some errors such as Warzone DirectX error. Here's how to update your graphics driver:
Step 1. Press Win + R to open the Run box.
Step 2. Type devmgmt.msc and hit Enter to launch Device Manager.
Step 3. Click Display adapters to show your graphics driver and right-click on it to select Update driver.
Step 4. Hit Search automatically for drivers to update your graphics driver automatically.  
Fix 6: Disable Background Apps
It is necessary to exclude the interference of background apps because they might also cause Warzone DirectX error.
Step 1. Right-click on your taskbar and select Task Manager in the drop-down menu.
Step 2. Under Process, check the apps that eat up the most resources and right-click them one by one to choose End task.