Summary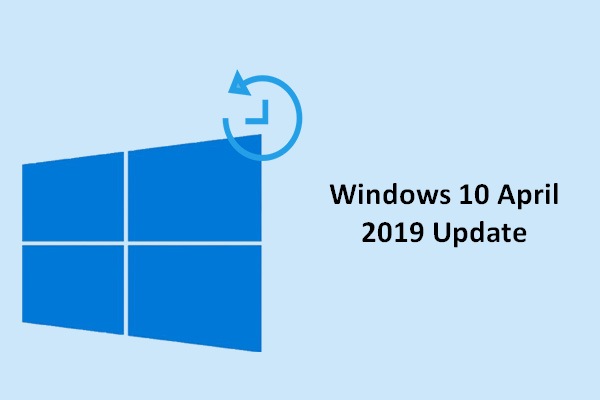 As you know, the next major release of Windows 10 is called April 2019 Update. It is actually the version 1903 and has a code name of 19H1. The new version includes some features and improvements. To know more details of the April 2019 Update, you should read the following content.
According to Microsoft, its next big feature update for Windows 10 is coming. This is the first major update in 2019 for the constantly-evolving Windows 10 operating system. Today, the final release is just round the corner, bringing new features and improvements.
Windows 10 April 2019 Update Is Ready
If you have read the previews which are available in the Windows Insider Program, you'll know well about the changes which will be applied to the April 2019 Update (coming soon). Microsoft has made Windows a service rather than just an operating system in the traditional sense. Thus, the Windows 10 2019 update is just an upgrade that comes with new features, tools, and apps.
Support Lifecycle
Microsoft has changed its support lifecycle late in last year, since then, it hasn't released any update. It offers an 18-month support cycle for all editions after the announcement of Windows 10 1903 update.
Besides, the 1909 update will be released in October; by that time, Microsoft is going to provide Enterprise and Education editions with a 30-month support cycle (the support for all Windows 10 Pro installations will be 18 months; yet, the Windows 10 Home update cannot be delayed).
How Much Do You Know About Windows Lifecycle Support?
What's New in Windows 10 April Update
According to an early version of Windows 10 April 2019 Update, which is available for Windows Insiders, the following new features and improvements will be included in the new Windows update.
Light Theme
A new Light desktop theme will make its debut in the new Windows 10 update. The shiny new light theme is in sharp contrast to the previous dark theme. Many interface elements are now lighter than before:
Taskbar
Start menu
Notifications
Action center sidebar
Print dialog
…
Besides, there are some new icons created to suit the light theme better. In addition, the old default desktop wallpaper has been changed to match the new theme.
In the new update version, the Windows mode and app mode are separate. What does this mean? You can mix the dark Windows mode (dark taskbar) with a light app mode (light apps) or vice versa according to your tastes.
This teaches you how to enable Windows 10 dark mode.
Windows Sandbox
Designed for Windows 10 Professional users, the new Windows Sandbox tool helps to create a safe desktop (an integrated and isolated desktop environment).
Benefits of having Sandbox:
Run a virtualized version of Windows 10 easily in a window.
Run software, test settings, and test code without affecting the host system.
Open untrusted/suspicious program or website without risking computer integrity.
Each time when you close the Sandbox, all software, files, and trace of actions will be deleted automatically.
Adopting the hardware-based virtualization, the Sandbox is able to confine the programs into a container. This is similar to Hyper-V of Microsoft.
Attention:
Guess you may be interested in how to recover data from VMware disk:
Whenever you need to recover data from VMware disk, MiniTool Power Data Recovery is a good solution which will surprise you.
Better Start Menu
Obvious changes have been made to the new Windows 10 1903 version. In the new update, the default Start menu looks cleaner and simpler (it's just a single column). The current tiles and shortcuts of pre-installed apps take less space than before.
Besides, Microsoft allows you to uninstall more pre-installed apps from computers running the new version.
What's more, dedicated process has been designed for switching the Start menu directly: StartMenuExperienceHost.exe (instead of the ShellExperienceHost.exe).
Please note:
You are not able to see the changes (a cleaner Start menu) in an existing computer unless you sign in with a new user account.
The Candy Crush Saga is not eliminated; it's buried in a Play folder (not as noticeable as before).
Please read this if you want to stop candy crush on a Windows 10 computer.