Windows 10 Enterprise
Windows 10 Enterprise is built primarily to meet the demands of large and midsize organizations. This edition offers higher security to allow IT departments to manage apps, access security analytics, deliver virtual desktops using Azure, remotely manage devices, control OS updates, and more.
Windows 10 Enterprise comes with advanced secure tools, Application Guard, Application Control, Advanced Threat Protection (ATP), Credential Guard, Microsoft User Environment Virtualization, and Microsoft Application Virtualization (App-V).
To sum up, it is a good choice for businesses. If you want to install it, how to do this work? Download the Windows 10 Enterprise ISO file and burn it to a USB drive for installation. Go to the next part to find some details.
Windows 10 Enterprise ISO Direct Download Links
If you search for "Windows 10 Enterprise ISO download" in Google Chrome, you can find some websites to give direct download links, and here we will list some for you, including Windows 10 Enterprise 20H2, 21H1, 21H2, and 1909.
Download Windows 10 Enterprise ISO 20H2 (Build 19042)
Download Windows 10 Enterprise ISO 21H1 (Build 19043)
Download Windows 10 Enterprise ISO 21H2 (Build 19044)
Download Windows 10 Enterprise ISO 1909 (Build 18363)
The Windows 10 Enterprise ISO direct download links here are not all-sided and we only list some new versions. If you want to download another specific ISO file of this edition, search for it online to get it.
Windows 10 Enterprise ISO Download Preview Build
If you are a member of Windows Insider Preview, you can download a preview build of Windows 10 Enterprise from Microsoft's Windows Insider Preview Downloads page. Just visit that page, go to the Select edition section, select Windows 10 Insider Preview Enterprise, and click Confirm. Next, choose a language, confirm the selection, and click the Download button (32-bit and 64-bit supported).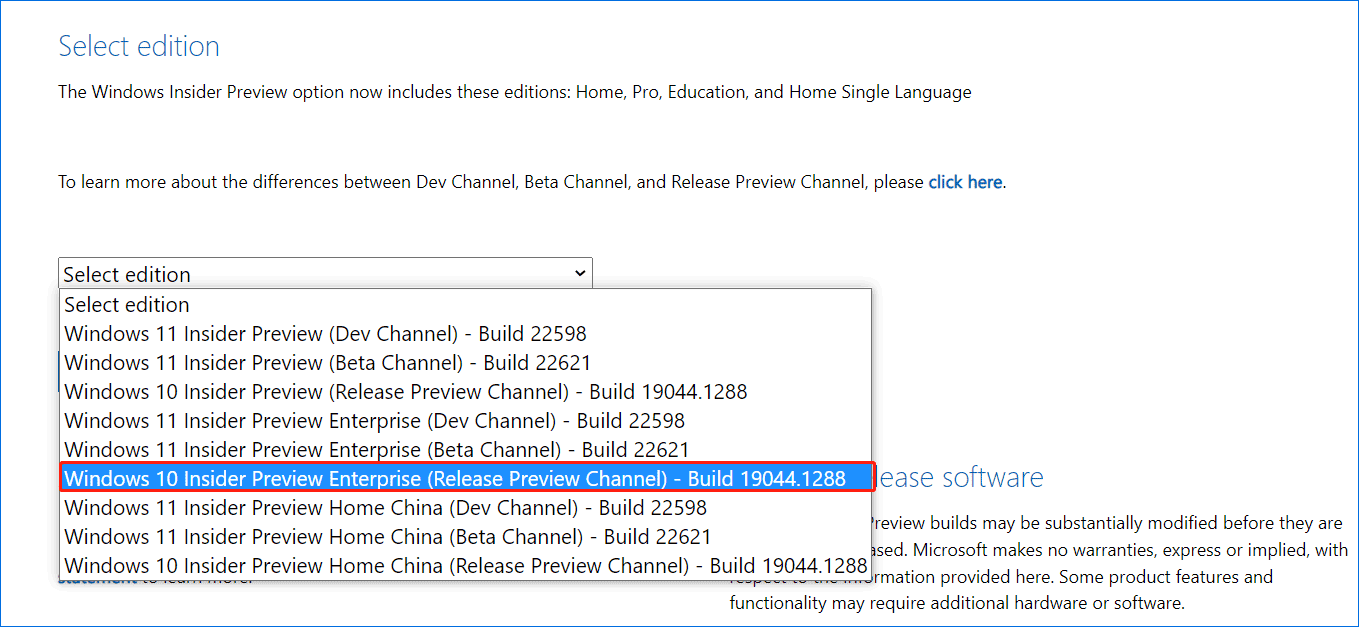 Download Windows 10 Enterprise ISO with Media Creation Tool
In addition, you can get a Windows 10 Enterprise ISO download file via the professional app – Windows 10 Media Creation Tool. Follow the steps below for this task:
Step 1: Download Windows 10 Media Creation Tool and save it to your desktop or another place. Note down the storage path, for example, C:\Users\cy\Desktop.
Step 2: Run Command Prompt as an administrator.
Step 3: Run this command – cd /d "C:\Users\cy\Desktop" and press Enter. Replace the path with your own.
Step 4: Execute the command – MediaCreationTool21H2.exe /Eula Accept /Retail /MediaArch x64 /MediaLangCode en-US /MediaEdition Enterprise.  Replace the file name of Media Creation Tool with the one you download and replace en-US with a language you want.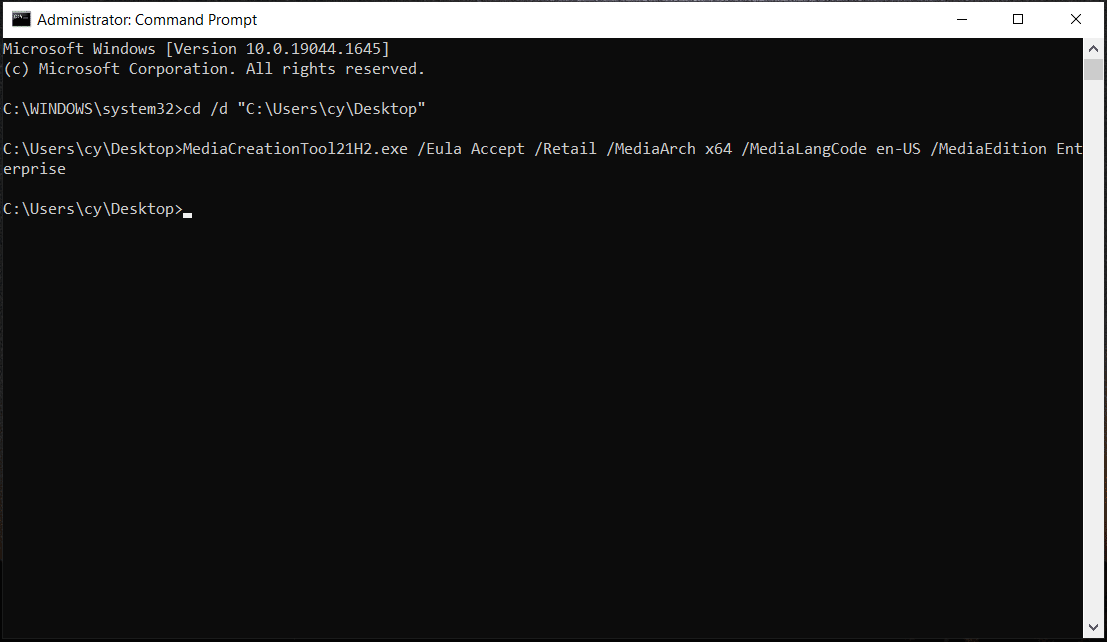 Step 5: Enter your Windows 10 Enterprise product key and click Next.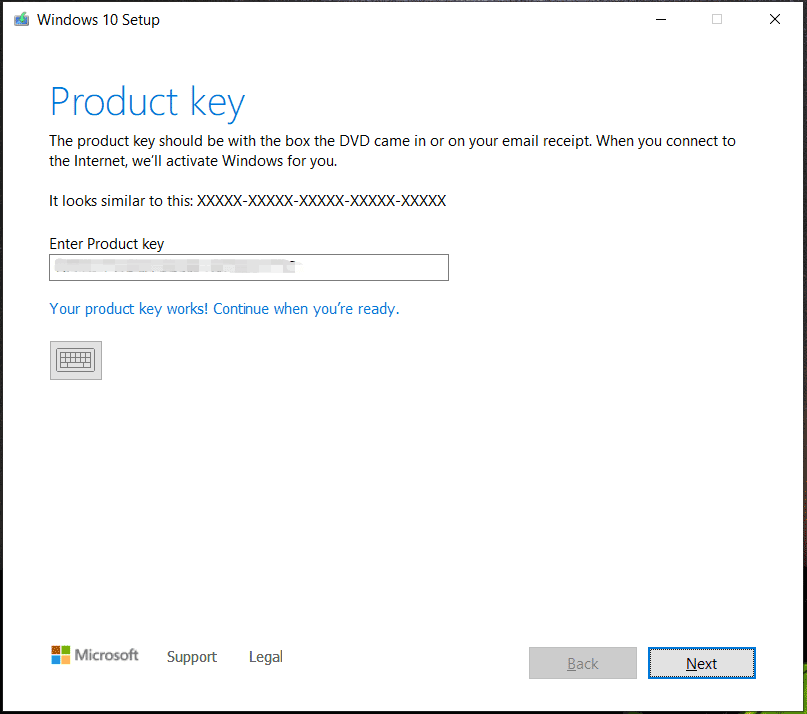 Step 6: Choose the second option in the popup to create installation media (USB, DVD, or ISO file) for another PC.
Step 7: Choose ISO file and click Next. The Setup tool begins downloading Windows 10 on your PC.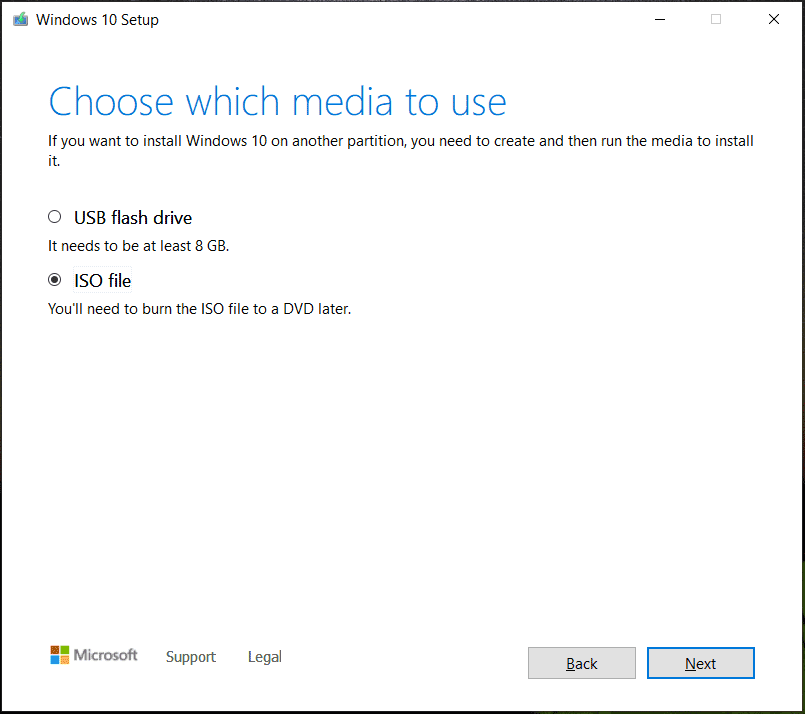 How to Install Windows 10 Enterprise from ISO?
After downloading a Windows 10 Enterprise ISO file, how to install the system on your PC from ISO?
Download Rufus online and double-click the exe file to open the burning tool to burn Windows 10 Enterprise ISO to USB.
Connect your USB drive to your PC.
Choose the ISO file, make some settings and click START to create a bootable USB drive.
Restart the PC to BIOS, change the boot sequence and run it from the drive.
Choose a language, keyboard, and time format and click the Install now button.
Follow the on-screen instructions to finish the installation of Windows 10 Enterprise.