Necessity - Windows 10 ARM Download for a PC with ARM CPU
When installing Windows 10 on your PC, the common ISO files are for 32-bit and 64-bit processors. Thus, you can easily download a standard ISO file. However, things change since devices with ARM processors arrive. The ARM CPU is low-powered, which can offer longer battery life and great performance to devices.
If you want to install Windows 10 for the PC with an ARM CPU, you need to download Windows 10 ARM ISO. Besides, some of you may want to load Windows 10 on Parallel for a Mac with an M1 chip, the ARM version is necessary.
Well then, where to download Windows 10 ARM ISO or how to download Windows 10 ARM ISO? Find the ways from the following part.
Guide on Windows 10 ARM ISO Download
There is no official way to download Windows 10 ARM. When you check the Microsoft website, you find only Windows 11 is available. But don't feel anxious, two common ways are for you.
Windows 10 ARM ISO Download via Archive.org
The archive.org website offers many download links for free books, movies, software, images, etc. If you need to get an ISO file for Windows, you can also search for the one you need and download it.
In terms of Windows 10 ARM download, click the direct download link to get Windows 10 20H1 ARM64 ISO for use in both flashing Raspberry Pi's and Parallels in M1 Macs. Besides, there are some other links of Windows 10 ARM ISO and just find one in the web page.
Windows 10 ARM ISO Download via UUP Dump
If you cannot find a proper ISO file via the first way, you can visit https://uupdump.net/ to find one. This website gives you more options.
Step 1: In the page, type Windows 10 Insider Preview in the search box and press Enter.
Step 2: Then, you can see the results for architecture - x64, x86, and arm64. Select a build and click the link for arm64 to continue.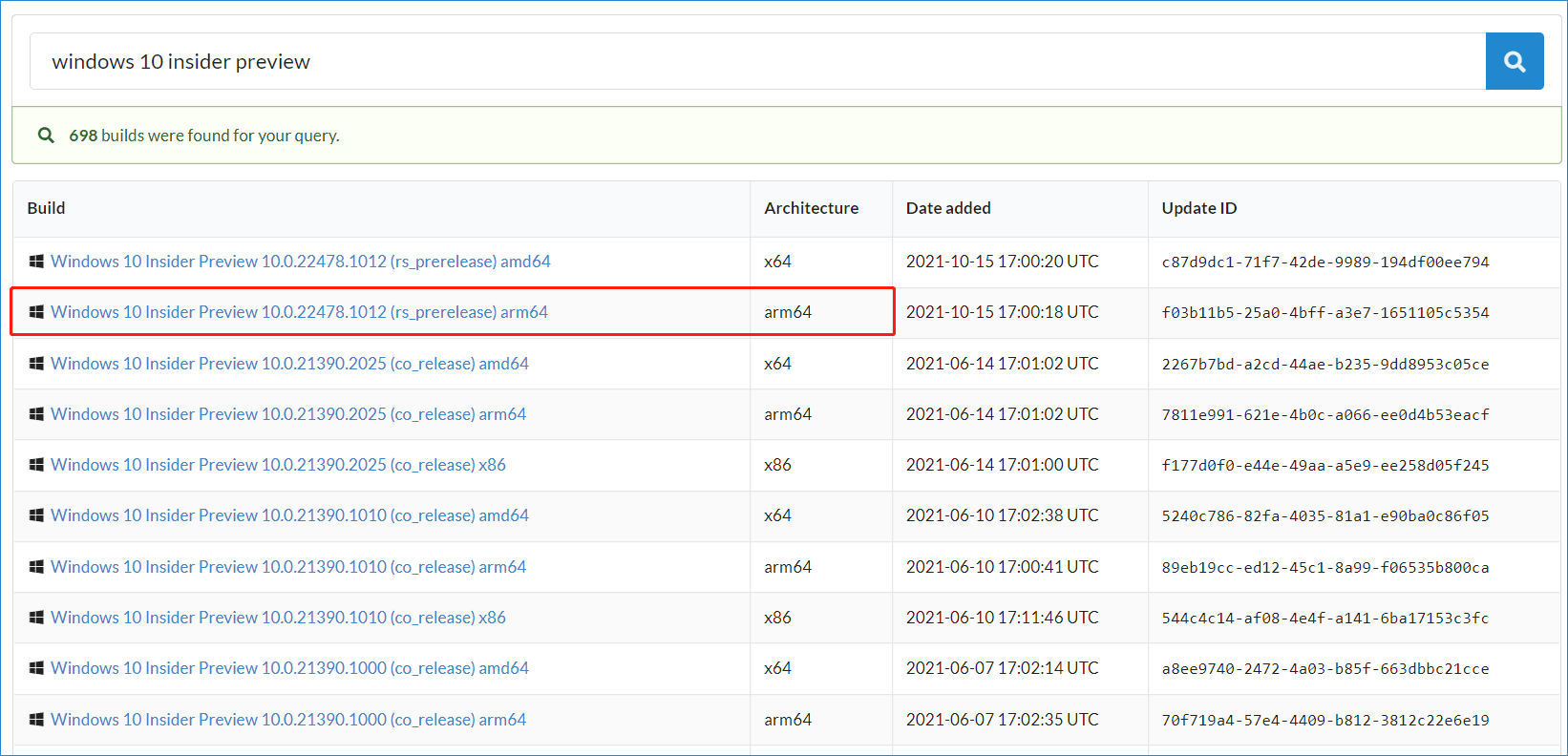 Step 3: Select a language and click Next.
Step 4: After choosing an edition, choose a download option and here we recommend checking the boxes of Download and convert to ISO and Include updates. Then, click the Create download package button to get a .zip file.
Step 5: Unzip this file and then open the uup_download_windows.cmd file. The required files will be downloaded by this script and an ISO file of Windows 10 ARM will be created.
After getting the Windows 10 ARM ISO file, now you can use Rufus to create a bootable USB drive to install the system on your PC with an ARM processor, use the ISO image to create a virtual machine or use it via Parallels on Mac M1.
Final Words
That's all the information about Windows 10 ARM ISO download for a Mac M1, VMware or PC with ARM CPU. Just choose one way to get the ISO file. If you find any other useful ways, let us know via leaving a comment below. Thanks a lot.