Data, privacy and business in your Windows 10 computer are definitely important. You can't afford fatal security problems like malware or virus attack in Windows 10 computer. Check some tips to help you improve your Windows 10 computer security.
Windows 10 computer has been an essential device for most people nowadays. It is widely used for personal business and entertainment, as well as work and data storage.
Since the Windows 10 computer contains so much important data and files you don't want to lose, configuring the Windows 10 computer to achieve the best security status is a must.
To keep away from Windows 10 security problems, aside from the initial configuration, there are some other settings you can do to secure a Windows 10 computer. Much of the work comes down to the Windows 10 device itself, namely, pay attention to the network traffic, antivirus, email accounts, authentication mechanisms, external connections, etc.
Windows 10 Security Tips
To protect viruses and other threats from harming your Windows 10 computer, you can adjust these settings below.
Perform Regular Windows 10 Updates
One of the most important Windows 10 security settings is to ensure updates are being installed regularly. Windows 10 allows users to the change the way to manage updates.
Windows 10 updates have several types: Quality Updates and Feature Updates.
Quality Updates of Windows 10 are delivered monthly through Windows Update. This type of update mainly fix some security and reliability issues as well as fix some patches. It doesn't offer new features. All quality updates are cumulative. If you install the latest cumulative update, then your Windows 10 computer would be totally up-to-date.
Feature Updates, also called as Version upgrades. This kind of Windows 10 update comes with new features and require a certain amount of storage space for download and setup. Windows 10 feature update often released twice a year, in April/May or October. The latest feature update is Windows 10 May 2019 Update.
Windows 10 computer will download and install quality updates once they are available on Microsoft update servers by default.
For Windows 10 Home users, they cannot control when the updates are installed. For Windows 10 Pro, Enterprise, and Education editions, users can defer the installation of quality updates by up to 30 days. The feature updates can be delayed up to two years depending on the Windows 10 edition.
For best Windows 10 security, it's advised to install quality updates immediately after they are released.
Customize Windows 10 Security Features
You can customize how to protect Windows 10 computer with Windows Security features. You can click Start -> Settings -> Update & Security -> Windows Security, then select the specific feature you want to make changes.
Virus & threat protection: Scan and detect the threats to your Windows 10 computer and get updates to help detect the latest threats.
Account protection: Adjust sign-in options and account settings, incl. Windows Hello and dynamic lock.
App & browser control: Customize protection settings to protect your Windows 10 PC from potentially malicious apps, files, sites and downloads.
Device security: Turn on built-in security options to protect Windows 10 device from dangerous software.
Device Performance & heath: Check the current performance status of your Windows 10 computer, and update to the latest version of Windows 10 keep your Windows 10 computer healthy and clean.
There are three status icons. Green icon means the Windows 10 PC is in good protection and no extra actions are needed. Yellow icon refers that there is a safety recommendation for the device. And Red means some actions need to be carry out immediately to keep your computer safe.
Run and Schedule Windows 10 Scan with Windows Defender
You can scan a specific file. Or if you suspect that there may be risks, malware or virus on your Windows 10 computer, you can run a quick scan for all your files and folders. Below is how-to.
You can scan a certain suspected file or folder by right-clicking the file in File Explorer and click Scan with Windows Defender.
You can also run a quick scan for all files in computer. Just click Start -> Settings -> Update & Security -> Virus & threat protection -> Current threats -> Quick scan.
Or you can run an advanced scan in Windows Security. Click Start -> Settings -> Windows Security -> Virus & threat protection -> Current threats -> Scan options. Then choose a scan option: Full scan (scan files and programs currently running on computer), Custom scan (choose to scan specific files), or Windows Defender Offline scan (run this scan if you think the computer may infected by malware or virus). After that, hit Scan now button.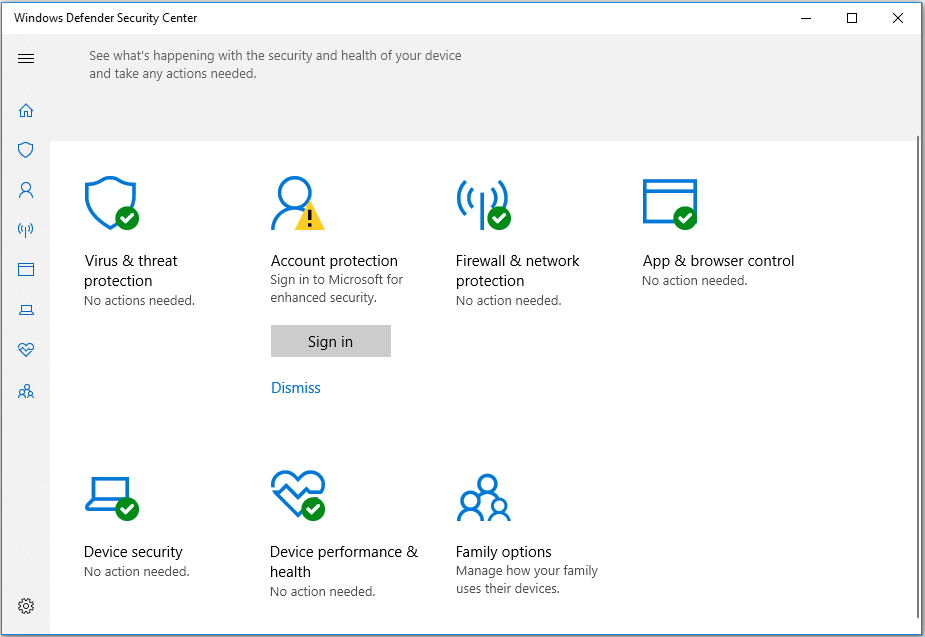 You can schedule a scan by setting a preferred time.
You can click Start and type schedule tasks, and choose the result Schedule tasks.
Expand Task Scheduler Library. Expand Microsoft and Windows. Then select Windows Defender
Select Windows Defender Scheduled Scan -> Actions -> Properties -> Triggers -> New.
Then set the preferred time and frequency, and click OK.
Tip: Windows Security is a built-in feature in Windows 10 and includes a program Windows Defender Antivirus in it to help protect the Windows 10 security. If you have other third-party antivirus software installed in Windows 10 computer, the Windows Security will turn off automatically. When you uninstall other antivirus apps, then Windows Security will automatically turned on again.
Windows 10 Data Protection
Virus, malware, system crash or other Windows 10 issues like blue/black screen may cause some data loss of your computer. Once you find some data or files are lost in Windows 10 computer. It's advised to timely stop using the computer and recover lost files with best data recovery software for Windows 10.
Furthermore, it's advised to backup important data in your Windows 10 PC with a professional Windows 10 backup software.