What's coming in the next Windows 11 big update? You can get the answer from the Insider preview builds released in the Dev Channel now. In this post, MiniTool Software will introduce these three new updates in Windows 11 that will come in 2023: a new volume mixer, File Explorer, and Experimental Features.
Microsoft always tests new features and improvements in the Windows Insider Preview Channels and then transfers the new things to the next update every year. Thanks to this, we know Windows 11 big update leak in 2023.
From the latest Windows Update released to the Dev Channel of the Windows Insider Program, the Windows 11 big update in 2023 will get a new volume mixer, Experimental Features, and File Explorer.
You can follow this post to get the details.
A New Volume Mixer
Currently, when you want to adjust the volume for your web browser or an app, you can click the Quick Setting area on the right side of the taskbar and then use your mouse the control the volume. But now, Microsoft wants to change this design. According to the Insider preview build, Microsoft is testing a new modern volume mixer that can be directly accessed via the taskbar. This is like the volume mixer of Windows 10.
Image from windowslatest
However, this new Windows 11 volume mixer is still hidden in the code. Microsoft hasn't talked about it publicly because it is still under test. Let's wait.
Experimental Features: A New Feature in Settings
Microsoft is also testing a new option: AllowExperimentalFeatures. This option can be accessed via Start > Settings > Windows Update > Windows Insider Program. It is called Experimental Features in the Settings app.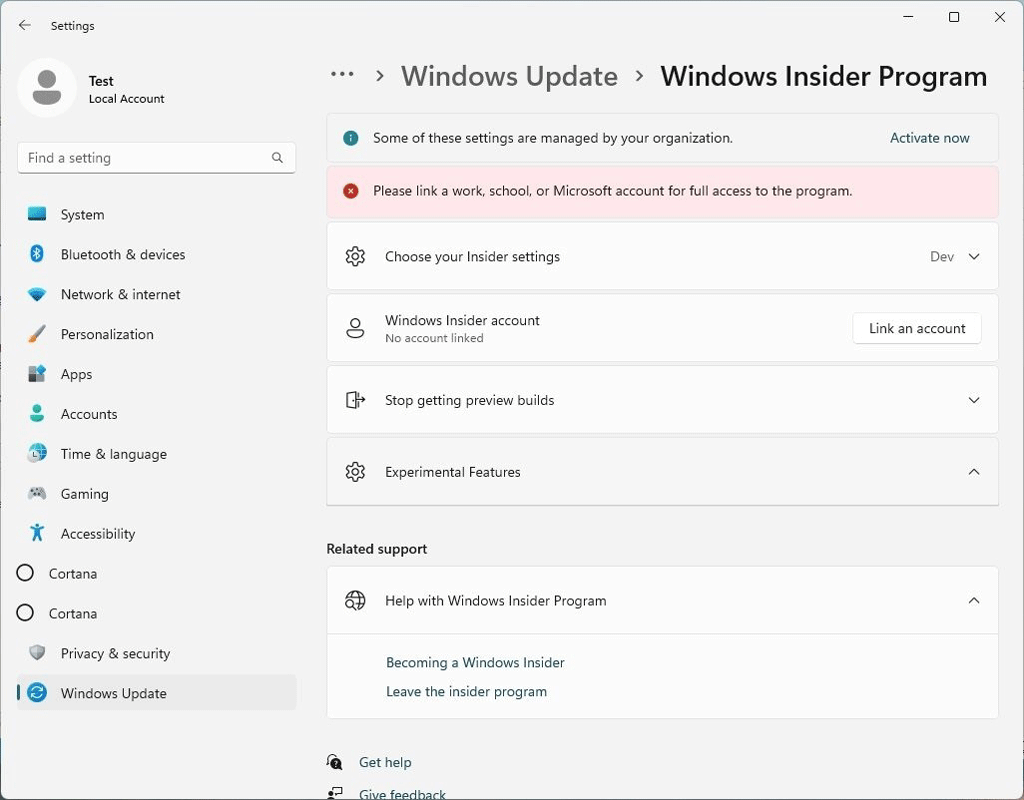 Image from windowslatest
With Windows 11 Experimental Features, you can turn on features that are disabled by your administrator. Likewise, this feature is also under testing. However, it could be the official way to turn on or turn off features hidden on Windows 11 when A/B testing isn't enough.
A New File Explorer
Microsoft also introduces a new File Explorer in Windows 11 for Insiders in the Dev Channel. This new File Explorer is initially introduced in Windows 11 Build 25276.
There are two new features in this new File Explorer: a new home page and a side or details pane. The following screenshot is an example.
Image from windowslatest
The Windows 11 new File Explorer still has round corners. But it is redesigned to resemble Microsoft 365 dashboard or web browser more than a traditional file manager.
When you click a file in File Explorer, you can see the related files and related conversations from the right pane. This design is user-friendly.
All these new features are not introduced to the public. If you want to experience them before others, you can get Windows 11 Insider preview builds.
How to Download and Install Windows 11 Insider Preview Builds?
Not all users can run Windows 11 Insider Preview builds. First, the computer should meet the basic hardware and system requirements for Windows 11. Then, users should join the Windows Insider Program and select the Dev Channel or the Beta Channel according to the actual situation. Next, users can check for updates in Windows Update and download & install the latest preview build.
On the other hand, users can also download Windows 11 Insider Preview build ISO and then install Windows 11 through ISO.
Bottom Line
The Windows 11 big update should arrive in the second half of 2023. We can wait and see if these new features will be available at that time.