What if Windows 11 shutdown box keeps popping up randomly? This is a common issue in the new operating system. If you are running into it, how to get rid of the trouble? It is easy to fix if you try the methods mentioned in this post from MiniTool.
Windows 11 Shutdown Box Pops up Randomly
You can access the Windows shutdown box by pressing Alt + F4 to do some operations, like shut down or restart the PC, switch user, sign out, and put the machine into sleep. However, if you upgrade Windows 10 to Windows 11, you may encounter a case - Windows 11 shutdown box keeps popping up randomly.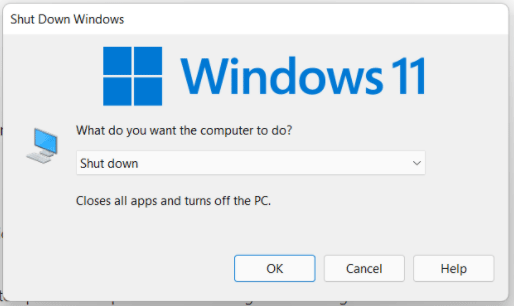 You are not alone and many users have reported this issue on some forums like Reddit. It appears randomly even if you do nothing. This seriously affects your user experience with this new operating system. The potential reasons for the Windows 11 shutdown popup bug are various, for example, Windows error in the current version, conflicting apps, virus or malware affecting the system, corrupt system files, and more.
How can you fix this issue? Go to try the solutions below.
How to Remove to the Random Windows 11 Shutdown Box
Restart Your Computer
Before trying troubleshooting tips, you can restart your PC. Sometimes, a simple reboot can fix some issues. Just choose the Restart option from the Windows 11 shutdown box and click OK. Or you can click Start > Power > Restart.
Run SFC and DISM Scans
Sometimes Windows 11 keeps showing shutdown dialog randomly due to missing or corrupt system files. To fix this issue, you can try to run an SFC or DISM scan.
Here is how you should perform the operation:
Step 1: Launch Command Prompt as an administrator in Windows 11.
Step 2: In the CMD window, type in sfc /scannow and press Enter.
Step 3: Execute these commands in turn and press Enter after each one:
DISM /Online /Cleanup-Image /CheckHealth
DISM /Online /Cleanup-Image /ScanHealth
DISM /Online /Cleanup-Image /RestoreHealth
Step 4: After that, restart your PC and see if Windows 11 shutdown box keeps popping up again.
Update Windows 11
The random Windows 11 shutdown box can appear if there is something wrong with the current Windows version. You can try to update this system since Microsoft will release patches for its known issues in the subsequent versions.
Step 1: Press Win + X to open Settings.
Step 2: Click Windows Update from the left pane and tap on Check for updates.
Step 3: Windows will start checking for available updates. Download & install them if there are some.
Uninstall Recent OS Update
If you cannot find the available Windows 11 update, you can choose to uninstall the recent problematic update to see if the shutdown box still pops up randomly.
Step 1: In Settings, go to Windows Update > Update history.
Step 2: Click Uninstall updates and you will be taken to a page that lists the installed updates.
Step 3: Choose the problematic update and click Uninstall.
Perform a Clean Boot
Clean Boot can help you to check if the third-party apps cause Windows 11 shutdown box to keep popping up.
Step 1: Press Win + R, type msconfig and click OK.
Step 2: Check the box of Hide all Microsoft services and click Disable all under the Services tab.
Step 3: Go to Startup > Open Task Manager, then choose each entry and click Disable.
Step 4: Under the Safe boot tab in System Configuration, tick Safe boot and click Apply > OK.
If Windows 11 shutdown box won't keep popping up randomly in Clean Boot, this means the third-party app is causing the issue. You need to open Task Manager and enable each startup entry to have a check. Then, uninstall that application.
Scan for Malware or Viruses
If the system is infected with malware or viruses, perhaps Windows 11 shutdown box keeps popping up and you can try to run Windows Security to scan for the system to remove them.
Step 1: Click Start > Settings.
Step 2: Navigate to Privacy & security > Windows Security and click Virus & threat protection > Scan options.
Step 3: Choose Full scan and click Scan now.
Verdict
Windows 11 shutdown box pops up randomly? How to fix the shutdown popup bug? After reading this post, you know the answer. Just try these solutions to easily remove it.
Tip: 
Windows update issues always happen and you can choose to back up your PC with the professional
backup software
– MiniTool ShadowMaker before the system update. Besides, forming a habit of computer backup is very important to avoid data loss.