If you need to use Command Prompt to run some commands in Windows 11, how can you open this command tool? This post shows you 7 simple ways to open Command Prompt in Windows 11. Continue reading the completed guide offered by MiniTool now.
Command Prompt is always an excellent utility and it is an important part of Windows. With it, you can execute many tasks. You may prefer Command Prompt rather than the conventional GUI method since the tool can offer you a faster and convenient experience and let you use some tools that are not present in the graphic interface to fix some issues or perform some tasks.
Well then, how to open Command Prompt in Windows 11? Proceed with the following part to find the ways.
How to Open CMD Windows 11
Open Command Prompt in Windows Terminal
Windows Terminal is a terminal application that is available to command-line users. It includes PowerShell, Command Prompt, and Azure Cloud Shell. By default, Windows PowerShell is open. You can run Command Prompt in a new tab or change the setting to open CMD every time you launch this app.
Open the Command Prompt Tab in Windows Terminal
Right-click the Windows icon and choose Windows Terminal (Admin).
Click the down arrow icon and choose Command Prompt. Alternatively, press the CTRL + SHIFT + 2 keys on the keyboard to launch Command Prompt.
The CMD window will open in a new tab.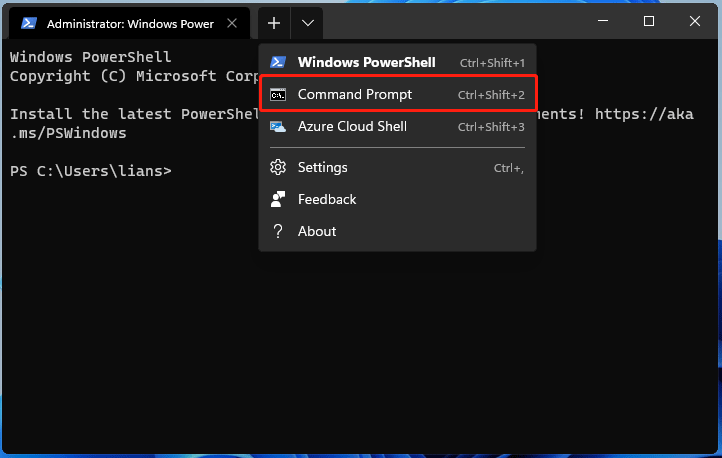 Set Command Prompt Default in Terminal
In Windows Terminal, click the down arrow icon and select Settings to open Windows Terminal settings.
Go to the Startup tab, navigate to the drop-down menu under Default profile and then choose Command Prompt.
Click Save to let the change take effect. When your launch Windows Terminal, Command Prompt is opened by default.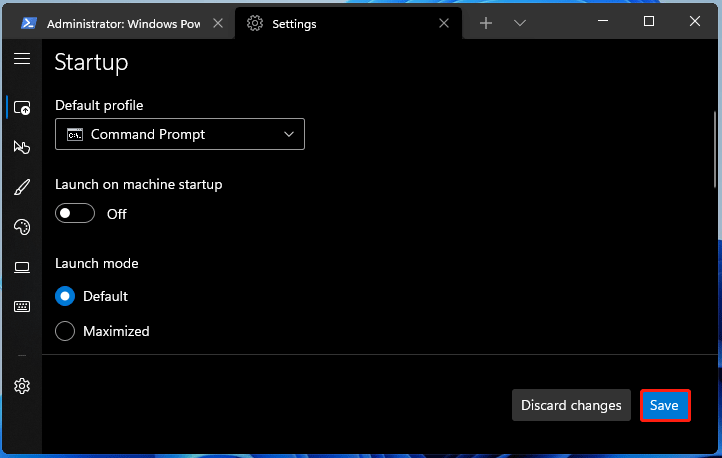 Run Command Prompt from Search Box
Click the search icon on the Taskbar.
Type cmd to the search box and then click Run as administrator.
Tip: You can pin Command Prompt to Start or Taskbar and launch this tool.
Open Command Prompt in Windows 11 from the Run Window
Press Win + R to get the Run In addition, you can open Run in multiple ways and just refer to this post to learn more – 6 Ways: How to Open Run Command.
Type cmd to the textbox and click OK.
Open Windows 11 Command Prompt from File Explorer
You can go to open this tool from the address bar of File Explorer or the location where the Command Prompt file is stored.
Address Bar: In File Explorer, enter cmd to the address bar and press Enter.
File Location: Go to C:\Windows\System32, locate the cmd.exe file and click it to launch Command Prompt. If you need admin permissions, right-click this executable file and choose Run as administrator.
Open Command Prompt from Desktop Shortcut
If you use Command Prompt frequently, you can add a shortcut to the Windows 11 desktop and run CMD here.
Right-click any empty place on the desktop and choose New item > Shortcut.
In the Create Shortcut interface, type cmd to the textbox of Type the location of the item and click Next.
Name the shortcut, for example, Command Prompt, and click Finish.
Then, you can launch Command Prompt in Windows 11 from the desktop.
Open Command Prompt in Windows 11 from Task Manager
You can run this CMD tool from Task Manager by creating a new task. Follow the instructions:
Go to File > Run new task.
Type cmd to the Open section, check the box of Create this task with administrative privileges and click OK.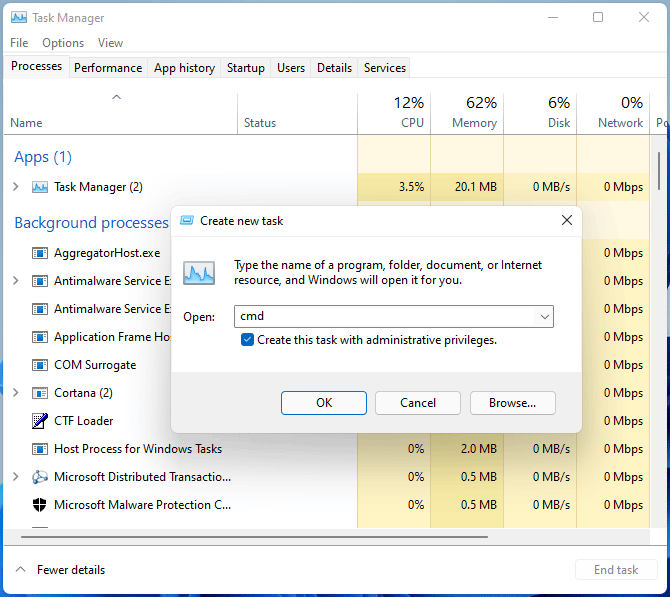 Open CMD Windows 11 from WinRE
If you need to run Command Prompt in Windows Recovery Environment (WinRE) when Windows goes wrong, follow these steps:
Boot your PC to the recovery environment in Windows 11. You can enter WinRE via Settings, Windows repair disc, or other ways.
Go to Troubleshoot > Advanced options > Command Prompt.
Final Words
How to open Command Prompt in Windows 11? It is an easy way and you can follow these methods above to easily access this CMD tool. Just launch it to execute some tasks when needed.