This post on MiniTool mainly focuses on Windows 8.1 Lite, including its basic information, main features, and ISO download. If you want to install Windows 8.1 Lite ISO on your computer, this post is worth reading.
What Is Windows 8.1 Lite
Windows 8.1 lite edition for PC is a modified operating system developed and released by members of a non-commercial team. Windows 8 Lite is aimed at those who use low-spec tablets and PCs.
Most unnecessary software has been removed from windows 8.1 lite, which makes it very stable and reliable, and more compatible with lower RAM devices. Microsoft Windows 8.1 Lite Edition is available in the following editions: 32-bit (x86) and 64-bit (x64).
Related Posts:
Features of Windows 8.1 Lite
The highlight features of Windows 8.1 Lite are listed:
Start Menu Button:
It's now directly on your taskbar, giving you easy access to start logging into your computer or browsing your applications.
Desktop:
It's basically the same as before, just the Start menu is smaller. If your computer has touchscreen capability, you can add different widgets that appear on the desktop, such as settings, weather, news, etc.
Applications:
Windows 8.1 Compact Edition includes new applications from Windows 8.1. Some of these are Mail, Calendar, People, Photos, and Maps. The apps are fully functional and can be easily downloaded from the app store.
High-Security Updates:
The latest streamlined Win 8.1 Pro download contains multiple advanced security updates that reduce security risks from any external source.
Ultra Lightweight:
You'll be surprised to see the size and parts required for installation. You only need a little space to install this OS on your PC.
How to Download Windows 8.1 Lite ISO
Before downloading Windows 8.1 Lite ISO, you need to check if your PC meets the minimum system requirements. The minimum system requirements of Windows 8.1 Lite are listed as follows.
Processor: Intel or AMD Dual Core Processor 3 Ghz
RAM: 2 GB RAM
Hard Disk: 16 GB Hard Disk Space
Video Graphics: Intel Graphics or AMD equivalent
To download Windows 8.1 Lite ISO, you can search for its ISO file on the Internet. When searching for "Windows 8.1 Lite ISO", "Windows 8 Lite ISO", or "Windows 8.1 Lite ISO download" in Google Chrome, you can find a download link from Internet Archive. Then, you can go to this website to download Windows 8.1 Lite ISO.
You can click the ISO IMAGE link directly, and you can also click SHOW ALL to find more Windows 8.1 Lite ISO images.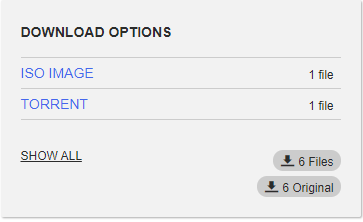 How to Install Windows 8.1 Lite ISO
After you download Windows 8.1 Lite ISO to your computer, follow the below steps to install it.
Step 1: Create a bootable USB drive via Rufus and plug the drive into the target PC.
Step 2: Reboot your PC to enter the BIOS, set the drive as the first boot option, and then save the changes.
Step 3: After that, the computer will boot from the selected bootable drive.
Step 4: At last, follow the on-screen instructions to finish the Windows 8.1 Lite installation.