Summary :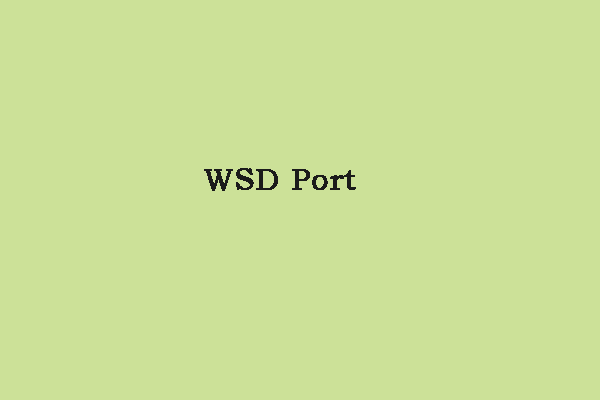 What is the WSD port? How to set up and connect the WSD port? What to do when you encounter the WSD port issues? If you want to find the answers to the above questions, this post from MiniTool is what you need.
What Is WSD Port?
Device Web Services or Web Services on Device (WSD) is a Microsoft API used to enable programmatic connections to web service-enabled devices such as printers, scanners, and file sharing. Such devices conform to the Devices Profile for Web Services (DPWS).
The device's web services allow networked IP-based devices to advertise their functions and provide these services to clients using the web service protocol. WSD port provides a network plug-and-play experience for printers, scanners, and file sharing, similar to installing USB devices.
Functions of WSD Port
The following are the functions of the WSD port.
Automatically discover and configure new home control systems for lighting, heating, and other systems. These systems can be monitored and controlled by computers located at home or via the Internet.
Printers and other shared network devices are easily discovered and automatically configured for client computers after selection.
Transfer pictures to the user's home computer, their MSN Spaces site, or even the cameras of other devices via the Internet.
Automatically discover and connect to wireless devices, including mobile phones, new overhead projectors, and home entertainment centers.
How to Set up & Connect WSD port
This part is about how to set up and connect WSD port. Follow the guide below:
Tip: For Windows 8 or higher, the WSD port will be set automatically. Thus, this guide is for Windows 7 and Windows XP users.
The following are necessary for setting up the WSD port.
The printer and computer are connected to the network.
The printer driver is installed on the computer.
Step 1: Turn on the printer. Click Start, and then click Network on the computer.
Step 2: Right-click the printer, and then click Install. Click Continue when the User Account Control screen is displayed.
Step 3: If the uninstall screen is displayed, click Uninstall and start over. Then, you can use your device.
Step 4: Open the devices and printers screen. Check that an icon with the printer's name on the network is displayed and select the printer name when printing with WSD.
Tip: Using a WSD port is a lazy way to connect anything because the drivers used are Microsoft drivers, not specifically written for these devices.
How to Fix WSD Port Issue
Sometimes, you are unable to print using the WSD port on Windows 11/10/8/7. Here is how to fix it.
Step 1: Open the Control Panel application. Click Devices and Printers or View Devices and Printers.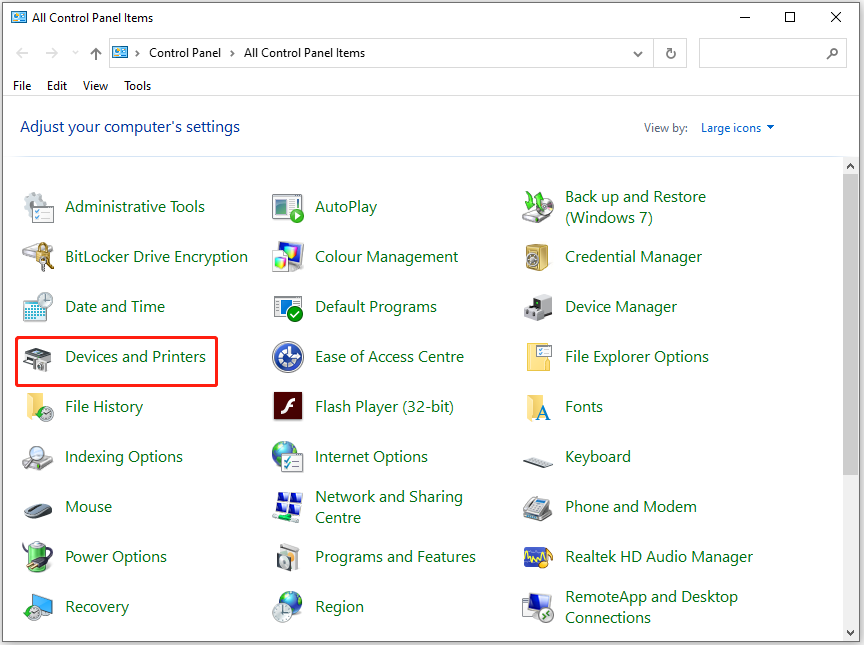 Step 2: Right-click the printer driver of your printer then select Properties.
Step 3: Go to the Ports tab and select Add Port. Select Standard TCP/IP Port then click the New Port button.
Step 4: Click Next on Installation Wizard. Enter the IPv4 Address and click Next.
Step 5: Then click Finish. It should automatically choose the recently added port as the default port in the list of ports.
Step 6: Restart your computer to check if the WSD port issue has been fixed.
This post introduces tracert CMD and how to use traceroute commands to troubleshoot network problems in Windows 10.
Final Words
After you read this post, you may know the information on the WSD port. Hope this post will be very helpful for you. If you have any related issues, you can comment on our post to let us know.