Recently, many people report that they encounter the XtuService high disk issue on Windows 10. Do you what XtuService is and how to fix the issue? If you also meet the issue, this post from MiniTool provides answers for you.
What Is XtuService
What is XtuService? xTUService.exe is an executable application that belongs to the Intel Extreme Tuning Utility (XTU) software developed by Intel Corporation. The main purpose of XtuService.exe is to monitor the clock settings (not really needed) or voltage supply on the Windows system.
In most Windows operating system versions, the file size of XtuService is approximately 80 KB. The location of XtuService.exe in a 64-bit version of Windows is in C:\Program Files (x86)\Intel\Intel(R) Extreme Tuning Utility\folder or C:\Program Files (x86)\Intel \Extreme Tuning Utility\ folder. In the 32-bit Windows operating system, the location path of XtuService is C:\Program Files\Intel\Extreme Tuning Utility\xtuservice.exe.
XtuService is used to manage and adjust the overclocking or undervoltage of the computer. In this way, it helps to extend the battery life of the computer, lower its temperature and enhance its performance. XtuService.exe always runs as a background process in the system and uses the .NET runtime framework, which needs to be pre-installed in the system.
Is XtuService Safe?
Generally, XtuService is safe. However, sometimes the XtuService.exe process may use too much CPU or GPU. If it is malware or a virus, it may be running in the background. Thus, it's recommended to delete it when you find it is a virus. If the XtuService.exe process in Windows 10 is important, you should be careful when deleting it.
How to Delete XtuService
If you download GyStation from an untrusted website or you find that it is a virus, it's recommended to uninstall XtuService. There are 2 methods available:
First, you can try to uninstall XtuService on Control Panel. Follow the steps below:
Step 1: Type control panel in the Search box to open the Control Panel application.
Step 2: Navigate to the Programs and Features part and click it.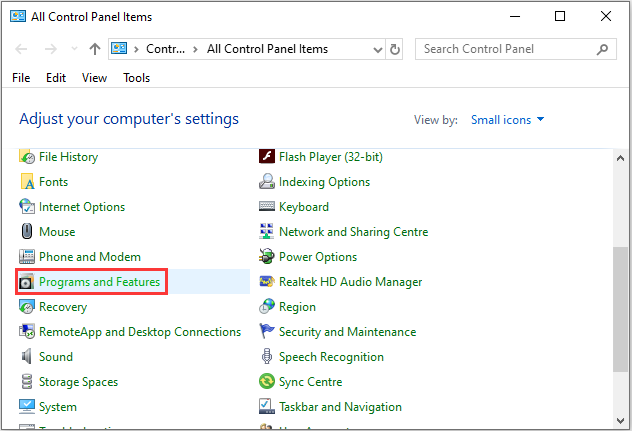 Step 3: Then, you need to find XtuService and right-click it to choose Uninstall/Change to uninstall it. After that, you just need to follow the on-screen instructions to uninstall it.
The second method for you is to uninstall it in Services. Follow the guide below:
Step 1: Press the Windows key + R key to open the Run dialogue box. Type services.msc and click OK to open the Services screen.
Step 2: Navigate to XtuService, then right-click it and choose Properties.
Step 3: Under the General tab, you should change the Startup type from Automatic to Manual.
Then reboot your system and you should no longer be able to see XtuService in Task Manager. 
Final Words
After you read this post, you may know the information on XtuService.exe. Hope this post will be very helpful for you. If you have any related issues, you can comment on our post to let us know.