A great many users want to perform a PC benchmark test to check their PC performance or hardware issues. What are best computer benchmark test tool for Windows 11/10? Now, this post of MiniTool introduces 10 best benchmark software tools to you.
Why You Need a PC Benchmark Test
Why you need to benchmark PC? Performing a PC benchmark test can help you analyze the performance/speed of your hardware components such as the CPU, GPU, SSD/HHD, RAM, battery, etc. In addition, it can help diagnose issue related to the hardware such as bad sectors, CPU fan error, CPU overheating, battery not charging, and so on.
When you compare the hardware with others or buy a new hardware like SSD, a PC performance test tool can check if the speed, performance, and efficiency of the new equipment as it is advertised. For example, an SSD benchmark can test how fast it can read/write a large file or thousands of small files.
A CPU benchmark test can identify if it is running at the optimal or measure how fast it can compress or encrypt data. A GPU benchmark PC tool can measure things like frame rate (FPS) while playing games at different levels of resolutions.
A RAM test program can check the problems with your memory and provide corresponding solutions to them. A battery health test can help you check the life, performance, issues of the battery and tell you if it should be replaced.
However, a lot of people don't know what's the best PC benchmark software. So, here we summarize several computer benchmark test tools that have received generally favorable reviews. Let's keep reading.
Top recommendation: HP Hardware Diagnostics Download/Install/Use: Here's a Full Guide
10 Best Best PC Benchmark Test Software for Windows 11/10 in 2022
How do i benchmark my PC on Windows 10/11? Here we will introduce you several commonly used PC benchmark software utilities in 2022. You can choose one that works best for you.
# 1. Windows Built-in Tool: Performance Monitor
When it comes to checking the PC performance on Windows, a lot of users maybe think the Windows build-in tool – Performance Monitor. It is a Windows system PC performance test tool that can conduct an overall check of your hardware components, such as CPU and memory usage. It can be used to check how programs running on the PC and what affects the PC performance.
In addition, the tool allows you to view performance in real time and collect information from a log file to analyze the performance issue. If you don't know how to use this tool, follow the given steps below:
Step 1.  Press Win + R keys to open the Run dialog box, and then type perfmon /report and hit Enter. Then you will see a window that's collecting data for the next 60 seconds.
Step 2.  Click on the Diagnostic Results section and you will find the test results, including Error, Warning, Informational, and Basic System Checks.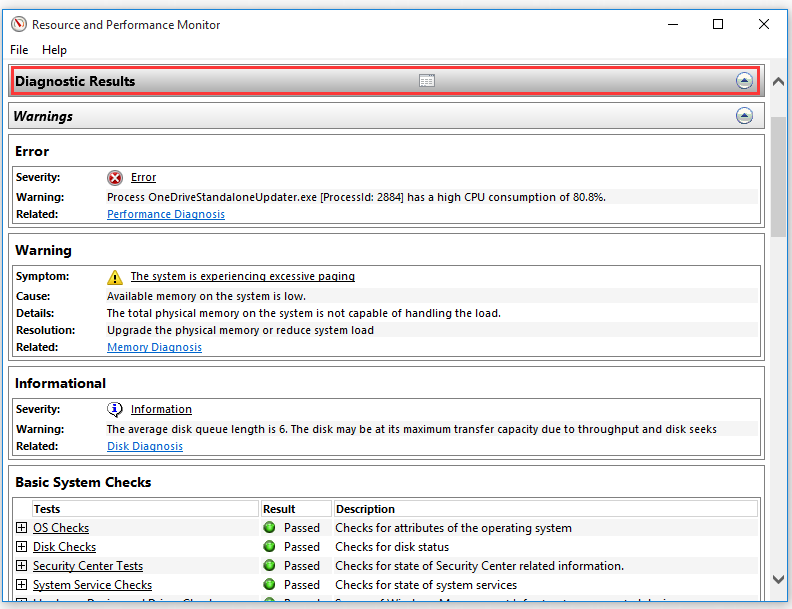 This benchmark test PC can give a preliminary check of your hardware and system performance, but it is not comprehensive. If you want to know more details, you'd better use some professional PC benchmark software.
# 2. MiniTool Partition Wizard
MiniTool Partition Wizard is a free benchmark PC test tool that can measure the performance of your HDD/SSD comprehensively. With this software, you can get detailed information of your storage devices on Windows, including the sequential reading/writing speed and random reading/writing speed.
Thus, it's very helpful especially when you need to compare the performance of two hard disks or other storage media. For example, you can use it to compare Seagate vs Western Digital, mSATA VS M.2, and so forth. It is very easy to use with just a few clicks.
MiniTool Partition Wizard FreeClick to Download100%Clean & Safe
Step 1.  Launch MiniTool Partition Wizard to enter the main interface, and then click on Disk Benchmark from the top toolbar.
Step 2. Select the drive letter that you want to benchmark and specify the parameters based on your needs and click on Start. After a while, you can view the test results.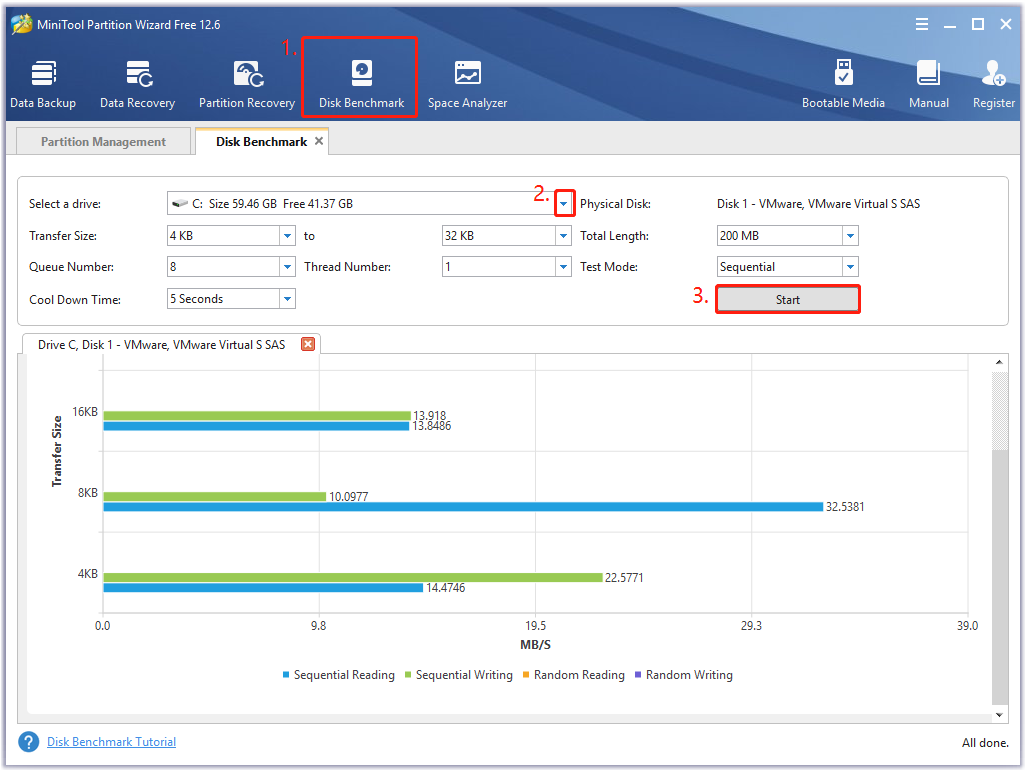 In addition to performing a disk benchmark, the MiniTool software can help you check bad sectors, repair file system errors even when Windows won't boot. It also provides multilingual installation packages, including English, German, French, Spanish, Portuguese, etc.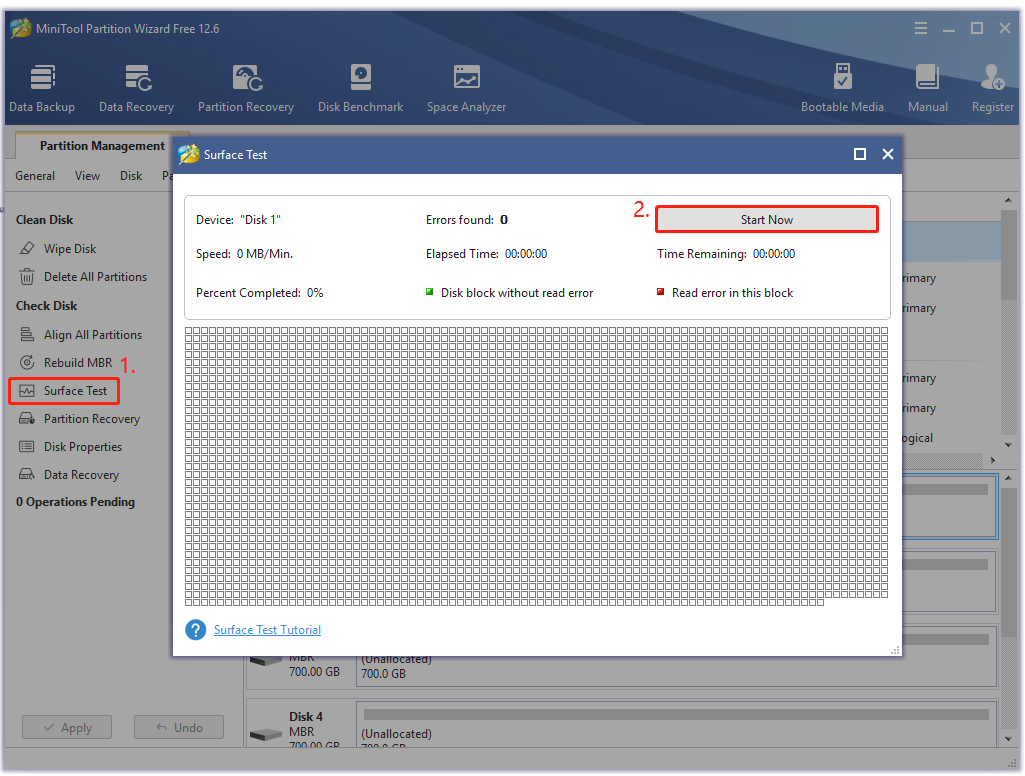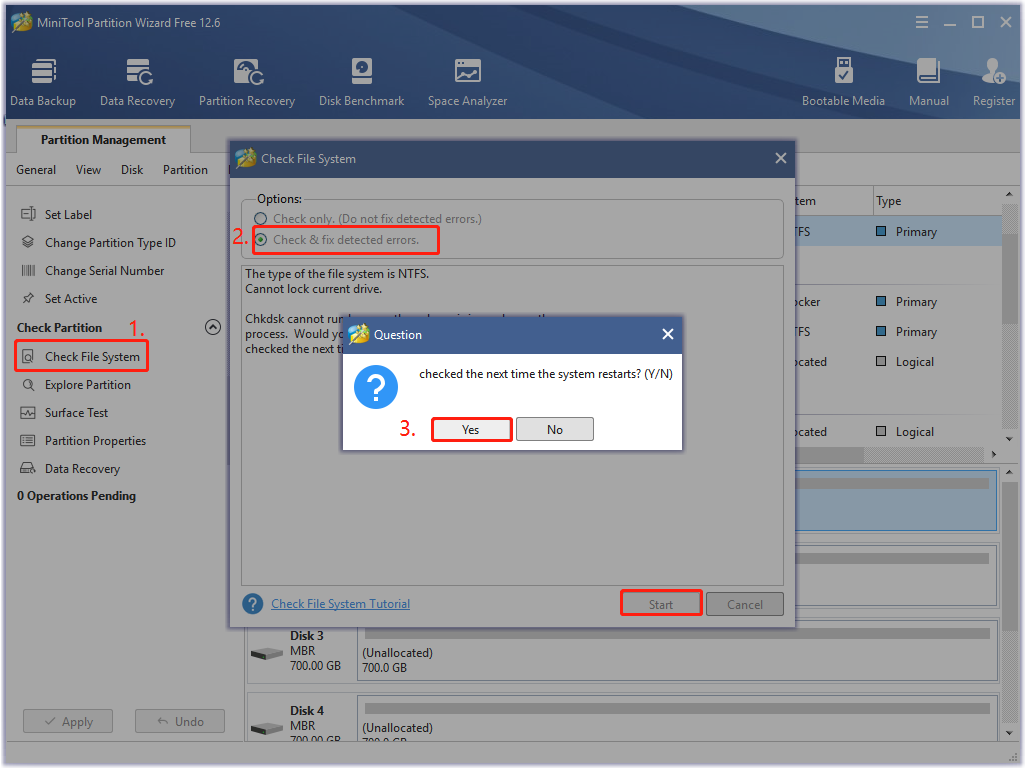 # 3. UserBenchmark
UserBenchmark is a free all-in-one computer benchmark test tool that can be used to benchmark many hardware components, including SSD/HDD, CPU, GPU, RAM, and even USB. It can help you pick the best hardware for your requirements by generating a large amount of data alongside the net score of your hardware.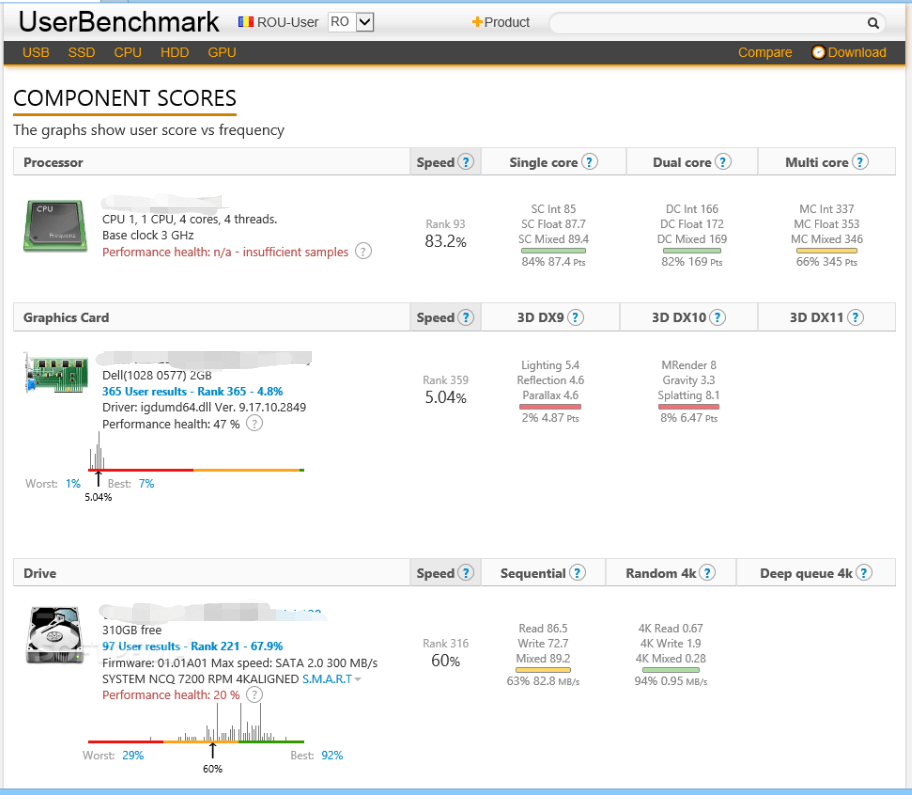 In addition, UserBenchmark offer some advice on how to improve your PC performance. It will specifically grade for each single hardware component based on its performance in the tests, which can help you pinpoint exactly where your computer is under performing. It also provides the comparison of your hardware components with the current market leaders.
Pros:
A free trial
An all-in-on benchmark PC test tool
A lightweight tool to benchmark GPU and CPU
Provides single/multi-core bandwidth & latency for RAM tests
Available for Windows, Apple, and iOS
Con:
A lot of controversies involving this software
# 4. 3DMark
3DMark is one of the best benchmark software for gaming PCs. This tool is widely popular for game users because it can help put the game PC through its paces in terms of gaming performance. It includes many different gaming performance benchmarks like 3DMark Fire Strike (DX11), Port Royal (ray tracing), Time Spy (DX12), etc.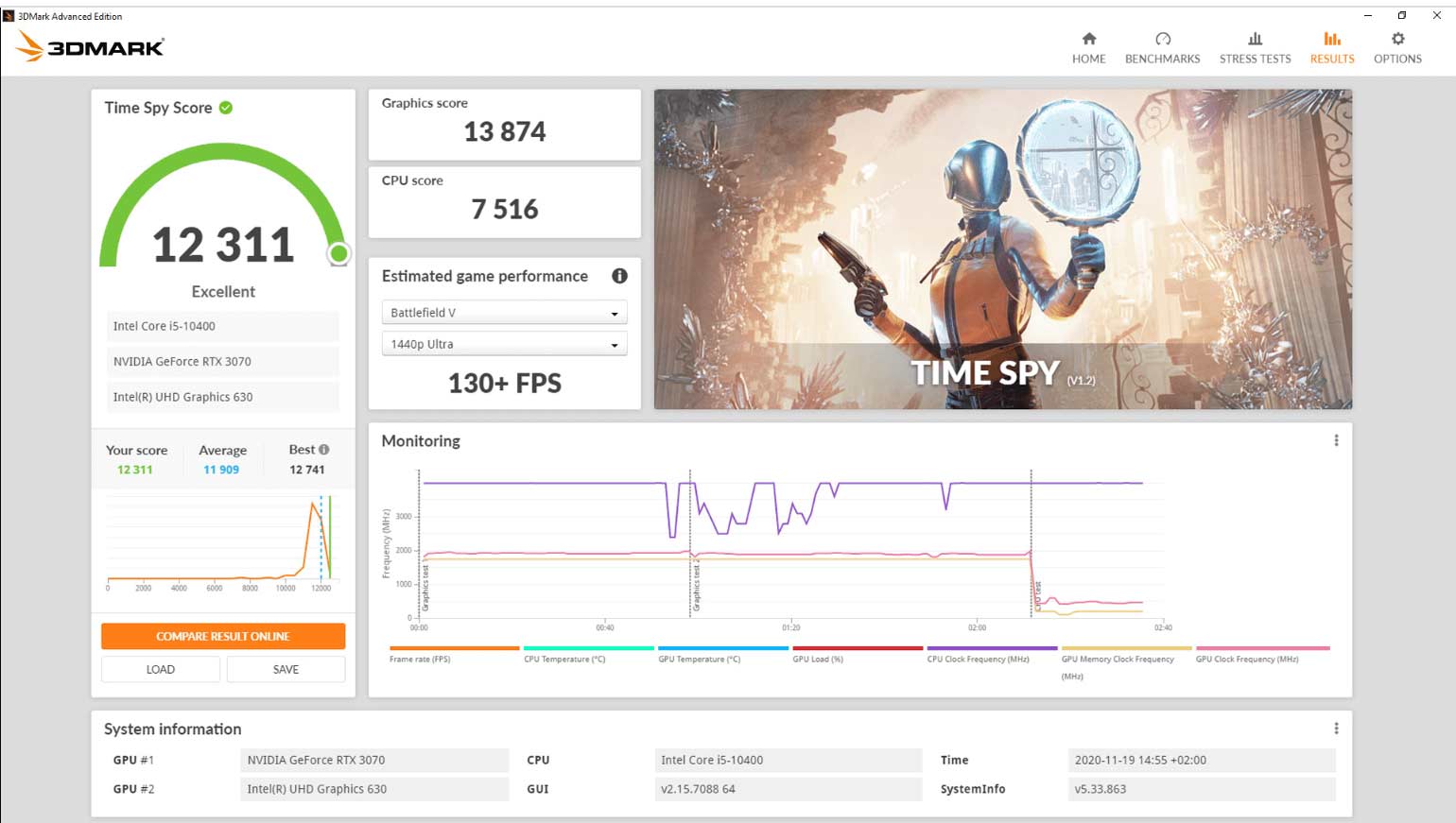 With these benchmark tests, you can get a score and compare it with other PCs using the same hardware components, letting you know how well you're doing compared with other 3DMark users. In addition, you can obtain some estimated frame rate performance provided by 3Dmark when selecting popular games.
Pros:
Wide range of gaming benchmarks
Provide stress testing for overclockers
Compare your PC performance with other gaming rigs
A free demo
Available for Windows, Android, and Apple iOS
Con:
Not cheap unless you grab it on sale
# 5. PassMark PerformanceTest
PassMark PerformanceTest is an effective benchmark test PC tool that's best for testing the performance of video cards when carrying out the 2D graphics operations. It can benchmark desktop CPU, 2D/3D graphics cards, hard disk, RAM, etc. With this tool, you can easily identify the impact of the configuration changes and hardware upgrades you have made on your PC.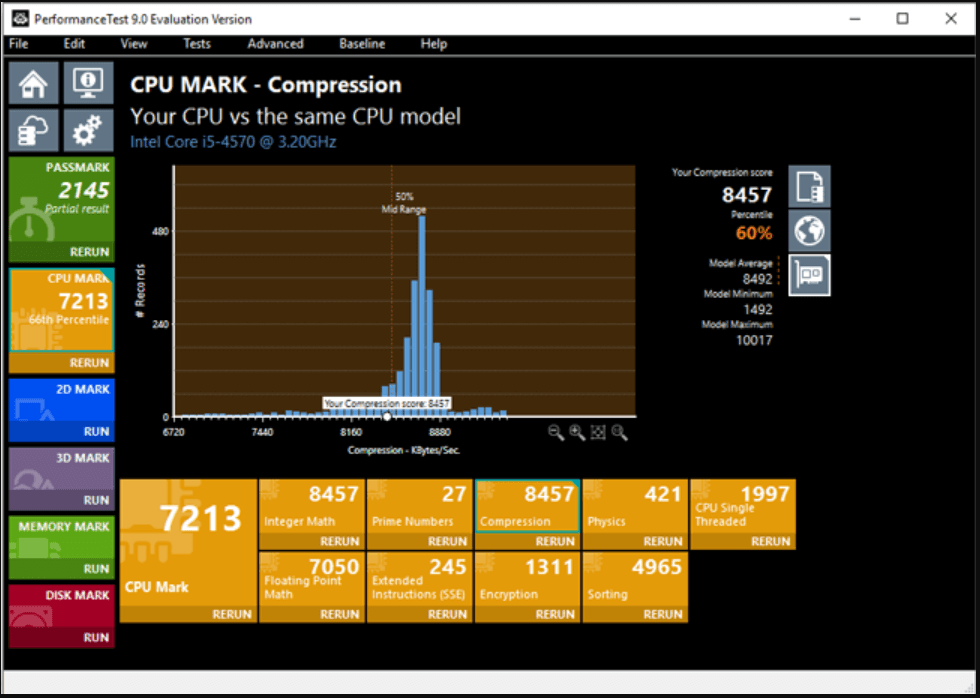 In addition, it provides a comprehensive comparison between your PC and other devices and gives you a detailed insight into the performance. It is very useful especially when you are not sure what made your computer slow down or speed up. It is available for Windows 11/10 but also older versions like Windows XP/7.
Pros:
Provides a comprehensive comparison of the PC with millions of computers worldwide
Measures the impact of configuration changes and hardware upgrades
Gives the overallPassMark Rating at the end of every test
Provides 32 standard benchmarks and you can set up custom benchmarks
Available for Windows, Linux, macOS, Android, and iOS
Cons:
No free trail
Only runs benchmark tests for desktops
# 6. Novabench
Novabench is a free Windows benchmark PC test that can test the performance of wide hardware components, including processor, memory, hard drive, and video card. It is lightweight with 80 MB file size and you need to install it on the objective system. In addition, it is very time-saving with just a few minutes to get the benchmark results.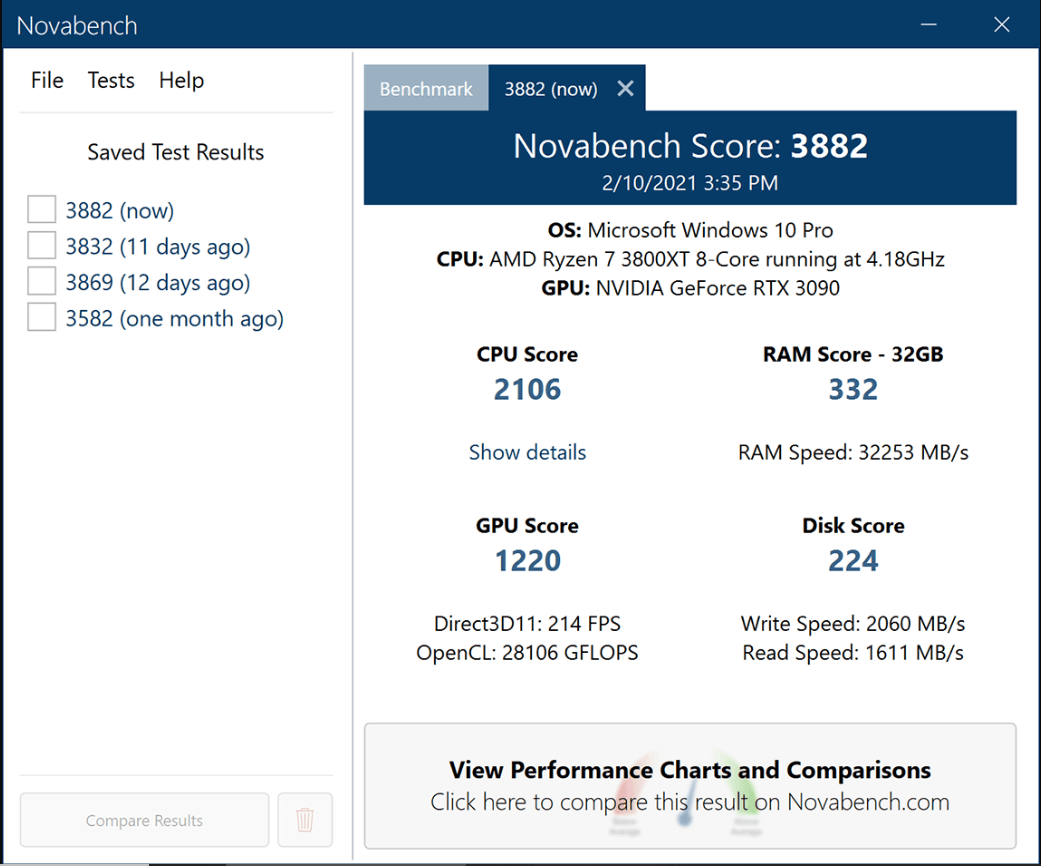 After running the benchmark and comparison tools of this software, you can get extensive results database that can give you the exact information to figure out your PC performance. You can compare the scores online and identify potential problems at once, and then take corresponding improvements and make your computer keep is best level possible.
Pros:
Displays overall test information of the hardware components
Saves all the test results so that you can access later from the saved benchmark link
Compares the PC performance with other PCs'by scores
Very simple-to-use interface
Cons:
No free trial
Only runs on Windows PC
# 7. HWMonitor
HWMonitor is one of the best free PC benchmark test tools for monitoring hardware. It is one of the most popular hardware monitor tool for gamers too. With an very easy-to-use interface, this software gives you clear displays of your PC's voltage, power consumption, clock speeds, fan speeds, and CPU/GPU temperature.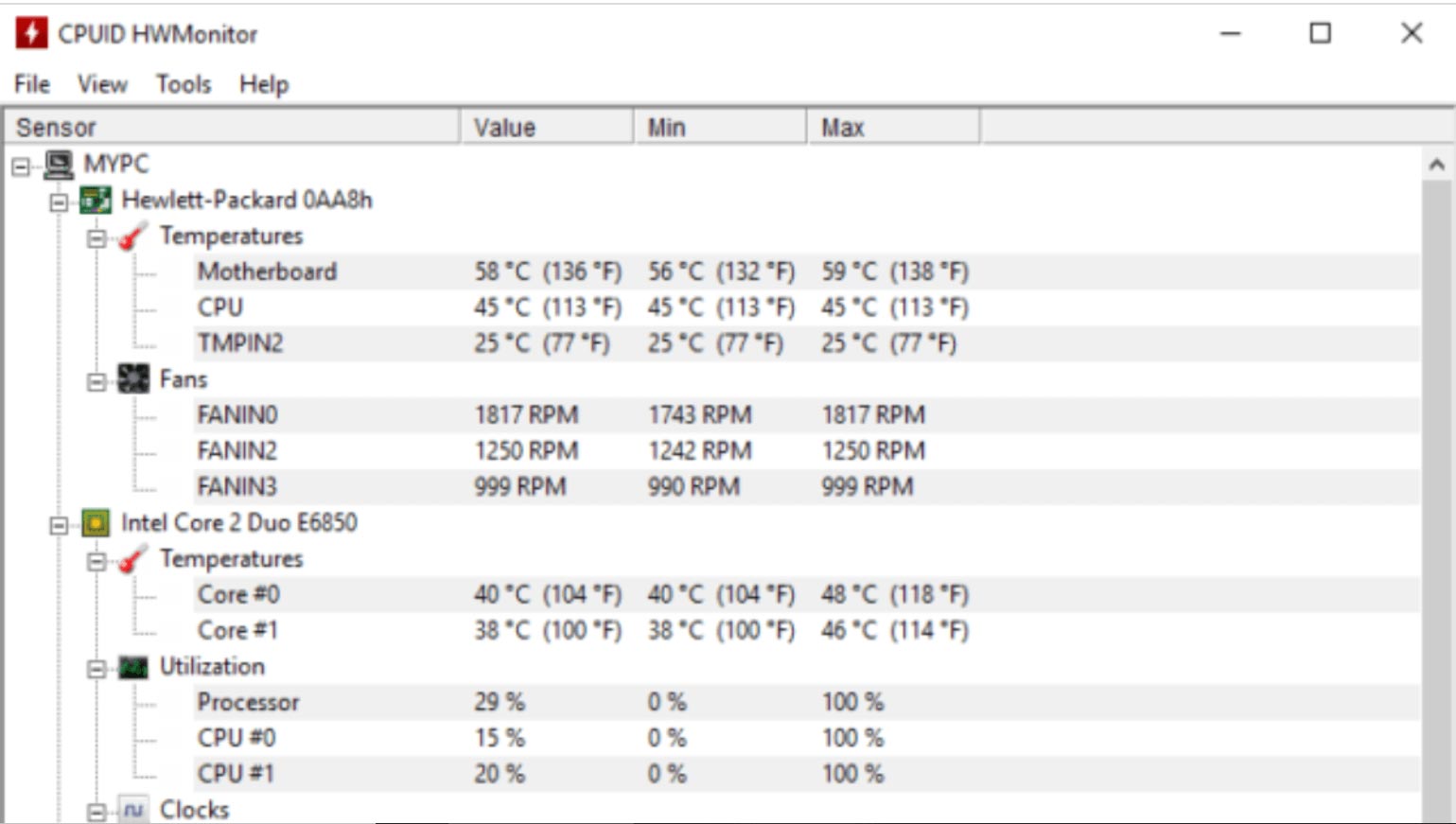 It can diagnose the high temperature issue by recording the CPU/GPU temps under different settings and differing levels of load. So, it's very useful especially when you are trying to find out what causes your computer heating up. Besides, it can runs almost all versions of Windows PCs.
Pros:
Easy to use and lightweight
Provides ongoing updates
A free trial
Cons:
Only for Windows PCs
Lacks advanced benchmark capabilities
# 8. Geekbench
Geekbench is a cross-platform best PC benchmark application that can not only work on Windows but on Android, iOS, macOS, and Linux. It provides benchmark tests for CPU to the new challenge faced when using the latest apps such as AI, machine learning, and so on. For GPU tests, it allows you to utilize a range of APIs, including CUDA, Metal, OpenCL, and even Vulkan.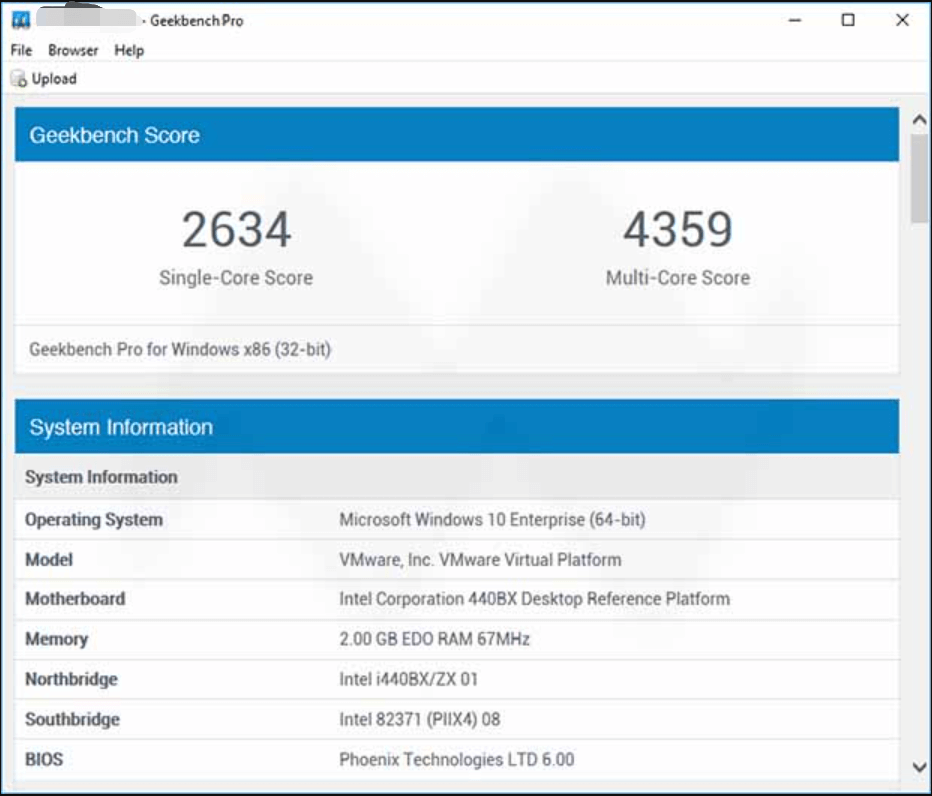 In addition, this computer benchmark test application also has the unique ability to perform cross-platform benchmark comparisons, which lets you compare your Windows PCs to Mac, or iPhone to the Android device. It also features the multi-threading models that helps in monitoring the performances of multi-threaded apps.
Pros:
Cross-platform benchmark comparisons
Provides performance tests for many new technologies like AI
Supports the new Vulkan API for GPUs
Cons:
No free trial
Commercial use requires aseparate license
# 9. PCMark 10
PCMark 10 is an complete PC benchmark test tool that covers a set of tests for Windows. The new version of this software comes with a wide assortment of tasks acted in the modern workplace and mechanism. With this tool, you can run benchmarking for apps, battery life, storage, and profiles and get accurate results each time.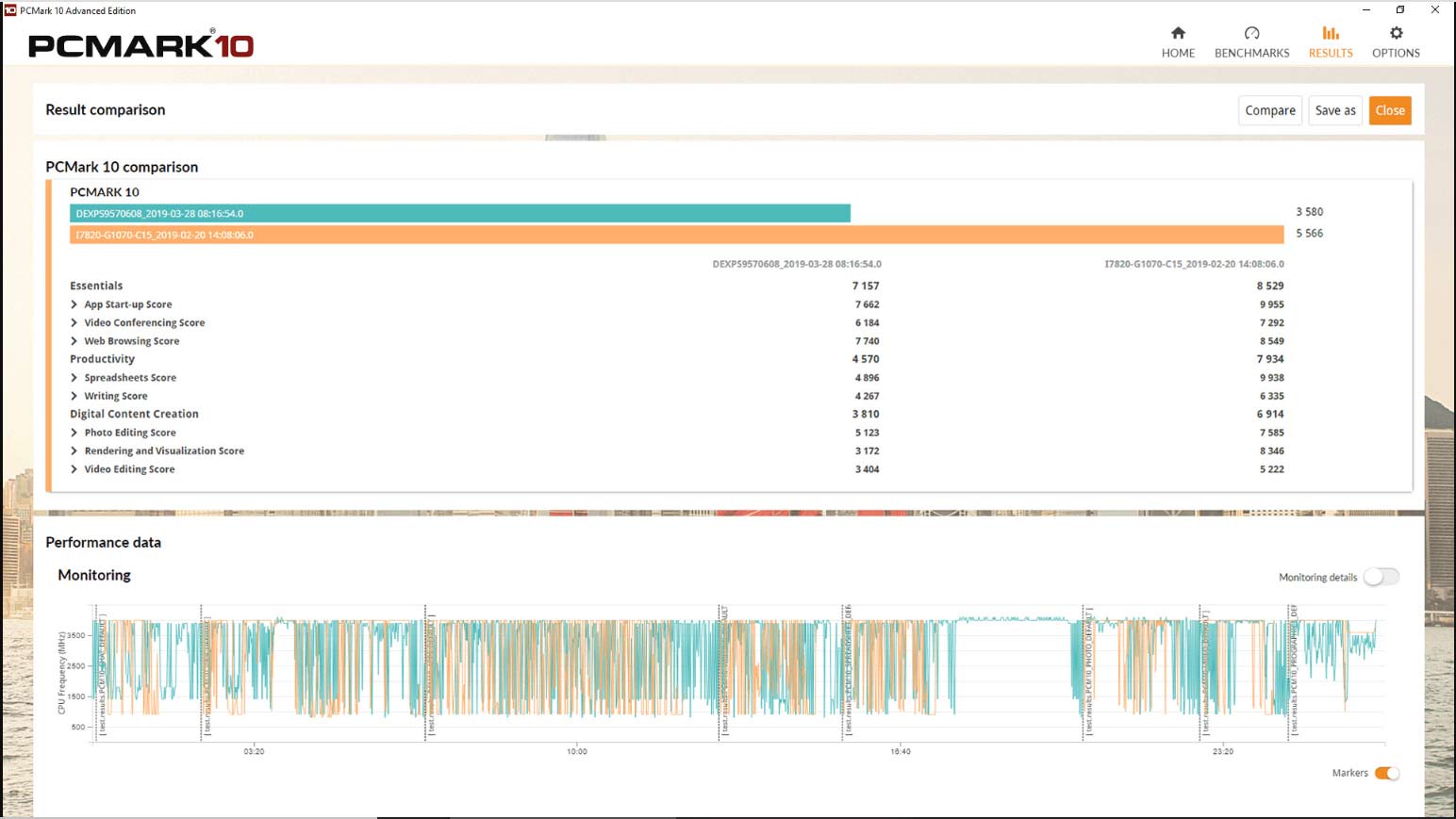 Pros:
Fast and easy to use with one-click run
Compares the latest SSDs with the dedicated storage benchmarks
Provides accurate and impartial results
Provides industry-standard PC performance for Windows 10
Has multi-level reporting capabilities
Con:
Not cheap. The professional edition with single seat license costs $1495 per year for only one system.
# 10. Cinebench
Cinebench is also a cross-platform PC performance test tool that can provides a comprehensive performance test for your CPU and GPU. It is a free tool available on most platforms and uses image delivering errands to show your rig's capabilities.
One of the most distinctive features is that Cinebench grades CPU and OpenGL performance using the 4D image reading tests. Thus, it is very valuable especially for high-end systems that scale beyond the domain of average benchmark software. The performance tests it generates are practical and rely on the true execution.
Pros:
Valuable for high-end computers
Offers a real-world benchmark test using the 4D image rendering
Free of use
Con:
CPU-centric test
I want to benchmark my PC on Windows 10/11. What's the best computer benchmark test too in 2022? This post introduces top 10 PC benchmark test tools and helps me make a wise choice.Click to Tweet
Have a Try Now
Now, here comes the end of this post. If you have any other PC performance test software to suggest, you can leave them in the following comment area. Also, you can contact us via [email protected] when you have difficulties using the MiniTool software.