Are DRAMless SSDs useful for anything? A lot of users are discussing this question on forums. Now, this post of MiniTool will analyze its pros and cons in detail. In addition, several best buy DRAMless SSDs and a tool to migrate OS will be introduced to you.
What Is DRAMless SSD
When it comes to DRAMless SSDs, it is inevitable to mention DRAM cache. Many people take the DRAM cache as an important component when buying an SSD: It's a small amount of very fast storage that works as a superior layer of cache on a NAND flash storage, and it can improve the sustained speed, response time, and endurance of an SSD.
However, there is a situation that the DRAM cache has little and even no impact on SSD performance. So, many manufactures like Crucial, ADATA, and Kingston released DRAMless SSDs that have little DRAM cache.
A lot of people are still confused if it is worth buying a DRAM-less SSD. The following part will analyze its pro and cons in detail. Let's keep reading.
Is It Worth Buying DRAMless SSD
Compared with RAM based SSDs, DRAMless SSDs have their own pros and cons. Let's start exploring.
Pros
There are 3 main advantages of a DRAMless SSD. The most obvious advantage is that most DRAM-less SSDs are cheaper than many RAM based SSDs. For example, 1TB Crucial BX500 DRAMless SSD only costs $89.99, while a 1TB Crucial M.2 DRAM SSD costs $104.88. If you choose an affordable SSD for mass game storage, then a DRAM less SSD in high capacity could be a good option.
Under the same price, a DRAM-less SSD has equally fast read speed compared with a RAM based SSD. So, you can consider choosing a DRAMless SSD as a boot drive. This is because booting computer is mostly random reads but with very little writes.
DRAMless SSDs do most of their work instantaneously, which means that there is less possibility of data loss if a power outage occurs. That's why DRAM-less SSDs have better stability.
Cons
Many users reported that a DRAM-less SSD has a shorter lifespan than a DRAM SSD. In addition, an obvious disadvantage of DRAMless SSDs is that their write speed is slower. For example, a Crucial BX500 SSD has 540MB/s of sequential read speed, while the sequential write speed is 500MB/s.
However, many people reported that the read and write speed of a DRAMless SSD is almost equally fast in reality. Do you want to know their actual read and write speed? Let's keep reading.
Benchmark the DRAMless SSD
A lot of users may want to test the read and write speed of new-buy SSD/HDD. How to benchmark hard drive/SSD? Here MiniTool Partition Wizard is highly recommended. It is a trusted multifunctional partition manager that can help you benchmark SSD, extend partition, convert FAT to NTFS, recover lost data, convert MBR to GPT, etc.
Here is a full guide on how to measure SSD performance with MiniTool Partition Wizard.
Step 1. Click on the following button to download and install the MiniTool program, and then run it to enter the main interface.
Step 2. Click on Disk Benchmark from the top toolbar, and then select the drive letter of your SSD from the drop-down menu and specify its parameters based on your needs. After that, click on the Start button.
Tip: Here you can set the transfer size, test mode, queue number, total length, and thread number. The larger span of the transfer size you set, the longer time this test will take.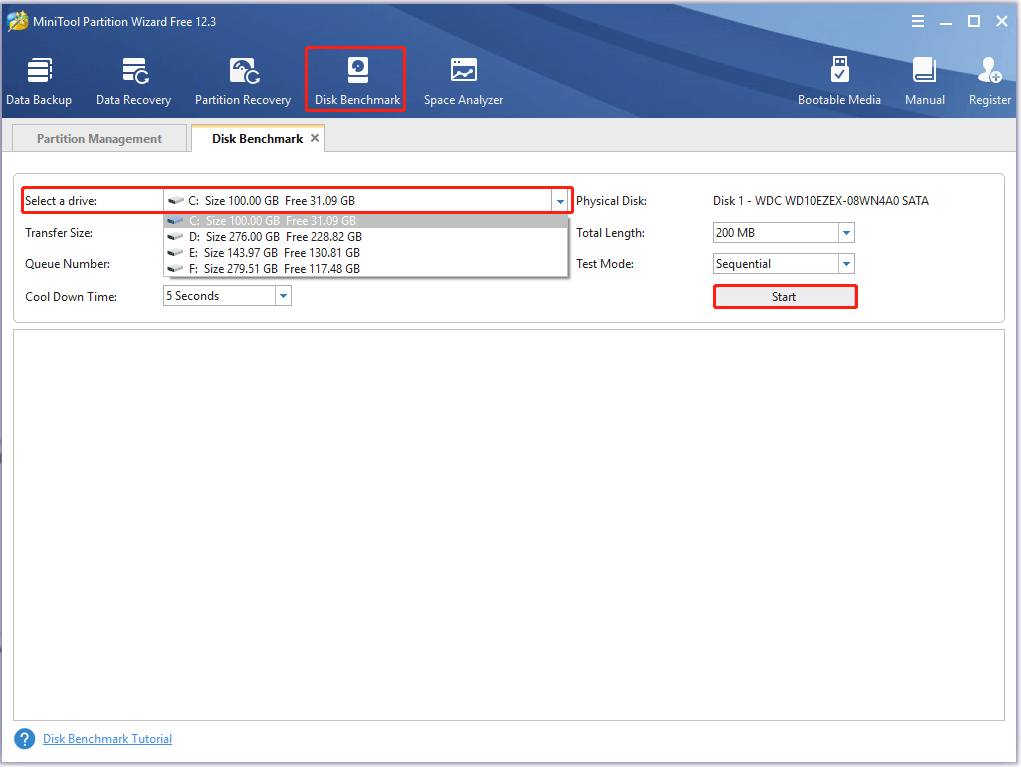 Step 3. Wait for some time to complete this disk benchmark. From this test result, you will know some important information including transfer size, random/sequential read, and write speed.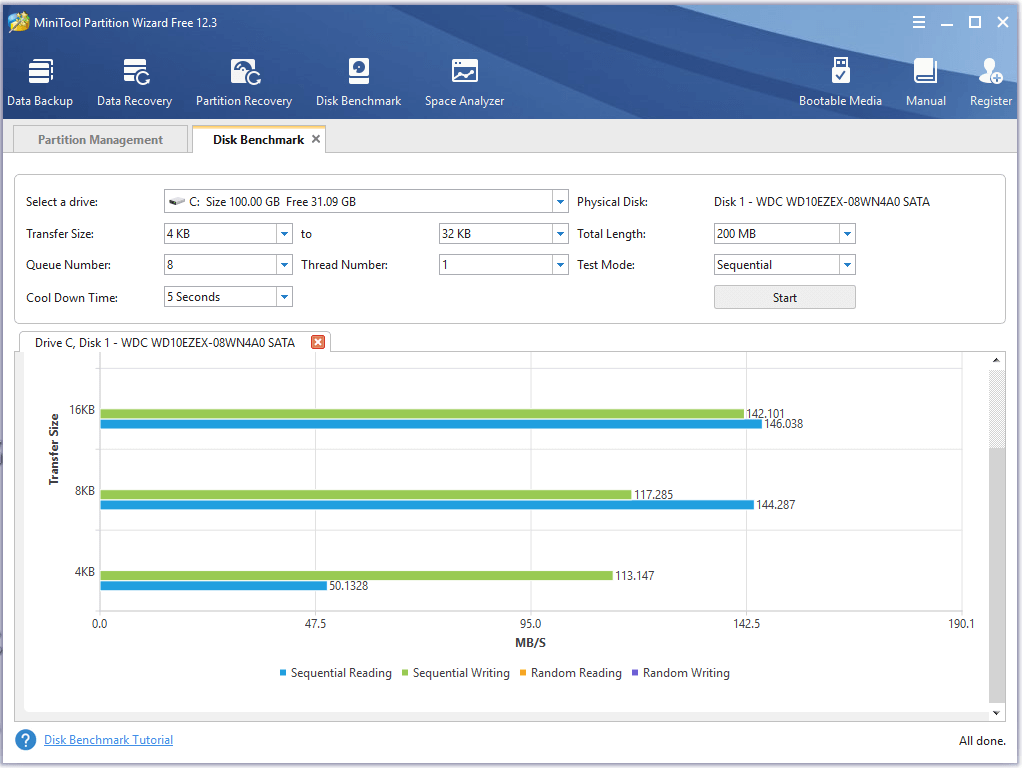 Is DRAM less SSD worth buying? The answer depends on what's the most important factor for you. If you want to purchase a cost-effective SSD, a DRAMless SSD might be a good option. If you seek an SSD with a higher write speed and longer lifespan, we recommend you choose an SSD with DRAM.
Best-buy DRAMless SSDs in 2021
There are many different brands of DRAMless SSDs on the market. Which one should you choose? If you are also confused about this question, you can refer to the following 4 best-buy DRAM-less SSDs.
#1. Crucial BX500
Crucial BX500 SSDs should be one of the most popular and reliable DRAM less SSDs. This series of SSDs focus on boosting overall system responsiveness for all computing needs. Its read speed can reach up to 540MB/s and write speed can be up to 500MB/s. Crucial provides a lot of capacity options for the BX500 SSDs so that most people can find a perfect storage capacity.
--image from crucial.com
Another outstanding point of the Crucial BX500 SSD is its price as it is cheaper than most other DRAMless SSDs. So, it is an excellent value buy especially for someone who seeks a fast SATA SSD on the cheap. Well, a drawback is that this SSD comes in only 2.5-inch form factor without M.2 option.
Here are detailed parameters of Crucial BX500 SSDs:
Capacity: 120GB, 240GB, 480GB, 1TB, and 2TB
Interface: SATA
Sequential Read: 540MB/s
Sequential Write: 500MB/s
Form Factor:5 inch
NAND Flash Type: 3D TLC/QLC NAND
Warranty: limited 3 years
Cost: $89.99/1TB
#2. ADATA SU760
ADATA SU760 is another best-buy DRAM-less SSD on the market. This SSD delivers a higher speed on sequential read and write than Crucial BX500. Its read speed can reach up to 550MB/s and the write speed can speed up to 520MB/s. In addition, it was designed with SLC dynamic caching and DRAM buffer, which is a pretty good feature for improving the performance DRAM-less SSD.
--image from adata.com
This SU760 SSD comes in 2.5-inch form factor that is supported by most desktops and laptops. Different from Crucial BX500, it allows you to add an M.2 form factor for better performance. Besides, ADATA provides a Realtek RTS5733DMQ controller in the SU760 drive, which can speed up responsiveness time.
But ADATA SU760 has fewer options in capacities that are 240GB, 480GB, and 1TB. If you don't mind its slightly higher price, then this SU760 SSD might be a good alternative to Crucial BX500.
Capacity: 240GB, 480GB, 1TB
Interface: SATA
Sequential Read: 550MB/s
Sequential Write: 520MB/s
Form Factor:5 inch
NAND Flash Type: 3D TLC/QLC NAND
Warranty: limited 3 years
Cost: $94.99/1TB
#3. Kingston A400
The Kingston A400 is also one of the best-buy DRAM-less SSDs that offers some good features at an affordable price. Compared with the above 2 SSDs, Kingston A400 has a relatively lower read and write speed. Its read speed can rate up to 500MB/s, while the maximum write speed is about 450MB/s.
--image from Kingston.com
Kingston A400 has a wide range of storage capacities from 120GB to 2TB. So, it is a good choice for those who want to have many capacity options. Besides, this SSD comes in both the 2.5-inch form factor and the M.2 form factor. Since the M.2 SSDs can be installed directly on the motherboard, users can enjoy a seamless experience without a cable. But it also means higher prices.
Capacity: 120GB, 240GB, 480GB, 1TB, and 2TB
Interface: SATA
Sequential Read: 500MB/s
Sequential Write: 450MB/s
Form Factor:5 inch and M.2
NAND Flash Type: 2D/3D TLC NAND
Warranty: limited 3 years
Cost: $99.6/1TB
#4. Lexar NS100
Since Lexar NS100 SSD was released in 2018, this drive has won many positive comments. It is an entry-level SSD suitable for those who are looking for an affordable upgrade to get more performance. The read speed of Lexar NS100 rates up to 550MB/s and the maximum write speed is about 520MB/s, which improves boot-ups, application loading times, and data transfers.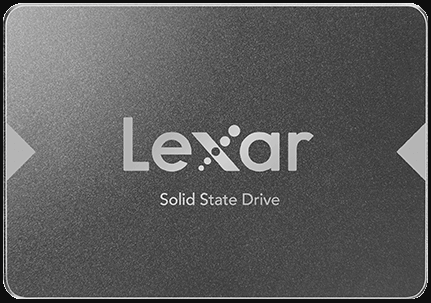 --image from Lexar.com
This NS100 SSD covers the most common capacity demands of consumers, ranging from 128GB to 1TB. But there is still a disappointment that the drive comes in only the 2.5-inch form factor. If you want a DRAMless SSD for rejuvenating an old PC, the NS100 might be your option.
Capacity: 128GB, 240GB, 256GB, 480GB, 512GB, 1TB
Interface: SATA
Sequential Read: 550MB/s
Sequential Write: 520MB/s
Form Factor:5 inch
NAND Flash Type: 3D TLC NAND
Warranty: limited 3 years
Cost: $145.33/1TB
Which one is worth buying? We believe that you can make a wise choice after reading the above information. If you want the cheapest DRAM-less SSD, Crucial BX500 should be your choice. If you take the read speed of an SSD into the first consideration, then you can choose ADATA SU760 and Lexar NS100.
Bonus: Migrate OS to DRAMless SSD without Data Loss
A great many people buy an SSD for upgrading hard disk or old laptop. Here comes up with a new question: how to upgrade to SSD without reinstalling OS. MiniTool Partition Wizard can help you migrate OS to SSD safely. To do so, follow the given steps below.
Step 1. Launch this program to enter its main interface, and then select Migrate OS to SSD/HD Wizard from the left pane.
Step 2. In the pop-up window, select Option B to copy the system-required partitions only and click on Next to go on.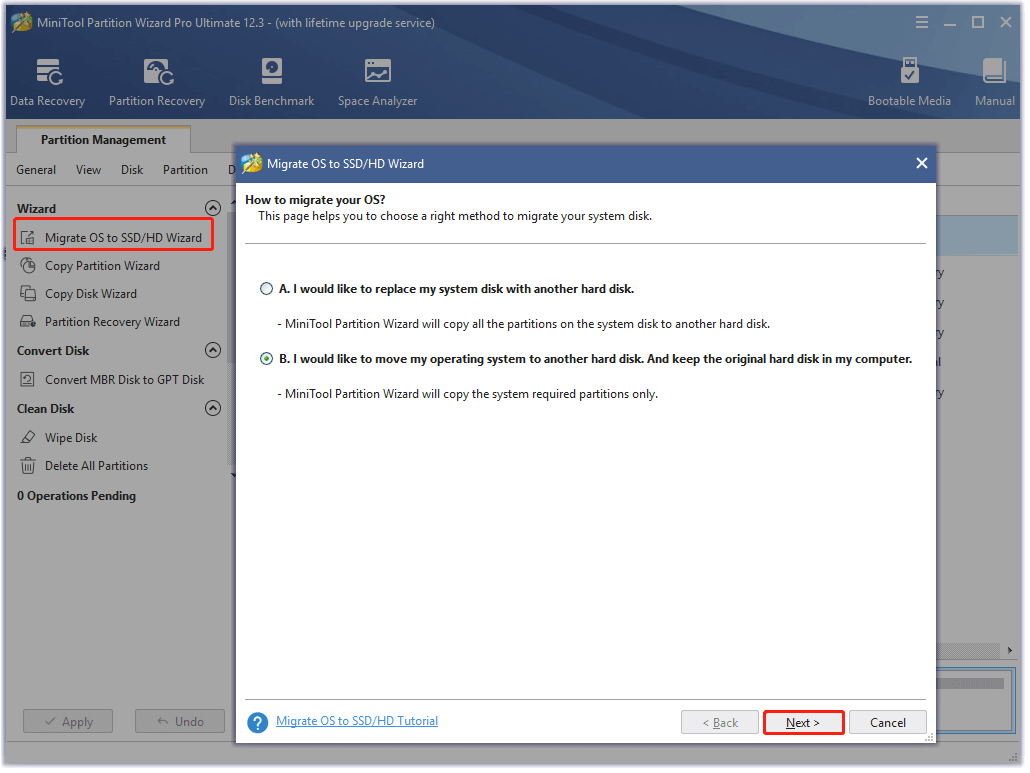 Step 3. Select the target SSD that you migrate OS to and click on Next.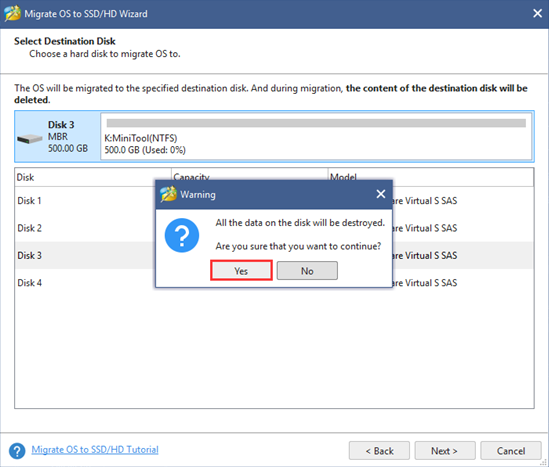 Step 4. Select a copy option based on your needs and click on Next to continue.
Step 5. Click on the Finish and Apply buttons to execute this OS migration.
What is DRAMless SSD? Is it worth buying? I'm tangled in choosing a DRAM SSD or DRAMless SSD. Fortunately, this post helped me make a wise choice.Click to Tweet
Bottom Line
Are DRAM-less SSDs worth buying? After reading this article, you should have already gotten the answer in your mind. If you want to upgrade to the SSD, this post also provides you with a full guide.
We will appreciate it if you share your own opinions and ideas in the comment area. For any difficulties with the MiniTool software, you can contact us via [email protected].
DRAMless SSD FAQ
Is DRAM necessary for SSD?
DRAM is a volatile memory that must be powered on to hold data, but not every SSD needs DRAM. There are certain DRAM-less SSDs like Crucial BX500, ADATA SU760, Kingston A400, and Lexar NS100.
Which SSD type is fastest?
NVMe based SSD
is the fastest drive you can buy now. It's known as a new protocol that's used to access high-speed storage devices especially SSDs. At present, this new standard is widely used for many famous SSD brands like Samsung, Seagate, WD, and Intel.
How long do SSDs last for?
According to a survey, the estimated lifespan of an SSD is about 10 years. When buying an SSD, you can refer to the TBW and DWPD technology related to
SSD lifespan
.