Why is my Toshiba laptop so slow? How to fix a slow Toshiba laptop? To get the answers, you can focus on this post. Here,
MiniTool
explores the possible reasons and provides several effective ways to fix
Toshiba laptops slow
.
Toshiba Laptops Slow
Toshiba laptops are a series of consumer laptops designed and released by electronic equipment manufacturer Toshiba. It is one of the best-selling laptops on the market due to its reliability and portability, great design, powerful processor, and excellent battery life. Whether you are a business person, a gamer, or a student, Toshiba laptops can meet your needs.
Like other brands of laptops, Toshiba laptops may slow down over time and affect system performance. It often becomes unresponsive in many situations, such as when launching programs, while surfing the Internet, or during startup. Here is a true example from the Microsoft forum:
Toshiba Laptops slow all the time. Hello. I have a Toshiba laptop and it is running very slow all the time. Toshiba has stopped manufacturing laptops so I am asking for help here.  Can someone help me diagnose my PC?

https://answers.microsoft.com/en-us/windows/forum/all/toshiba-laptop-slow-all-the-time/c450a4b4-c321-4cb2-9188-805b87de00ed
Why is my Toshiba laptop so slow? If you're trying to figure out why a Toshiba laptop is slow, it's somewhat difficult. But possible reasons include insufficient RAM and hard drive space, too many programs running at the same time, potential viruses in the system, laptop overheating, hardware failure, etc.
Do you have the Toshiba Satellite slow performance issue? Do you want to know how to make your Toshiba laptop run faster? This article will discuss how to solve the problem of Toshiba laptops running slow.
[6 Ways] How to Fix Hitachi External Hard Drive Not Recognized
How to Fix Toshiba Laptops Slow
Now that you know the possible causes of Toshiba Satellite slow performance, it's time to fix the problem. In this section, this post collects several feasible methods to solve this issue. You can try them in order until the issue gets solved.
Solution 1. Close All Unnecessary Programs
As mentioned before, running too many programs at the same time is one of the most common reasons for Toshiba laptops slow. If your Toshiba Satellite is running slowly, you should check if you have too many apps open at the same time. If it is, you should close all unnecessary apps and see if this helps speed up your Toshiba Satellite PC.
Step 1: Right-click on any blank area on the Taskbar, and then select Task Manager.
Step 2: Look through the programs running on your computer and determine which programs are unnecessary.
Step 3: Right-click on the programs and select End task.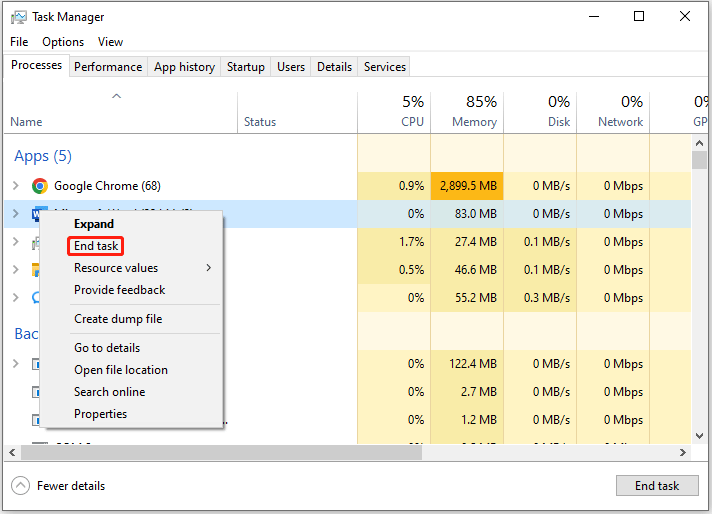 Additionally, having a large number of browser tabs open at the same time can slow down your computer to some extent.
Solution 2. Check for Viruses and Malware
If your Toshiba Satellite slow performance is caused by a virus or malware, you should run antivirus software to scan and remove these viruses or malware. Alternatively, if you don't have any antivirus program, you can use the Windows built-in utility – Windows Defender. To use Windows Defender to scan your computer for viruses, follow these steps:
Step 1: Press the Win + I key to open Settings. Then go to Update & Security > Windows Security > Virus & threat protection.
Step 2: Tap Scan Options and then choose a scan option based on your demands. Here I choose the Full Scan option.
Step 3: Click on Scan now to start the operation.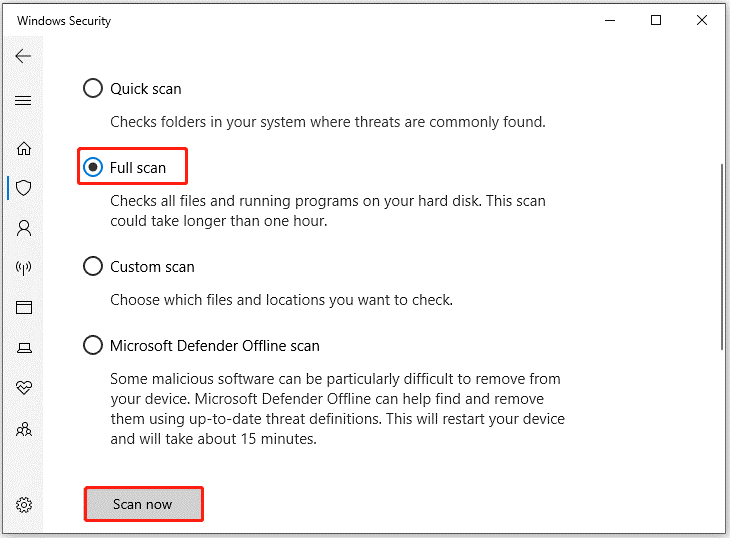 Solution 3. Free up Hard Drive
If your Toshiba laptop is running out of hard drive space, the computer will slow down. Therefore, you should try to free up hard drive space to make your computer run faster. There are many things you can do, such as uninstalling unnecessary apps, deleting temporary files, cleaning junk files, running disk cleaning, and more.
Here show you how to delete temporary files with Disk Cleanup.
Step 1: Go to Explorer and navigate to This PC. Then right-click the hard drive you want to clean up and select Properties.
Step 2: In the new pop-up box, choose Disk Clean-up.
Step 3: After several minutes' calculation, you will be given a new interface listing files in total that can be cleaned as well as the file size taken by each file type. At this time, check the ones you don't want and click on OK.
Generally speaking, Windows File Explorer does not show hidden files. So, you first need to show the hidden files and then cleanup. It can be seen that using Windows File Explorer to free up space is not that convenient.
Therefore, here we recommend you use MiniTool Partition Wizard. It shows you hidden files and tells you which file is taking up the most space. Here is the guide:
MiniTool Partition Wizard FreeClick to Download100%Clean & Safe
Step 1: Download and install MiniTool Partition Wizard on your PC. Then launch it to enter the main interface.
Step 2: Select the Space Analyzer feature on the top toolbar to launch the disk usage analyzer.
Step 3: In the next window, select the target disk from the drop-down menu. Then click on the Scan button.
Step 4: Wait until the scanning completes. Right-click on the space-consuming and useless files/folders. Then select Delete (Permanently) to remove them.
Solution 4. Defragment and Optimize Hard Drive
You can also defragment and optimize your hard drive to make your Toshiba Satellite laptop run faster. The steps are as follows:
Step 1: Type defrag into the Windows Search bar, and then click on the result of Defragment and Optimise Drives to launch it.
Step 2: Select the hard drive you want to optimize, and then click on the Optimize button.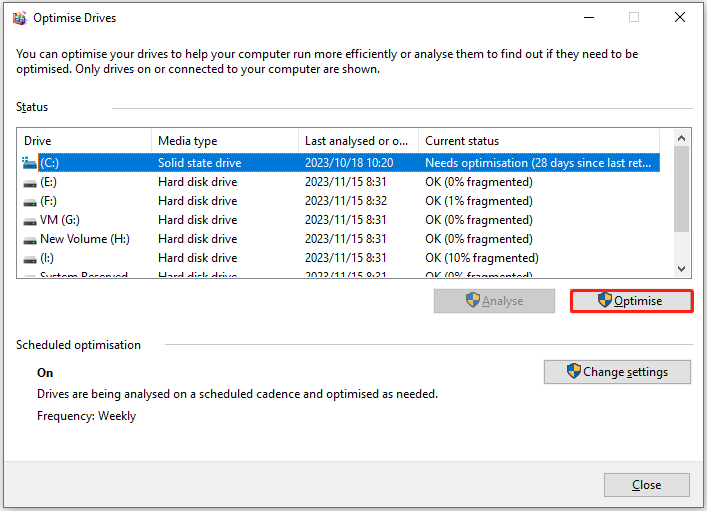 Solution 5. Run an SFC Scan
System File Checker tool can help repair missing or damaged system files. If your Toshiba Satellite laptop is running slow frequently, you can run an SFC scan to scan your system files.
Step 1: Type cmd into the Windows Search bar, and then right-click on the result of Command Prompt to select Run as administrator.
Step 2: In the elevated Command Prompt window, type sfc /scannow and press Enter.
Step 3: Then wait for the command to complete and restart your computer.
Solution 6. Upgrade RAM
RAM, short for Random Access Memory, is a type of computer memory used to store temporary data. Insufficient memory on your Toshiba laptop can also lead to poor performance. If your Toshiba laptop's memory is too small, you may not be able to run many applications smoothly and they may run slower.
To fix the Toshiba laptop slowness issue, you can choose to add RAM or upgrade the RAM to a larger capacity. Computers with high RAM capacity can perform more operations and are faster than computers with smaller RAM.
How to add RAM or upgrade RAM? You can refer to these posts:
Solution 7. Check for Windows Updates
Missing important Windows updates may cause Toshiba laptops slow. Machines need to be updated to run some new programs, as they tend to automatically upgrade over time. In the absence of updates, some applications may become incompatible, causing the computer to have difficulty running, causing slowdowns or even freezes.
Step 1: Press the Win + I key to open Settings.
Step 2: Go to Update & Security > Windows Update and check for updates. In Windows 11, go directly to Windows Update to check for available updates. After detecting some available updates, download and install them.
Solution 8. Upgrade the Hard Drive to a Larger SSD
If all the above tips don't work, the last way to fix your Toshiba laptops running slow is to replace your old hard drive with a larger SSD. A larger SSD can make your PC run faster.
How to upgrade the HDD to SSD to fix the Toshiba laptops slow issue in Windows 10/11? You can migrate your entire disk to SSD through disk cloning without reinstalling Windows. In order to complete this work, professional hard drive cloning software – MiniTool Partition Wizard can help you a lot.
This software can copy all partitions on the hard drive to an SSD. What's more, MiniTool Partition Wizard offers lots of helpful features for partition/disk management such as partition hard drive, convert MBR to GPT, recover data from hard drive, and more.
MiniTool Partition Wizard DemoClick to Download100%Clean & Safe
Step 1: Launch it to get its main interface. Then select the original hard drive from the disk map and click on Copy Disk from the left action panel.
Step 2: In the pop-up window, select the target disk and click on Next.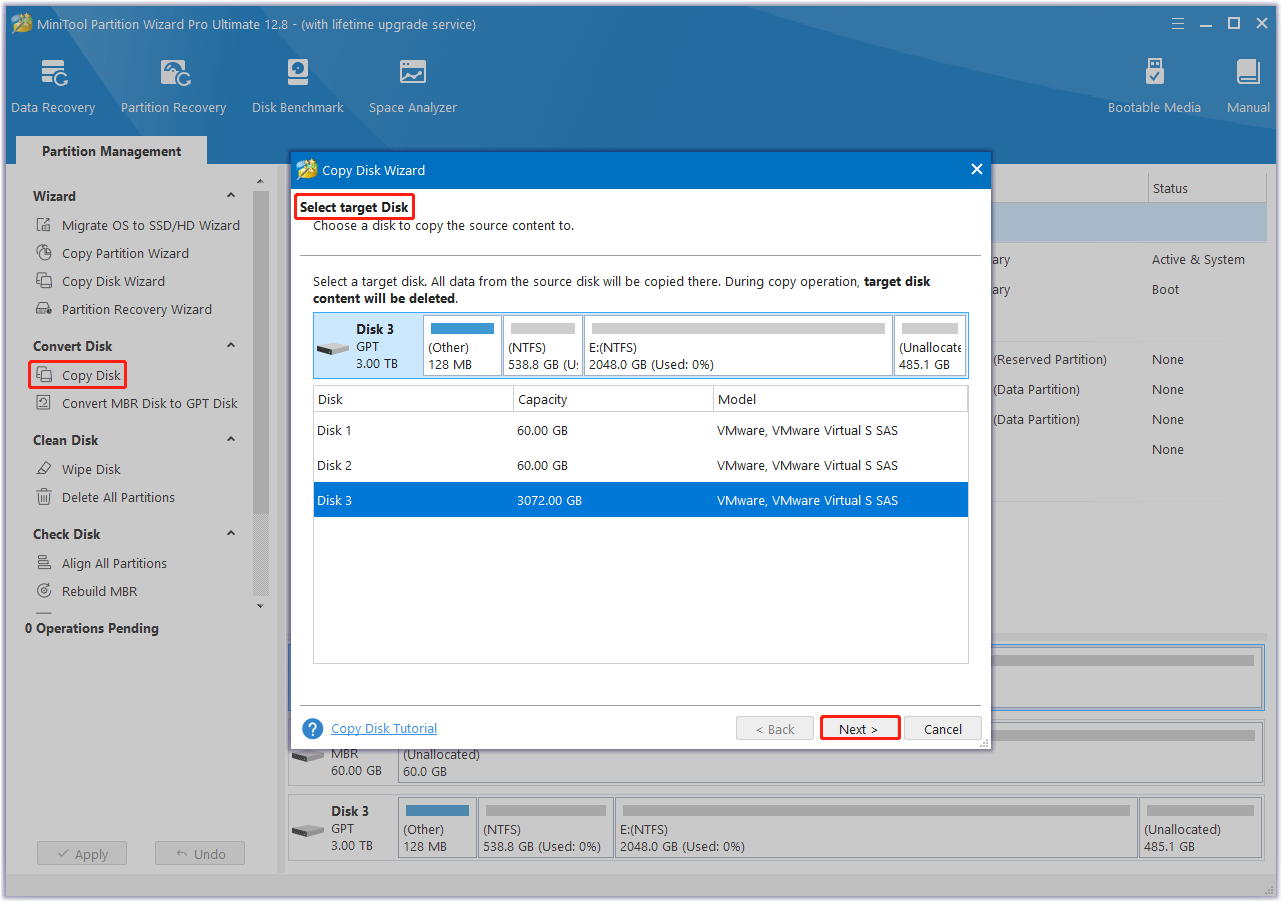 Step 3: Select copy options based on your needs and click on Next to continue. Here you can keep the default options unchanged if you are using an MBR disk.
Step 4: Read the note information and click on the Finish button in the pop-up window. Finally, click on Apply to execute the pending operations.
My Toshiba laptop is running so slow and this issue bothers me a lot. Luckily, MiniTool Partition Wizard provides some helpful solutions to help me solve it successfully. I'd like to share this post with you.Click to Tweet
Bottom Line
To sum up, this article has discussed several common reasons why my Toshiba laptop so slow in Windows and provided methods on how to fix a slow Toshiba laptop. Now you can try these solutions out if your Toshiba laptop is running slow.
For any other opinions about this error, you can leave a message in our comment area below. If you encounter certain issues while using MiniTool Partition Wizard, you can send us an email via [email protected] to get a quick reply.