Now more and more antivirus software is available. All of you want to use reliable software to secure data. This post will compare two widely used antiviruses - Bitdefender and Avast. Click this post from 
MiniTool
 to get more information on Bitdefender vs Avast.
About Bitdefender and Avast
To start with, I will introduce some basic information about Bitdefender and Avast respectively. Then you can have an in-depth look at the comparisons and differences of them, which are compared from five aspects. The following is some information about them.
Bitdefender
Bitdefender protects every computer in an organization by blocking malware intrusions, network hacks, and tricky file-less exploits. It not only leads the pack at thwarting attacks, new and old, but the program uses a single agent to do it all, lowering the startup hurdles and system resources it requires.
Avast
You can use the free version of Avast on your Windows PC. The feature of implementing next-gen technologies in Avast is famous. And it can fight against all kinds of viruses, malware, and cyber-threats. All the major OS like Android, Windows, iOS, and Mac are supported by Avast.
In addition to the free version, Avast has other four paid versions including Avast Pro Antivirus, Avast Internet Security, Avast Ultimate, and Avast Premier.
Bitdefender VS Avast
After knowing the basic information about Bitdefender and Avast. Now, I will introduce the information on Bitdefender and Avast form 6 aspects.
Feature
One of the main things to pay attention to when comparing different antivirus programs is how many built-in features and extra features each program has. Speaking of Bitdefender free vs Avast free, you will find that both provide very similar scan types and features.
Both Avast and Bitdefender provide email security, anti-spam, cloud anti-virus, and macro protection. You can also perform quick scans, full scans, and scans at startup for this two antivirus software.
Although Avast may have the most comprehensive scan to protect your computer, in terms of the number of features, Bitdefender does make Avast stand out. You will be able to use a password manager and VPN in Bitdefender.
Besides, Bitdefender will provide you with multiple layers of ransomware protection and a feature called Rescue Mode, which allows you to safely boot your computer and even remove the most annoying rootkits and malware.
User Interface
Then, let's see Bitdefender vs Avast for the user interface. For people who don't fully understand the features of antivirus programs and how they work, looking at Bitdefender's antivirus interface may be a little overwhelming. Avast antivirus interface is easier to understand and looks good.
If you are looking for the most comfortable and clear interface, then Avast is a great choice. If you are running the free version of Avast, you will be able to see all the missing content available to paying subscribers. If you should accidentally click one of these buttons; you will be directed to the website asking you to upgrade.
System Performance
Anti-virus software can protect the computer with minimal impact on system speed. Thus, I will introduce Bitdefender vs Avast for system performance. First, let's look at the performance test results of the AV-Test Institute in April 2020. In this test, Bitdefender performed well again and scored 6 points out of 6, while Avast lags and manages to get 5.5 points out of 6.
Bitdefender
Avast
Some cheap computers without as much RAM or processing power may have problems running these powerful programs that require a lot of energy. If you are worried about this, then it's recommended to use the Bitdefender antivirus program.
Security
This part is about Bitdefender vs Avast for security.
The first aspect is the virus. Viruses are one of the most common computer threats. Avast and Bitdefender are rated as the best antivirus programs around. However, Bitdefender may have an advantage because Avast is not very good at solving the latest malware spread, but these two antivirus programs are ahead of the industry average.
The second aspect is the firewall. Avast antivirus software does provide a firewall and provides you with additional protection against programs that may harm your device. If you know you want to add firewall protection, make sure to use it with Avast. Although Bitdefender is often praised for its innovative ways of protecting devices, it does not include firewall protection or provides a firewall in the program.
The last aspect is malware protection and phishing protection. The effectiveness of an antivirus program depends on its ability to deal with all threats comprehensively. Although the advantages of Bitdefender from the perspective of the end-user are undeniable, Avast does have a complete set of tools to deal with security threats. Avast has a complete set of tools, each of which is dedicated to protecting you from other unique types of threats.
Pricing
Maybe, you are interested in the price of them. Thus, here is the information on Avast vs Bitdefender for pricing.
Three licenses of Bitdefender Antivirus Plus cost $19.99 per year. For Bitdefender Internet Security, the second layer of protection requires up to 3 licenses per year at $39.98. But these two products are only compatible with Windows.
For Bitdefender Total Security, the annual fee for 5 licenses is $44.99. Finally, Bitdefender Family Pack costs $69.98 per year and provides you with an unlimited number of licenses. These two advanced products are universal, which means they are suitable for PC, Mac, and mobile devices.
As for Avast. Avast Internet Security is an entry-level product with a price of $59.99 with a PC-only license. The annual cost of Avast Premier is $69.99. The product also protects only 1 device.
Then, for Windows-only devices, the price of Avast Ultimate is the most advanced, which costs $119.98 per device per year. Finally, the flagship MacOS product, Avast Security for 1 Mac, is priced at $59.99.
Compared with Avast, Bitdefender's product pricing is quite reasonable, and each level provides more licenses.
Service
The correct way to know how effective and trustworthy antivirus programs are is to look at the services they provide in terms of guarantees. As for Avast and Bitdefender, if you are not satisfied with their products, they will provide customers with a 30-day money-back guarantee. In other words, within 30 days after purchase, you can contact any company for a full refund.
Which One to Choose?
Now, you may wonder you should choose Bitdefender or Avast?
Both Bitdefender and Avast provide excellent features. However, Bitdefender has stronger security and performance enhancements than Avast. Thus, if you care about the feature, you should choose Bitdefender. Besides, in the aspect of security, Bitdefender is better than Avast. What's more, Avast has a very friendly and intuitive interface. However, what makes Bitdefender stand out is the ability to optimize its interface for casual and skilled users.
In terms of pricing, Bitdefender is far ahead of Avast. Bitdefender also provides more licenses for each product, while Avast is very expensive. At last, in the aspect of system performance, both companies performed well in independent laboratory tests, but in both evaluations, Bitdefender outperformed Avast.
Now, you may know you should choose Avast or Bitdefender.
This post provides some information on Bitdefender vs Avast. You can decide which one is better for you.Click to Tweet
Use MiniTool ShadowMaker to Back up Files
Just relying on antivirus software to protect computer data is not enough. Thus, you need other software to protect your data and should back up your important data regularly to prevent file loss.
Luckily, the free backup software – MiniTool ShadowMaker can satisfy these two conditions at the same time. The program allows you to back up important data and systems in simple steps and it supports Windows 10/8/7, which can provide data protection & disaster recovery solution for you.
This freeware supports you backing up files, Windows operating system, disk, and partition to an external hard drive, flash drive, thumb drive, pen drive, NAS, etc. regularly. At the same time, it can enable disk management. All in all, this software can meet any of your demands.
Now you can download and try MiniTool ShadowMaker to back up your files.
MiniTool ShadowMaker TrialClick to Download100%Clean & Safe
Steps of backing up files are as follows:
Step 1: Decide a Backup Mode
Launch MiniTool ShadowMaker and choose Keep Trial to use the trial edition.
Step 2: Choose Backup Source
Go to the Backup page. Then choose Folders and Files to continue and choose the files you want to back up. At last, click OK.
Step 3: Choose a Destination Path to Store Your Files
Then, choose one destination to store your files and click OK.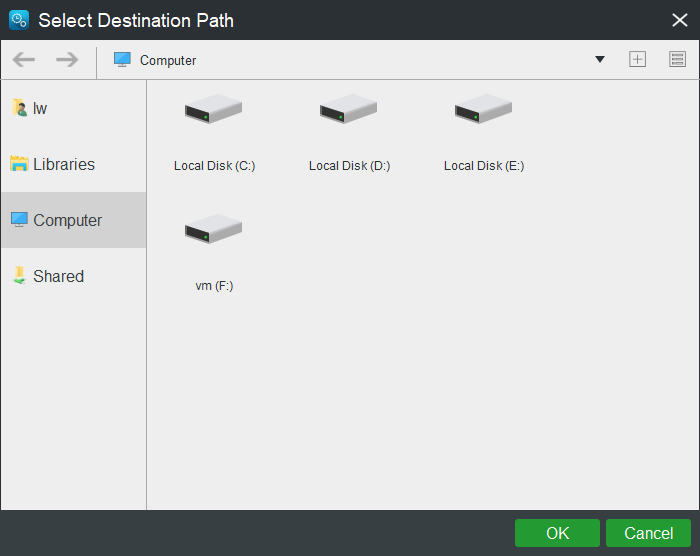 Step 4: Start to Back up
You will back to the following interface and you should click Back up Now or Back up Later to start the process immediately or delay the process.
When the process is finished, you have successfully backed up files. At the same time, you have protected your important data.
You might also like the Bitdefender VS Memz. Here is everything you need to know:
Bottom Line
Here is all the information on Bitdefender vs Avast. Maybe now you have known which one to choose. Besides, to better protect your data, you should use MiniTool ShadowMaker to back up it. If you have any questions and suggestions, please contact us via [email protected] or leave a comment.
Bitdefender VS Avast FAQ
Does Avast slow your computer down?
Is Avast Free Antivirus safe to use?
What are the top 5 computer viruses?
What are the most famous virus attacks in the world?
CryptoLocker.
ILOVEYOU.
MyDoom.
Storm Worm.
Anna Kournikova.
Slammer.
Stuxnet.