How long does it take to build a PC? What factors will affect the process? If you intend to build a PC by yourself, you may wonder these questions. This post from MiniTool provides details for you. Now, keep on your reading.
How Long Does It Take to Build a PC?
How long does it take to build a PC for beginners? If you're a beginner, it can take three to four hours to put together a PC, but this can vary from person to person. However, this does not include preparation or troubleshooting time.
How long does it take to build a PC for experienced users? An experienced assembler can put together a PC in less than an hour, but again, this can vary.
Related posts: How Much Does It Cost to Build a Gaming PC?
What Factors Affect the Time of Building a PC?
First, there are a few factors you must evaluate before building your PC. These affect the overall time required to build and run the system.
1. Experience
The most critical factor affecting PC build times is your experience. In general, the more experience you have building PCs, the faster you can build them.
2. Research
Another key factor in determining how long it takes to build a PC is the amount of research you do. The more you know about PC components and how to install them properly, the faster you can build. Without proper research, you may run into some common issues such as incompatible RAM, underpowered PSU, cables that are too short or too long, and more.
Also see: All Parts Needed to Build a PC [Shopping Guide]
3. Troubleshooting
Troubleshooting plays an important role in the total time required to build a PC. This is the most tedious part of the entire PC building process. For a novice, anything can go wrong when building a PC for the first time. For example, you may have forgotten to turn on the power, or the hardware may be faulty. Fixing such issues can take anywhere from a few minutes to a few weeks, adding to the overall time needed to build a PC.
4. Delivery Times
Especially in today's market, PC parts can take weeks to ship to your location. This can significantly extend the time it takes to start building a rig.
5. Cooling Method 
Depending on the type of cooler you purchase, build times may decrease or increase. Generally, air coolers are easier to install than liquid coolers, which means they also take less time to install.
Air coolers don't require extensive installation planning, since nothing can damage your PC's other components. Liquid coolers, on the other hand, require careful planning on how to install them without any leaks or issues. This process can take a lot of time while building your PC.
6. Cable Management
​​Once your PC is assembled and working, you will want to organize cables for easy maintenance.
What Hardware Affects PC Build Time the Most?
How long it takes to build your PC depends largely on the hardware you use. The part that has a considerable impact on this time is your cooling solution. Typically, most CPUs come with a backup cooler consisting of a heatsink and fan. This piece of hardware usually only takes five to ten minutes to install.
However, liquid cooling options are becoming an increasingly popular alternative. They provide excellent temperature control, but take several hours to implement. So your build time could double if you opt for a liquid cooling solution.
If you plan on adding eye-catching accessories, that might add a lot of work too. Computer enthusiasts especially love RGB lighting. RGB case fans and light strips can turn a bland computer into a stunning work of art. The only downside is that they require some extra time and expertise to install.
Also see: How to Build an RGB PC: What Hardware Should You Need?
How Long Does Each Step Take?
The following is a table comparing the build times for each step.
| | | |
| --- | --- | --- |
| Step in PC Building Process | Time Expected for a Beginner Builder | Time Expected for an Experienced Builder |
| Unboxing of parts, gathering tools | 5 to 10 minutes | 5 to 10 minutes |
| Prepping a construction space and opening the case | 15 minutes | 5 minutes |
| Setting the motherboard up, installing CPU and cooler | 30 minutes | 10 minutes |
| Mounting the motherboard | 30 to 45 minutes | 5 minutes |
| Installing the power supply (PSU) | 15 to 30 minutes | 5 minutes |
| Installing RAM, GPU, and drives | 30 minutes to one hour | 10 minutes |
| Setting up fans and peripherals | 30 minutes to one hour | 5 to 10 minutes |
| Final touches and troubleshooting | 30 to 45 minutes | 5 minutes |
Related posts:
Migrate OS After Building a PC
After building the PC, you need to install an operating system before using it. If you have an old PC, you can directly transfer the system from the old one to the new one. To do that, you can try the professional backup tool – MiniTool ShaodwMaker.
Follow the below steps to do that:
Part 1: Perform the System Backup
Step 1: Download and install MiniTool ShadowMaker on your old PC.
Step 2: Click Keep Trial to continue. Then, go to the Backup page. MiniTool ShadowMaker chooses the system as the backup source by default.
Step 3: Click the DESTINATION module to choose the backup destination. Here are four available paths including User, Computer, Libraries, and Shared.
Step 4: Click the Back Up Now button to execute the system immediately.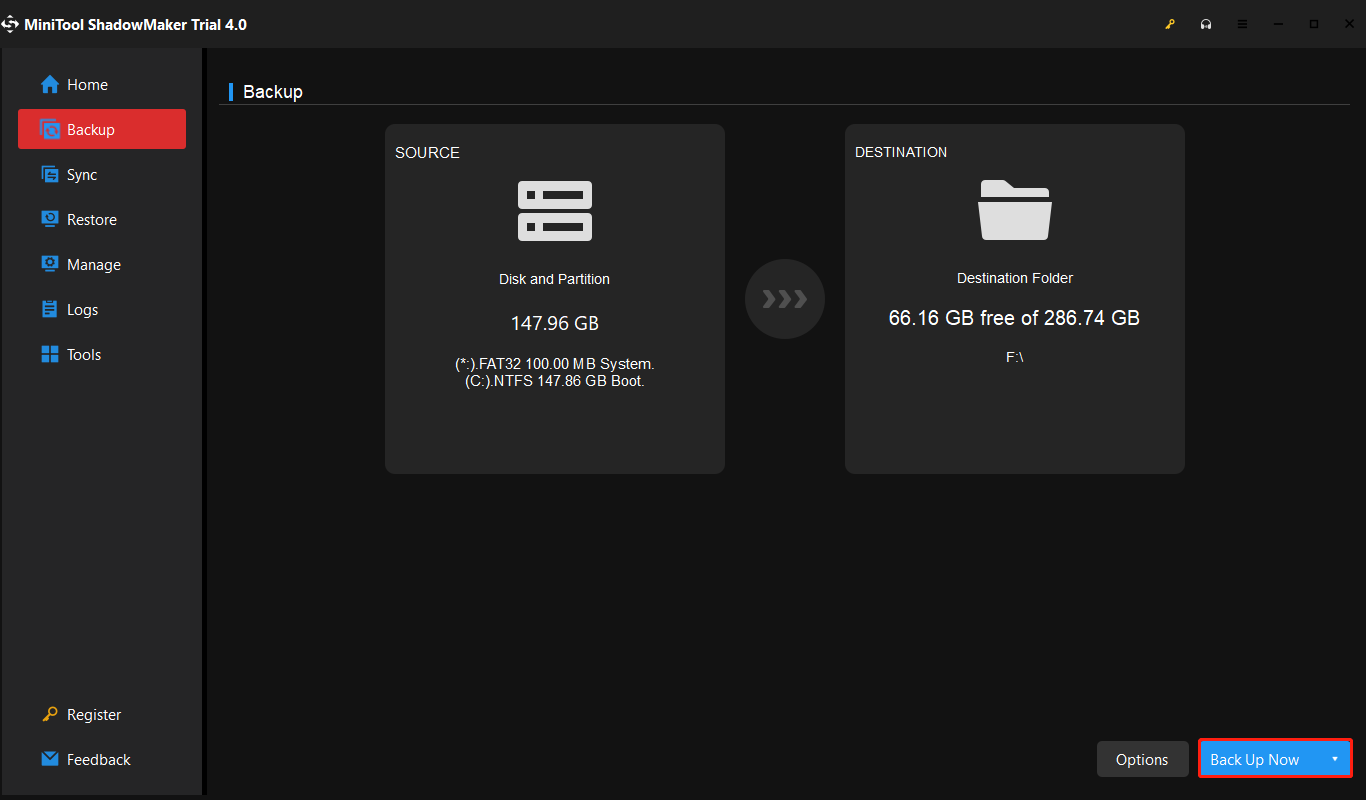 Part 2: Create a Bootable USB Drive
Then, prepare an empty USB flash drive and connect it to your old computer.
Step 1: Open MiniTool ShadowMaker and go to its Tools page.
Step 2: Choose the Media Builder feature. Click WinPE-based media with MiniTool plug-in to continue.
Step 3: Then, you need to choose a media destination. You can choose the ISO file, USB flash drive, and CD/DVD driver based on your needs. After that, it will start to create.
Part 3: Restore the System Using the Recovery USB Drive
you can boot the new computer from the bootable device you have created and go to the Restore page to perform a system image recovery. Since the incompatibility between the system and the hardware, maybe the system can't boot and you need to perform a universal restore with MiniTool ShadowMaker.
Step 1: You need to go to the Tools page and click the Universal Restore feature.
Step 2: This feature will automatically list the operating system on the left pane and you need to click the RESTORE button to continue.
If you don't have an old PC, you can go to the Microsoft official website to purchase Windows 11 or Windows 10. Then, follow this post to install it - How to Install Windows 10 on a New Hard Drive (with Pictures). After that, it's recommended to back up your system regularly with MiniTool ShadowMaker. to provide better protection for your data.
Bottom Line
Is this post useful to you? Do you have other designs? Please leave a comment below for discussing and sharing. In addition, if you have difficulty in migrating OS, please contact us via [email protected]. We will get back to you as soon as possible.