Are you confused about what Spyware is? How to remove Spyware Windows 10? This guide on MiniTool Website will dive into the definition of Spyware and the resolution to remove it. On top of it, you can learn to develop a backup habit to prevent unexpected data loss.
What Is Spyware Windows 10?
First of all, let's have a quick look at the definition of Spyware. As its name suggests, Spyware is kind of like a spy that can conceal in your system and steal your personal data without your knowledge. It can lock your PC secretly and record all your internet activities including your username and passwords, the website you visit, your e-mails & messages, and so on. 
Most importantly, Spyware is known for its significant computing power to degrade the performance of your PC and slow down your device. Its shielding ability is so strong that it is tricky to remove it.
How to Remove Spyware Windows 10?
As mentioned above, Spyware has the ability to access all your account and passwords, removing it is very urgent and crucial.
Here, this article will list several practical ways to get rid of it.
Way 1: Enable Safe Mode
Safe Mode allows you to boot your PC with the basic settings process, which will help you figure out how to remove virus manually.
Step 1. Open Windows Settings.
Step 2. Scroll down to locate Update & Security.
Step 3. In the Recovery tab, click Restart now under Advanced Startup.
Step 4. After your PC boots up, choose Troubleshoot under Choose an option.
Step 5. Then click on Advanced options.
Step 6. Hit Startup Settings and tap on Reset.
Step 7. As soon as the screen returns, you can press F4 to start your PC to Safe Mode or press F5 for Safe Mode with network access.
Way 2: Uninstall Problematic Apps
If Way 1 doesn't work, you can try deleting suspicious apps to get rid of malware on Windows 10.
Step 1. Open Control Panel.
Step 2. Look for Programs and Features, and then click on it.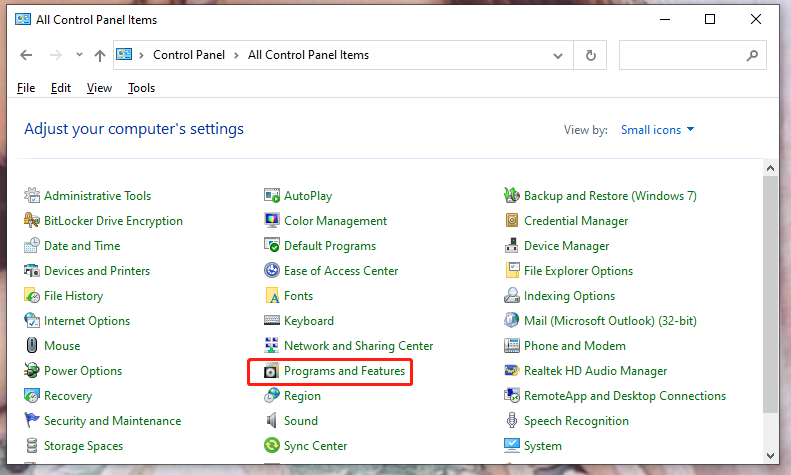 Step 3. Scroll down to navigate to the software that you think is Spyware, click it and hit Uninstall.
Step 4. In order to make those changes effective, you need to reboot your PC.
Way 3: Stop the Program via Task Manager
Task Manager is also a helpful tool packed with all your system's overall resource usage and detailed statistics about each progress. You can also take advantage of it to get rid of Spyware.
Step 1. Right-click the taskbar to Open Task Manager.
Step 2. In Processes, find the problematic app and right-click it.
Step 3. Choose Open file location to find the app's file location.
Step 4. Return to the Processes interface, and right-click the program again to choose End task.
Step 5. In the corresponding file location, delete all the files.
Way 4: Make Use of Windows Defender Offline Scan
Windows Defender is part of Windows Security framework which works by scanning and removing all the threats it finds on your device. Here's how to remove Spyware Windows 10:
Step 1. Press Win + I to open Settings.
Step 2. Click Update & Security.
Step 3. In Windows Security, tap on the Virus & threat protection option.
Step 4. Press Scan options under Current Threats.
Step 5. Choose Windows Defender Offline scan and then hit Scan now.
Tip: During the process, your PC will boot up again. If you want to view the results of scanning, you can click Settings > Update & Security > Windows Security > Virus & threats protection > Protection history to see the deleted threats.
Way 5: Delete Temps
Temp folders are temporary files that the computer creates to open a program in a short time. Those folders are usually the directory where some malware such as Spyware, Adware, and Trojans hide. What's more, hackers also access your computer by Temps. Here's how to remove Spyware Windows 10 by deleting Temps:
Step 1. Open Settings and choose System.
Step 2. In the Storage tab, hit Temporary files under Local Disk (C:).
Step 3. Check all the files and tap on Remove files.
Way 6: Reset Your Windows 10
The last resort to remove Spyware is the Windows Factory Reset. This operation enables you to delete all the Windows files and applications and only reinstall the most basic and necessary apps and drivers from manufacturers. To do so to remove spyware from PC:
Step 1. Open Settings and click Update & Security.
Step 2. Under Reset this PC, click on Get started.
Step 3. Then there will be two options: Keep my files and Remove everything. Choose the latter one and you will have a brand-new computer.
Tip: You had better choose to delete all your files from Windows 10 in case Spyware is still left in your system. This operation will wipe your system, so you must back up some important files and run them via a reliable antivirus tool before you copy them back to your system.
Some of you may feel confused about the differences between Windows reset, clean install, and fresh start. Then you can move to - Windows 10 Reset VS Clean Install VS Fresh Start, Detailed Guide to figure it out.
4 Tricks to Prevent Spyware Infection
After knowing how to remove Spyware Windows 10, we will introduce 4 tricks to prevent Spyware for you.
Method 1: Avoid Visiting Strange Websites
Recently, much malware masks itself into a pop-up. As soon as you click the X button, the system will download it at once. Therefore, pay attention to any popping-up windows and don't click them randomly. Just go to Task Manager to find their file location, end them and delete corresponding files, and then your computer will become safe and sound.
Method 2: Download Applications from the Official Website
If you want to install any software, don't download it from non-secure websites. On the one hand, if you download them from an unofficial site, some unwanted and unnecessary apps may install automatically along with the target app.
On the other hand, the strange links may carry viruses thus slowing down your computer.
Method 3: Scan the Link or Application in Advance
When appearing a link or page that indicates "go to this page to download an app", stop and copy & paste the link to a free link scanner such as Virus Total to check its security. 
Method 4: Develop the Habit of Backup
To resist the attack of malware like Spyware, you need to keep a backup habit in case your important files are destroyed by them. At the mention of backup, we strongly recommend you a powerful backup software, MiniTool ShadowMaker. If you happen to get attacked by Spyware, don't worry, you can rely on it to restore your data easily and quickly.
As a professional backup software, MiniTool ShadowMaker allows you to back up your files/folders, and even partitions and disks. With a backup image of your personal files, you don't need to worry about accidents like hard drive failure and system crash due to malware attacks.
What's more, MiniTool ShadowMaker is so considerate that it provides you with a feature called Schedule that enables you to make your backup at regular time.
How to Back up Your Data Regularly with MiniTool ShadowMaker?
Here, we will introduce you 2 ways to back up your data with MiniTool ShadowMaker. Take file backup as an example:
From Backup
Step 1. Download and install the trial edition of MiniTool ShadowMaker from MiniTool Website.
Step 2. Open it & click Keep Trial, and you will enjoy a 30-day backup service for free.
Step 3. In Backup, click Source > Folders and Files to select the source items.
Tip: You can check several files and folders at a time. After finishing selection, click OK.
Step 4. Click on Destination to opt for a destination path for your original files. The path can be various, whether User, Library, Computer or online shared NAS is OK.
Step 5. Click Schedule to specify a backup task to run on a regular basis. By default, this feature is disabled, you need to toggle it on manually. ShadowMaker provides you with four ways to customize schedule backup, and they are:
Daily – Set a specific time point to carry on backup tasks every day. ShadowMaker allows you to begin to back up every 1, 2, 3, 4, 6 or 8 hours.
Weekly – Select one day or more in a week to execute the backup task at a particular time.
Monthly – Launch the backup task at a fixed time point in a month.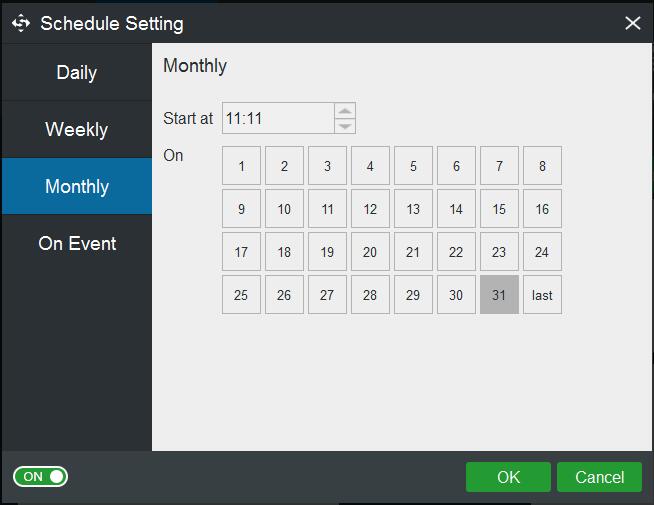 Tip: Since the number of days will vary in each month, you had better choose last if you need to back up on the last day of a month. Once click 31, the backup task will not be executed in February, April, June, September, and November.
On Event – Execute the backup task on particular events.
Log on: Starting backup task automatically when booting up the operating system.
Log off: Starting to back up the task when logging off the OS.
Tip: MiniTool ShadowMaker sets incremental backup by default in Schedule to save the storage space to the greatest extent.
Step 6. Click Back up Now to start to back up right now or put off the task by clicking Back up Later. The delayed task will be shown in the Manage interface.
From Manage
The steps of choosing a backup source and destination are the same. If you forget to set the automatic backup when creating the task, you are able to edit it in Manage. Whether it is an executed backup or an unexecuted task, the Manage interface will list all the tasks for you.
Tip: Maybe you cannot find your backup after upgrading. Under this condition, click Add Backup to locate your backup.
After creating your backup, you can:
Step 1. Click Manage to open the Manage interface.
Step 2. On the right of each task, there is a three-horizontal-line button. Click it and you can see a feature menu.
Step 3. Click Edit Schedule, and then you will find that this feature is totally the same as that of the Backup interface.
Final Words
To sum up, we introduce you that what Spyware is, how to prevent Spyware, how to remove Spyware Windows 10 and most importantly, how to set up a regular backup task to resist the attack of Spyware. Sincerely hope that all the tricks and tips do the charm for you.
If you are still perplexed about Spyware or the features of MiniTool ShadowMaker, leave a mail to us via [email protected]. Our support team will try our best to help you as soon as possible.