This article offered by MiniTool Tech gives a complete review on uTorrent about what it is, how it works, whether uTorrent is safe, how to use it safely, as well as its alternatives. You can find all you want to know about uTorrent here.
What Is uTorrent?
uTorrent, also written as μTorrent, is a proprietary adware of BitTorrent. It is developed by BitTorrent, Inc. uTorrent is designed to use minimal computer resources while providing services comparable to larger BitTorrent clients like BitComet and Vuze.
BitTorrent, Inc., now RainBerry, Inc., is an American company responsible for the ongoing development of the BitTorrent peer-to-peer protocol, and the ongoing development of uTorrent and BitTorrent Mainline, two clients for that protocol.
Files transferring by BitTorrent protocol constitute a significant slice of all Internet traffic. At its peak, 170 million people use the protocol every month.
Advantages
Take a small number of computer resources like memory and CPU.
Fast file sharing (downloading and uploading) speed.
Lessen the load on centralized servers by distributing the burden among users.
Multiple operating systems (OS) and languages supported.
Disadvantages
Some versions may have ads, adware, malware, bundleware, etc. especially for free versions and versions downloaded from unofficial sources.
Is widely used illegally to share copyrighted files like movies, music, games, and software.
How Does uTorrent Work?
First of all, you need to know what torrenting is. Torrenting is to download and upload files through the BitTorrent network. The special thing is that instead of downloading files from a central server, torrenting involves downloading files from other users' devices on the network. Vice versa, users upload files from their own devices for others to download.
And, as one of the clients of BitTorrent, uTorrent works the same way as torrenting described in the above.
Is uTorrent Safe?
Before answer the question, let's see some cases.
Case 1: Is uTorrent Web Safe?
In late 2010, a version of uTorrent was released with adware in the form of the Conduit Engine. The adware installed a toolbar and made homepage and default search engine changes to a user's web browser without users' consent. It was rude! To be worse, the adware was difficult to remove! Under the controversy and pressure of a large number of users, uTorrent bundled the new Bing Toolbar in 2011.
Case 2: uTorrent Is It Safe?
In August 2012, BitTorrent announced the addition of advertising in the free version of uTorrent. Though the advertising could be individually dismissed by users just like advertising in other places, free users were not satisfied with it and gave a negative response.
Therefore, a few days later, BitTorrent stated that ads could be optionally turned off. "Pimp My uTorrent", a program created by users to simplify the process of disabling ads in uTorrent for Windows Computers was released. Starting with version 3.2.2, uTorrent also contains in-content advertisements described as "Featured Torrent". In such a situation, if you disable the ads, it is possible to disable the content as well.
Case 3: How Safe Is uTorrent?
In March 2015, uTorrent was alleged to automatically installing a program named Epic Scale. Epic Scale mines the cryptocurrency Litecoin in the background for BitTorrent, Inc. (allegedly giving a portion to charity) using the power of CPU and GPU. It was classified as "riskware" by some security programs.
An uTorrent developer disputed the claim that it was automatically installed. He claimed that Epic Scale could be declined while installation just as all other "partner" programs bundled with uTorrent. Yet, on March 28, Epic Scale was permanently removed from the installation of uTorrent as a software bundle.
Case 4: Is It Safe to Use uTorrent? 
It is said that Ukrainian and Russian uTorrent users are being tricked into installing Yandex Browser and other Yandex-produced software.
OK, no more cases. The above four cases can prove it all that uTorrent is not that safe! Actually, no software/program/application/app/tool/utility/feature is completely safe, especially for file-sharing programs like uTorrent. Even for anti-virus software, it is also dangerous for collecting user information and even inviting viruses without known by itself.
As for the web browser added in uTorrent in the above Case 1, some users think it may track users by recording IP addresses of those downloading or receiving the advertisements. Also, the search feature can be used to track user queries.
Is uTorrent Safe to Download?
Most importantly, since you are probably downloading items from other users' devices, not from the central server that is comparatively much safer, you may download viruses together with the files you want on your computer.
With over 150 million users, uTorrent is the most widely used BitTorrent client outside China, ranking second globally only behind Xunlei, a Chinese most widely used BitTorrent client. Therefore, if some virus hacks the protocol of uTorrent, a great many people will be affected. It will surely be great damage and loss.
Uninstall uTorrent
Is uTorrent Safe?
uTorrent is not 100% safe especially for versions downloaded from third-party websites.
If you don't want to use uTorrent anymore, or if you are not sure about the safety of your current version of uTorrent, just remove it from your computer. Then, how to delete uTorrent off PC? Normally, like other programs, just uninstall it in Windows Settings
If you can't uninstall uTorrent or its bundled software in Windows Settings, try to do it in Control Panel. Or, just rely on a professional software uninstall program to remove the applications you don't want from your machine. 
How to Use uTorrent Safely?
How to Use uTorrent Safely?
Download uTorrent from Its Official Website.
Always Download Files from Trusted Sources
Secure Your Downloading by Firewall, Antivirus software, etc.
Back up Your Computer on Schedule
Torrent Anonymously with VPN
Torrent via Tor (Anonymity Network)
Use Trackers
If you really need to keep using uTorrent, but worry about the potential risks of been infected or caught, what should you do to mitigate the damage. There are several suggestions for reference.
Suggestion 1. Download uTorrent from Its Official Website
After removing the previous suspicious version of uTorrent, you are strongly recommended to download its newest version from its official website thus to avoid the chance of being infected by malware. 
Suggestion 2. Always Download Files from Trusted Sources
Even you can't avoid danger all the time, you can try your best to download what you want from a comparatively safer source. For how to figure out which source is safer, you may rely on the comments of others and the reputation of the uploader.
Also avoid downloading content that is released on DVD and Blu-Ray in the past several months, especially for movies. And, avoid downloading cracked programs for they probably distribute viruses.   
Suggestion 3. Secure Your Downloading by Firewall, Antivirus software, etc.
The above suggestion 1 is difficult to carry out. Then, an easy way is to enable your firewall and open antivirus software while torrenting. It can not only protect you from inviting viruses but also prevent you from uploading suspicious files to attack others' computers.
PeerBlock, for example, is a free and open-source personal firewall that blocks packets coming from, or going to, a maintained list of blacklisted hosts, especially for peer-to-peer networks.
Also, you are recommended to scan your machine for viruses frequently. Especially scan your newly downloaded files before opening them. Some viruses are good at camouflage. They may successfully pass the gateway of the firewall. When they get on your computer, they will show what they really are. Or, maybe they will still keep silent for some days. Anyhow, just frequently scan your PC via anti-virus programs.  
Suggestion 4. Back up Your Computer on Schedule
Is uTorrent safe from viruses? Probably not. So, watch your important files! The last but important insurance you can give to your crucial data is to make a backup of them. Not once, but on schedule!
Then, how to do that?
Of course, you need the help of a professional and reliable program like MiniTool ShadowMaker. It is safe without any bundles or third-party advertisements. Moreover, you can use it freely for 30 days without any charge.
To make use of the tool, first of all, you need to download and install it on your computer. It supports only Windows OSes currently.
MiniTool ShadowMaker TrialClick to Download100%Clean & Safe
Step 1. Launch MiniTool ShadowMaker and click Keep Trial on its first screen.
Step 2. When on its main UI, navigate to the Backup tab.
Step 3. In the Backup tab, click the Source module to select the files you want to back up.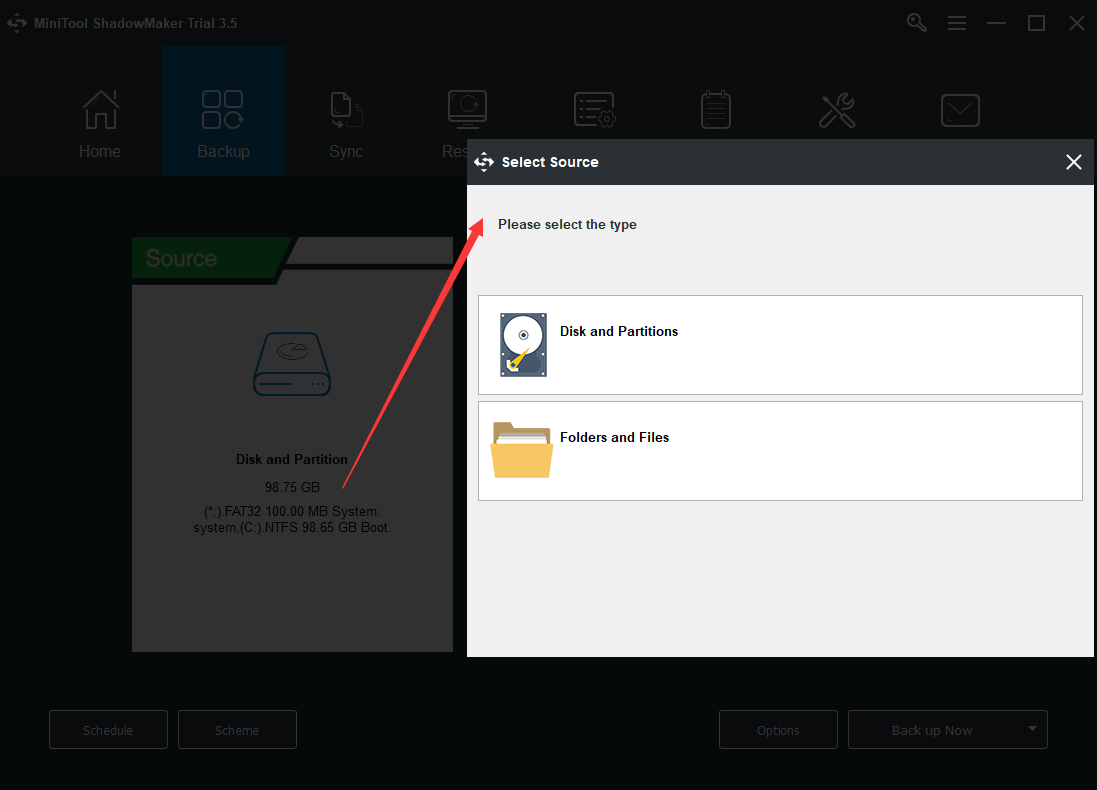 Step 4. Click the Destination module to choose where you'd like to save your backup. It is recommended that you store the backup image in external storage.
Step 5. Then, it will redirect you back to the main interface of the Backup tab. There, click on the Schedule button on the lower left.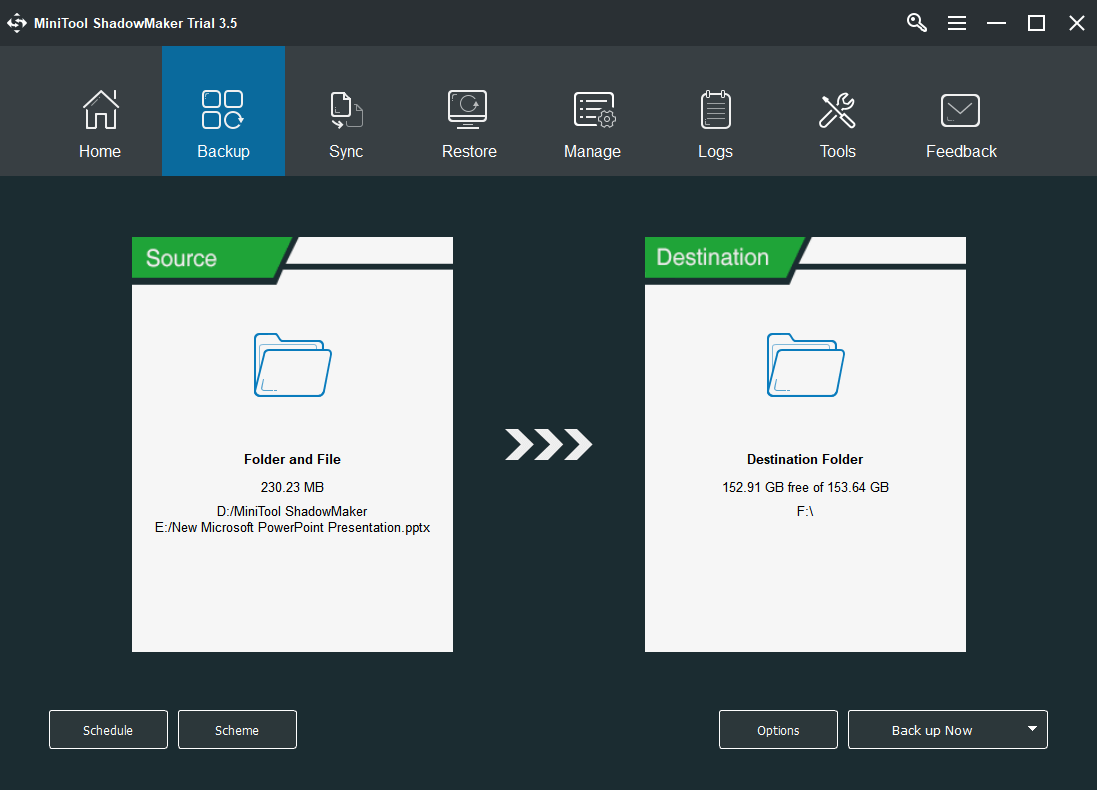 Step 6. In the pop-up window, switch on the schedule function and set up a schedule to back up your files regularly.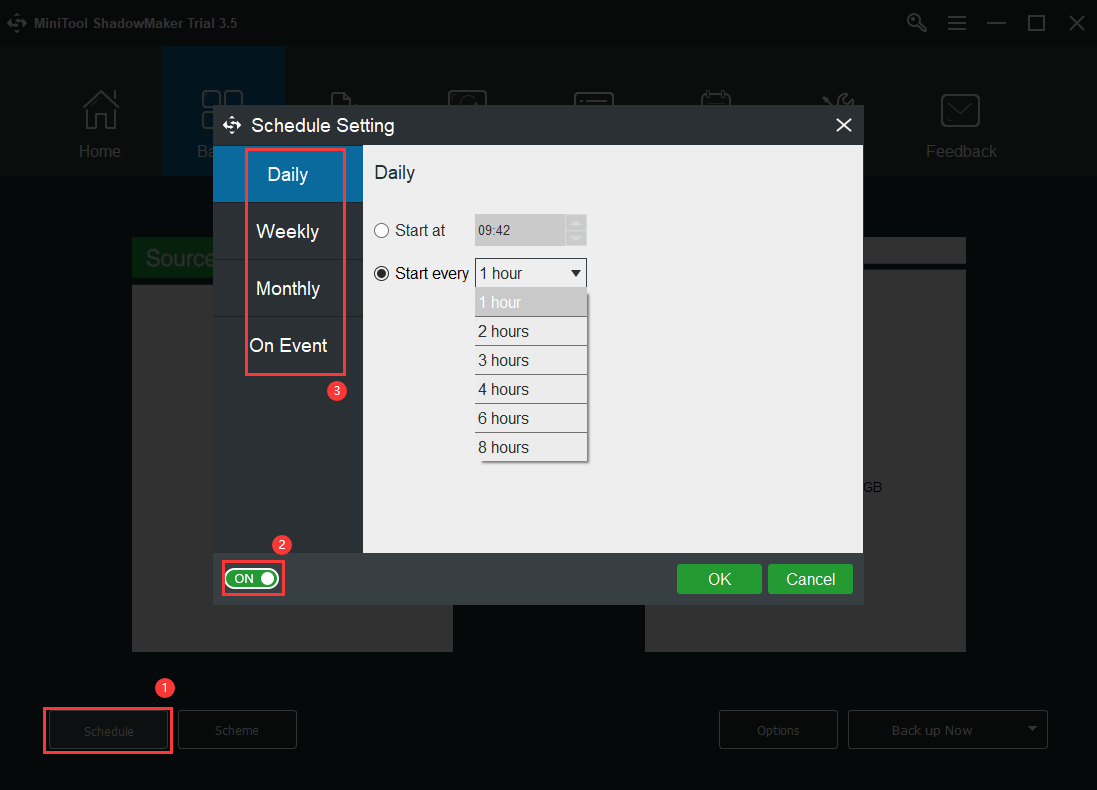 Step 7. You will be guided to the main Backup tab again. There, just preview the task and start it by clicking Back up Now in the lower left.
When it finishes, just close the program. And, at the set time in the future, it will automatically start to back up the selected files to the selected location. If you choose to back up to an external device, just keep the device connected to your computer.
Suggestion 5. Torrent Anonymously with VPN
Torrent with virtual private networks will hide your Internet activity from your ISP (Internet Service Provider). If you want to prevent your ISP from monitoring your activity, select a VPN that does not keep a log of your activity and that is not based in a country where the legal system can be used to demand customer records. 
Suggestion 6. Torrent via Tor (Anonymity Network)
Tor is a free and open-source program that allows anonymous communication. It directs Internet Traffic through a free and worldwide volunteer overlay network consisting of more than 7,000 relays to conceal a user's location and usage from anyone conducting networking surveillance or traffic analysis.
Suggestion 7. Use Trackers
A tracker is like a search engine that indexes files on the BitTorrent network and judges whether a download is safe or not. For the public tracker, anyone can just go to their respective websites and search without signing in or providing any authentication.
uTorrent Alternatives
If uTorrent can't satisfy you and you still worry about the potential danger of using uTorrent, you may switch to uTorrent replacements to do your file sharing work.
Note: Some of the below alternatives are still risky potentially, especially for the programs that also adopt the torrent technology.
Alternative 1. qBittorrent
qBittorrent is a cross-platform free and open-source BitTorrent client. It is a native application written in C++. qBittorrent makes use of Qt5, Boost toolkit, and libtorrent raster bar library (for the torrent back-end). Its optional search engine is written in Python.
Alternative 2. Xunlei
Xunlei is a Chinese filesharing software supporting BitTorrent protocols, HTTP, FTP, and eDonkey. It is the number 1 used BitTorrent client in China and also the most used BitTorrent client in the world. Xunlei uses a technology called P2SP to speed up the download process. It features banner advertisements that can be disabled if logged in as a VIP user.
Alternative 3. Streaming
Instead of downloading the whole files via torrenting, nowadays, many people chose to stream video content either on their web browsers or by professional applications like YouTube and Twitch. However, when you streaming copyright-protected content or watching pirated content, it is still illegal and the actions are also vulnerable to threats like phishing.
Alternative 4. Usenet
Usenet is a paid service for downloading files from central servers instead of network peers. Its download is much faster and usually as fast as your ISP can handle. Usenet is also more private. The connection is directly between you and the servers, which are usually SSL-encrypted or equipped with a VPN.
On the other hand, downloading a Usenet file does not mean that you have to seed it for others. Thus, it makes you less of a target of being caught by providing copyrighted content. What's more, Usenet providers make files available for a certain number of days, 1,200 days for standard. So, it is also a way to restrict illegal file sharing.
Now, you should know whether uTorrent is safe or not and how to deal with it. If you have any doubts about the above contents, just comment below. Or, if you encounter problems while using MiniTool ShadowMaker, feel free to contact us via [email protected].
Is uTorrent Safe FAQ
Is uTorrent Legal?
It depends. uTorrent itself is legal. Yet, sometimes, the action some users rely on uTorrent to carry out is illegal, for example, downloading and sharing copyright-protected files without permission.
The Influence of Being Caught by Using uTorrent Illegally?
The copyright manager and Internet Service Provider (ISP) monitor the network of BitTorrent. If you are caught torrenting copyrighted contents, they will take action. For instance, send you a warning letter or throttle your network connection to legal action.
How to Remove Ads/Malware from uTorrent?
Usually, only free users can have ads or malware. You can close ads and uninstall malware manually. For uninstalling malware, you can do it in Windows Settings or Control Panel, or rely on a third-party program.
If you are a paid user and still encounter advertisements, search within the uTorrent app or its website for entrance to remove ads once and for all.
Is BitTorrent Safe?
Similar to uTorrent, BitTorrent itself is a safe tool. Yet, if you use it to torrent on risky networks or websites, you can potentially get infected by viruses.