What Is Online Privacy?
You may be familiar with the phrase – online privacy – in recent years, worldwide companies are willing to invest more money to safeguard their digital privacy.
However, there is a large room to improve people's consciousness of online privacy and security. So what is online privacy?
Online privacy includes your personal information that has been used, collected, shared, and stored on your devices.
And besides, your personal information about your habits, shopping, and location can be collected from your phone, GPS, and other devices – and eventually shared with the third-party apps if your online privacy has been attacked.
Although the country has started attaching importance to legislation targeting illegal network activities, protecting online privacy depends on every one of us.
Why Is Online Privacy Important?
In real life, you will pay more attention to privacy protection because no one wants to be stalked or interrupted and your life safety can also be guaranteed by laws.
However, let's switch the situation – the Internet – where you can see and speak as you want and more freedom can be shared. At the same time, legal protection for online privacy lags far behind compared to real life.
That gives birth to the consideration of online privacy and security. The truth is, with the increased instances of online privacy violations and cybercrimes, protecting your online privacy is what you have to do.
For example, Identity theft is one way of losing privacy on the web. Cybercriminals can also steal your credit card information and in the process, gain an undue advantage over your finances.
But if you can take sufficient measures to safeguard digital privacy, it can help you be free of social media data breaches, safeguard your online privacy and identity from theft and cybercriminals, and limit the power someone may have over you, as well as protect the freedom of speech and expression.
After understanding how important the online policy is, this article will tell you how to protect your online privacy.
The culprit of online privacy violations may be malware or phishing. Not only can they steal and delete your private information, but also some of them may attack your PC to damage your files or system.
So, first of all, backup can be your choice in safeguarding data.
Backup Expert – MiniTool ShadowMaker
MiniTool ShadowMaker is an excellent program equipped with multiple features to provide a better backup experience. You can download it first and you will get a Trial version for free. Then you can start your backup.
MiniTool ShadowMaker TrialClick to Download100%Clean & Safe
Step 1: After entering the interface, please click Keep Trial from the top right corner.
Step 2: Switch to the Backup tab, you can click Disk and Partition part to select your backup source. Here, you can choose the System (default setting), Disk and Partitions, and Folders and Files.
Step 3: Click the Destination Folder part to choose your backup destination. Four options are allowed to choose, including the Administrator account folder, Libraries, Computer, and Shared.
Step 4: Click the Back up Now option to start the process immediately or the Back up Later option to delay the backup. The delayed backup task is on the Manage page.
Apart from the basic demand for backup, MiniToll ShadowMaker has developed better functions to facilitate your life.
For example, it can back up automatically to reduce your concerns. The only thing you need to do is just to set your backup schedule. You can configure your backup schedule as once a day, a week, a month, or on an event.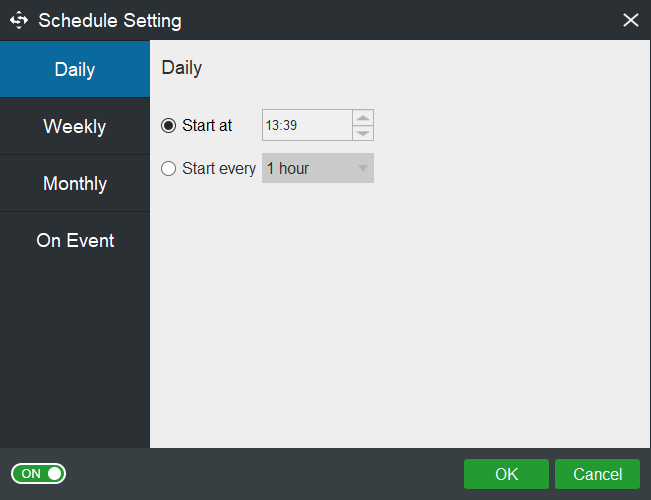 It is worthwhile to mention the scheme feature that allows you to design your backup scheme, including full, incremental, and differential backup as your habit.
A Comprehensive Guide to Online Privacy
How to protect your online privacy? You need to safeguard Internet privacy with everyday chores. Just attach more importance to the following points.
Point 1: Be Cautious About Online Scams
You may encounter many online scams when you are surfing the Internet. It is hard to prevent them, but once you can distinguish the most common ones, you can better protect your online privacy.
Here are three types of them:
Phishing
Phishing is an attack that attempts to steal your money or identity by getting you to reveal personal information, such as credit card numbers, bank information, or passwords on websites that pretend to be legitimate.
You can learn to distinguish the Phishing messages in multiple ways:
Urgent call to action or threats
Obvious spelling or grammatical errors
An email from someone for the first time
The email starts with a generic greeting
Mismatched email domains
Suspicious links or unexpected attachments
If you receive a message doubted as a phishing one, please do not click the links or attachments on it and delete the message.
Malware
Malware is a file or code, typically delivered over a network, that infects, explores, steals, or conducts virtually any behavior an attacker wants.
Here are 9 types of malware, including the virus, worm, adware, spyware, malvertising, ransomware, hybrids, Trojan horse, and bots. They can transmit by email attachments, file servers, file-sharing programs, and so on.
When you have a malware attack, you may encounter the blue screen of death. And some pop-up windows, toolbars, and other unwanted programs will appear inexplicably.
Tech Support Scam
Tech support scams take place through phone calls or emails. It uses scare tactics to trick you into unnecessary technical support services to supposedly fix device or software problems that don't exist.
There are some notifications to remind you in avoiding such scams:
Microsoft won't send email messages or make phone calls to request personal or financial information.
Don't call the number appearing on the pop-up or error message.
Microsoft will never ask you to pay for support in the form of cryptocurrency.
Download software from official Microsoft partner websites or the Microsoft Store.
Point 2: Use Antivirus Programs
Windows has its antivirus program – Windows Defender – that requires you to open the real-time protection so that the work can perform well and the PC can be protected at any time.
Although the built-in program has done its work well, is it enough to protect our online privacy? The answer is not.
You can also strengthen your computer's firewall resort to the third-party antivirus
Point 3: Use a VPN
VPN is the abbreviation of virtual private network used to mask your IP address and replace it with a different server's address so that no one can trace your IP and what you do online.
Point 4: Protect Data Security
You need to take care of the data security. Many people put their online privacy and security in danger because they lack the consciousness of data breaches.
Don't set a simple password
Most of you just set a simple or familiar password copying from your other accounts. It is not safe. If one gets hacked, all your accounts will be compromised.
Don't use 1234. Bring some randomness and special characters into it. Use a password manager to keep track of your passwords and turn on two-factor authentication for your important accounts.
If one of your passwords gets compromised, one more layer of protection that can protect you is two-step authentication.
In this way, once you log in, you must verify twice it's you by letting the site send you a text message, email, or automated phone call, which exactly increases the security of your count.
If you want to know how to use Microsoft Authenticator, please refer to this article: How to Use Microsoft Authenticator App?
Avoid using public computers
When you work or play outside, it is inevitable to use public-access computers or Wi-Fi. If you have to do it, please don't log into any site or put your personal information into any form, or the password will be at risk of being stolen. When you log out, you can choose to change the password.
Don't show your data on social media
Social media is a platform where young men are prone to share their fresh news and transmit gorgeous photos in which, however, potential dangers lurk for a chance to steal your privacy.
You need to check your social media profiles and privacy settings to ensure what information will be disclosed. Reveal less information as possible as you can and do not use your real name on the Internet.
When you are prepared to issue pictures on your social media, don't reveal your private information or some signals that have specific meaning targeting yourself or your location.
Be careful and savvy when shopping online
Your online shopping record can reflect many things beyond you can imagine. Your payment information, address, telephone numbers, emails, and so on are stored on the Internet at the risk of breaching. Even your credit cards face the same thing.
The best is not to save your accounts and passwords of the shopping programs on the Internet. Don't set them as default to facilitate the next log-in.
Delete tracking cookies
Many websites will save your browser record to convey more information or products catering to your taste. But the saved cookies can also make them track your online activities.
It is recommended to delete your tracking cookies to protect your online privacy.
Point 5: Use an Encrypted App for Messaging
When you talk to others, you won't let the content of the message public or be informed by a stranger. If you want your message to be more secure, it's best to use an app that has end-to-end encryption, such as Signal or WhatsApp.
The message will be only read by you and the recipient, no third one intruding. However, the issue can't be resolved thoroughly. Although the contents have been encrypted, your metadata is still available. Someone could learn a lot about you from your metadata.
Anyhow, encrypted apps do provide us with an effective solution to protect our message privacy. But our demand for online privacy and security needs techniques to advance.
Point 6: Use Browser Instead of Apps
You may be used to downloading all kinds of apps and offering them the right to access some private information involuntarily. It's a trick that makes you agree to more privacy being impinged upon.
Apps can learn more information from our phones and computers. It is inevitable. Because some apps can be used only when you agree with the rules about privilege that, in most cases, you will directly agree with without reading.
Under this condition, you can reduce the download of apps and turn to using the browser if not necessary.
Of course, the Internet is developing quickly, as is beyond imagination, while the legislation referring to this realm needs much more to improve. But it is a good start in which we have a common target.
Bottom Line:
Most of you may be web surfers who spend most of your time on the Internet, whether for work or recreation. That means the longer time you spend in your cyber life, the larger risk of the data breach you will pay for it.
It's time to protect your online privacy. Just start small and take it one step at a time.
If you have encountered any issues when using MiniTool ShadowMaker, you can leave a message in the following comment zone and we will reply as soon as possible. If you need any help when using MiniTool software, you may contact us via [email protected].