Is WhatsApp Safe? This is a hot topic online for years since WhatsApp become popular worldwide. This article provided by MiniTool Technology will debate on it and give an unbiased conclusion based on facts.
What Is WhatsApp?
WhatsApp, also known as WhatsApp Messenger, is a free cross-platform centralized messaging and voice-over-IP (VoIP) service owned by Facebook, Inc. It enables its users to send and receive text and voice messages, make video and voice calls, as well as share photos/pictures/images/graphics, files/folders/documentations, user locations, and other digital content.
More Information About WhatsApp
WhatsApp is a client application that is mainly applied to mobile devices, such as cell phones and tablets. Yet, it also runs on desktop computers only when the related mobile client is connected to the Internet. Moreover, there is a WhatsApp Web client that also needs to be synced with a mobile version.
Besides personal usage, WhatsApp can also be used commercially with a standalone business app for small business owners. This specialized app is called WhatsApp Business and it allows companies to communicate with their customers who use the standard WhatsApp client.
WhatsApp supports once supported iPhone, BlackBerry smartphone, Symbian operating system (OS), Android system, Nokia non-smartphone OS series 40, Windows Phone, Samsung Tizen OS, etc. Now, it has ceased many devices and OSes and mainly supports Android, iOS, Windows, Mac OS, and KaiOS.  
WhatsApp Background
Originally, WhatsApp was developed by Brian Acton and Jan Koum from WhatsApp Inc. in 2009, which locates in Mountain View, California. Later in 2014, FaceBook acquired it and it became the world's most popular messaging application by 2015. WhatsApp becomes the mainstream communication tool in many countries and areas like Latin America, the Indian subcontinent, and many parts of Europe and Africa. It has over 2 billion users worldwide as of February 2020.
Is WhatsApp Safe?
As the most popular communication app in the world, WhatsApp transfers billions of private contents every day. So, many users care about the security of this program and want to know whether it is safe to use WhatsApp or not.
Before answering the question, first of all, let's see some cases related to the security of WhatsApp.
Case 1. Is the WhatsApp App Safe?
WhatsApp was initially criticized for sending information in plaintext and lacking encryption. Then, encryption was first added in May 2012 and the end-to-end encryption was only fully applied in April 2016 after 2 years of process.
Case 2. Is WhatsApp Video Call Safe
In May 2019, WhatsApp was attacked by hackers and the hackers installed malware on lots of people's mobile phones. It is said that the hackers injected spyware into WhatsApp users' handphones through a remote-exploit bug in the app's VoIP calling functions. Also, allegedly, the spyware was created by Israeli surveillance technology firm NSO Group.
A report from Wired magazine stated that the attack could send malware to the targeted phone via video or voice calls, even if the user didn't answer the call. According to WhatsApp, the exploit "targeted at least 100 human-rights defenders, journalists and other members of civil society" among a total of 1,400 users in 20 countries.
On October 29, 2019, WhatsApp filed a lawsuit against NSO Group claiming that the alleged cyberattack violated US laws including the CFAA (Computer Fraud and Abuse Act). 
Case 3. Is WhatsApp Safe to Use?
In August 2019, Check Point discovered a security flaw that allowed cyber attackers to repeatedly crash the messaging application for all members of a group chat. The problem could only be fixed by forcing uninstall and reinstall WhatsApp completely. This flaw was fixed in version 2.19.246 onwards in December 2019.
Case 4. Is WhatsApp Safe to Send Pictures?
In December 2019, WhatsApp confirmed that there is a security vulnerability that would enable hackers to gain access to users' data by sending malicious GIF image. When the recipients opened the gallery within WhatsApp, even if not sending the malicious image, the hack is already triggered; the device and its data become vulnerable. Later, the vulnerability was patched in the updates.
Case 5. Jeff Bezos Phone Hack
In January 2020, the Amazon founder Jeff Bezos received an encrypted message on WhatsApp from the official account of Saudi Arabia's Crown Prince Mohammed bin Salman, revealed by a digital forensic. The encrypted message reportedly contained a malicious file, which caused Bezos' phone to be hacked.
The United Nation's special rapporteur Agnes Callamard and David Kaye confirmed later that Bezos' phone was hacked through WhatsApp as he was one of the targets of Saudi's hit list of individuals close to The Washington Post journalist Jamal Khashoggi.
Case 6. WhatsApp, Is It Safe?
In December 2020, a claim that WhatsApp gave Google access to private messages was included in the anti-trust case against the latter. Because the case is ongoing, the complaint is heavily redacted. It does not disclose whether this alleges tampering with the app's end-to-end encryption or simply Google accessing user backups.
Case 7. Is WhatsApp Safe and Secure?
In January 2021, WhatsApp updated its Privacy Policy that states that WhatsApp will share user data with Facebook and its "family of companies" starting in February 2021. Formerly, users could opt-out of such data sharing, but the new privacy policy removes this option.
The new policy doesn't apply within the EU for it's illegal under GDPR (General Data Protection Regulation). Under the wide criticism, the implementation of the policy has been postponed from February 8 to May 15.
How Safe Is WhatsApp?
Though WhatsApp has been hacked and criticized many times in the past, it fixed its bugs/vulnerabilities and corrects its manners to protect user's privacy and security. Besides the actions WhatsApp takes mentioned above, it has also done below aspects.
In November 2019, WhatsApp released a new privacy feature that allows users to determine who adds them to the group chat.
Since February 1st, 2020, for security purposes, WhatsApp stops support for smartphones running legacy OSes including iPhone iOS 8 or older and Android 2.3.7 or older that are no longer updated by their providers.
WhatsApp Security Features
The following functions are provided by WhatsApp to protect your privacy and protect you from cyberattacks.
Privacy Settings: You can control by setting your profile photo, last seen, and about to be seen by everyone, contacts only, or no one.
Two-Step Verification: Create a six-digit pin to enable extra security for your WhatsApp account.
Block Unwanted Users: Stop some from contacting you directly from a chat.
Clear Chat Messages: Delete all messages inside an individual or group chat, or all chats at once.
Delete and Report Spam: Report spam from inside the program.
Request Account Info: Get a report of your WhatsApp account information and settings.
Turn off Read Receipts: Choose whether someone can see if you have read their message or not.
Leave a Group: You can exit a group at any time.
Different Voices
Though the privacy protection services provided by WhatsApp is widely accepted and praised by users all over the world. Yet, there are still some people who hold different ideas.
For example, in March 2017, the British Home Secretary Amber Rudd said that the encryption feature of messaging apps like WhatsApp is unacceptable for news reported that Khalid Masood used WhatsApp for several minutes before perpetrating the 2017 Westminster attack. Rudd called for that the police and intelligence agencies to be given access to WhatsApp and other encrypted messaging services to prevent future terrorism.
However, personally, I doubt the proposal by Rudd. Though his intention is good, he can't deny that malicious people who work in police offices and intelligence agencies will take this privilege to hack others' privacy. 
Conclusion for Is WhatsApp Safe
WhatsApp is safer now than in the past. Still, it is not completely safe and no app is 100% safe. Anyhow, you can continue using WhatsApp while taking some actions to keep your data safe.
How to Maintain Security While Using WhatsApp?
According to the cases listed above, some of you may think WhatsApp is not safe and think the safest way is to uninstall and remove it from your phone and computer completely. This is not wrong, but not the smart choice.
As a popular and well-known communication app, WhatsApp must have its advantages and benefits. And, after using WhatsApp for years, how can you quit it from your daily life? Though you may find WhatsApp alternatives to replace it, do the alternatives safe enough? Maybe they are more dangerous than WhatsApp. Then, what should you do?
Since you must use some tool for your daily communication with others, you can keep using the comparatively safer WhatsApp. What you can do is to take some actions to protect your important data on both your phone and computer while using WhatsApp. Then how?
Suggestion 1. Install and Update WhatsApp from Reliable Source
Make sure you get and maintain your WhatsApp via a secure source. The most secure source is the official release. You are recommended to download the software and its updates from WhatsApp's official website, your phone or your computer's official app store like Apple store, Google Play, and Microsoft Store.
Suggestion 2. Do Not Open Unknown Files
Most cyberattacks and security problems are caused by receiving and opening malicious files like images, documents, videos, voice messages, links, etc., especially files from strangers. You can't prevent yourself from receiving those items, but you can avoid being infected by not opening them.
Suggestion 3. Be Cautious to Add Strangers as Friends
It is not recommended to accept someone's friend request that you don't know. And you are strongly suggested not to add strangers as friends. The reason is that you are probably cheated and attacked by them.
Suggestion 4. Avoid Connecting Unknown WiFi
When you travel somewhere, especially in public places, you will find many wifi networks and some of them can be accessed without passwords. Pay special attention to those free WiFi and try not to use them. They are good choices for hackers to rely on for hacking into victims' phones or computers.
Suggestion 5. Secure Your Device with Antivirus Software
No matter you are using WhatsApp on your mobile devices or computers, you can rely on the antivirus programs applied to the devices to keep your personal data safe. Keep the security software open along with WhatsApp and scan your device regularly and whenever you feel you should.
Suggestion 6. Back up Data on Schedule
Just like a virus scan, you should also make a backup of your crucial data regularly. If you are using a phone, you can make use of its built-in feature to copy your data. Nearly all phones have such a function nowadays.
If you need to use WhatsApp on your computer, also, you can rely on the system's self-contained utility to create a backup, such as Windows Backup and Recovery or File History. Or, you may ask for help from third-party programs to back up your computer with a schedule. Then, MiniTool ShadowMaker is recommended here.
MiniTool ShadowMaker is a professional and reliable application that can backup nearly all data on your computer, including operating system, hard disks, partitions/volumes, and files/folders. Below is a brief guide showing you how to create a scheduled backup of your computer files with MiniTool ShadowMaker.
Step 1. Download and install MiniTool ShadowMaker on your machine.
Step 2. Launch the program and click Keep Trial to continue.
Step 3. In its main interface, move to the Backup tab. There, click the Source module to select the files you want to back up.
Step 4. Click the Destination module to choose a target place to save the backup image. You are suggested to take a removable device like a USB flash drive to store the backup.
Step 5. Click the Schedule button in the lower-left to trigger the scheduled backup settings.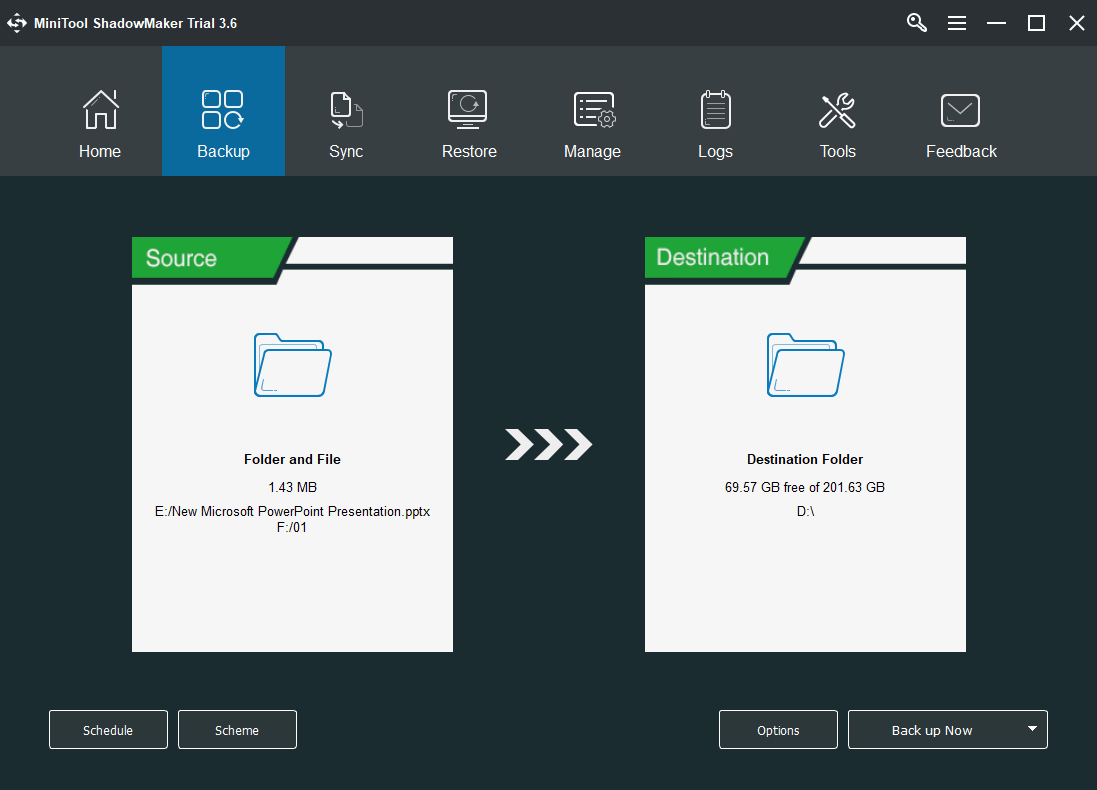 Step 6. In the pop-up window, switch on the backup schedule, select a frequency you like, and set it up.
Step 7. Finally, click Back up Now to carry out the backup process.
Wait until the initial backup finishes. In the future, MiniTool ShadowMaker will automatically carry out the backup tasks on schedule. You will get your data protected without doing anything manually!
OK, that is all about the "is WhatsApp safe" topic. If you have different opinions on this topic, feel free to leave a comment below. Or, if you encounter any problem while using MiniTool ShadowMaker, just contact our support team at [email protected] and you will be replied ASAP.