What if you receive an error saying "this copy of Windows is not genuine", you can't change the wallpaper, or your computer performance has gotten worse? How to stop this copy of Windows is not genuine? Take it easy! This post will walk you through five solutions to fix the issue where 7601/7600 build not being genuine.
This Copy of Windows Is Not Genuine Build 7600/7601
The Windows not being genuine issue is one of the popular Windows errors that you may experience as you utilize the Windows operating system. According to users' feedback, this issue often occurs after installing some updates with the message on the bottom right of the desktop that says:
"Windows 7
Build 7601
This copy of Windows is not genuine"
What does this copy of Windows is not genuine mean? You typically get this message in Windows 7 build 7600/7601. In addition, your desktop background will be fixed to black. Nothing could be more annoying than having this message interrupt your process of work or entertainment on the computer. This message could stay even after a long period of time.
How to remove Windows 7 genuine notification build 7601/7600? Follow the following steps to solve this issue.
Tip: "This copy of Windows is not genuine" can also happen on WIndows 10. If you are running this operating system, some ways below are available and just try them to get rid of the error.
This Copy of Windows Is Not Genuine Build 7601 Fix
①Uninstall KB971033 Update
Perhaps your Windows was running without any trouble until Windows 7 KB971033 update was installed. This update includes Windows Activation Technologies that help detect your Windows operating system.
Once it finds out the copy of Windows is not genuine, you may receive a message on the lower right part of the desktop stating "Windows 7 build 7601 this copy of Windows is not genuine".
Hence, you can choose to uninstall this update to remove Windows 7 genuine notification build 7601/7600.
Warning: Uninstalling Windows update tends to be a little risky since it may result in malfunction of some program files and unexpected data loss on your computer. To keep data safe, it is recommended to back up your computer before uninstalling the update.
Back up Your Computer with MiniTool ShadowMaker
Windows has a built-­in backup tool that can help you create a system image and back up files. However, using this tool sometimes causes issues like Windows backup stuck at creating system image.
Additionally, this tool is not flexible enough to back up the entire disk; it doesn't even support differential backups. Hence, we recommend using third­-party software for computer backup.
MiniTool ShadowMaker, safe and reliable Windows backup software, is gaining popularity because of its powerful features.
File backup, system backup, disk backup, and partition backup can be realized with this professional backup tool. The corresponding restoration is also included. 
Multiple backup modes – automatic, incremental and differential backup – can be created. Meanwhile, disk space management (delete old backups) is enabled if you choose a backup scheme. Importantly, MiniTool ShadowMaker enables you to clone a hard drive with ease.
Now, get MiniTool ShadowMaker Trial Edition to free try for 30 days or directly get its Professional Edition to safeguard your computer.
MiniTool ShadowMaker TrialClick to Download100%Clean & Safe
Let's see how to use the best backup software to back up your computer before uninstalling Windows 7 KB971033 update to fix "this copy of Windows is not genuine".
Step 1: Launch MiniTool ShadowMaker. 
Tip: If you want to create a remote backup, input an IP in the text box to go on. Note that MiniTool ShadowMaker only supports the remote backup on the same LAN.
Step 2: In the following Backup page, select the backup source and storage path. By default, all system partitions are selected. If you need to back up files, partition or the entire system disk, enter the Source section to choose a type. Then, Choose a location to store the backup image file.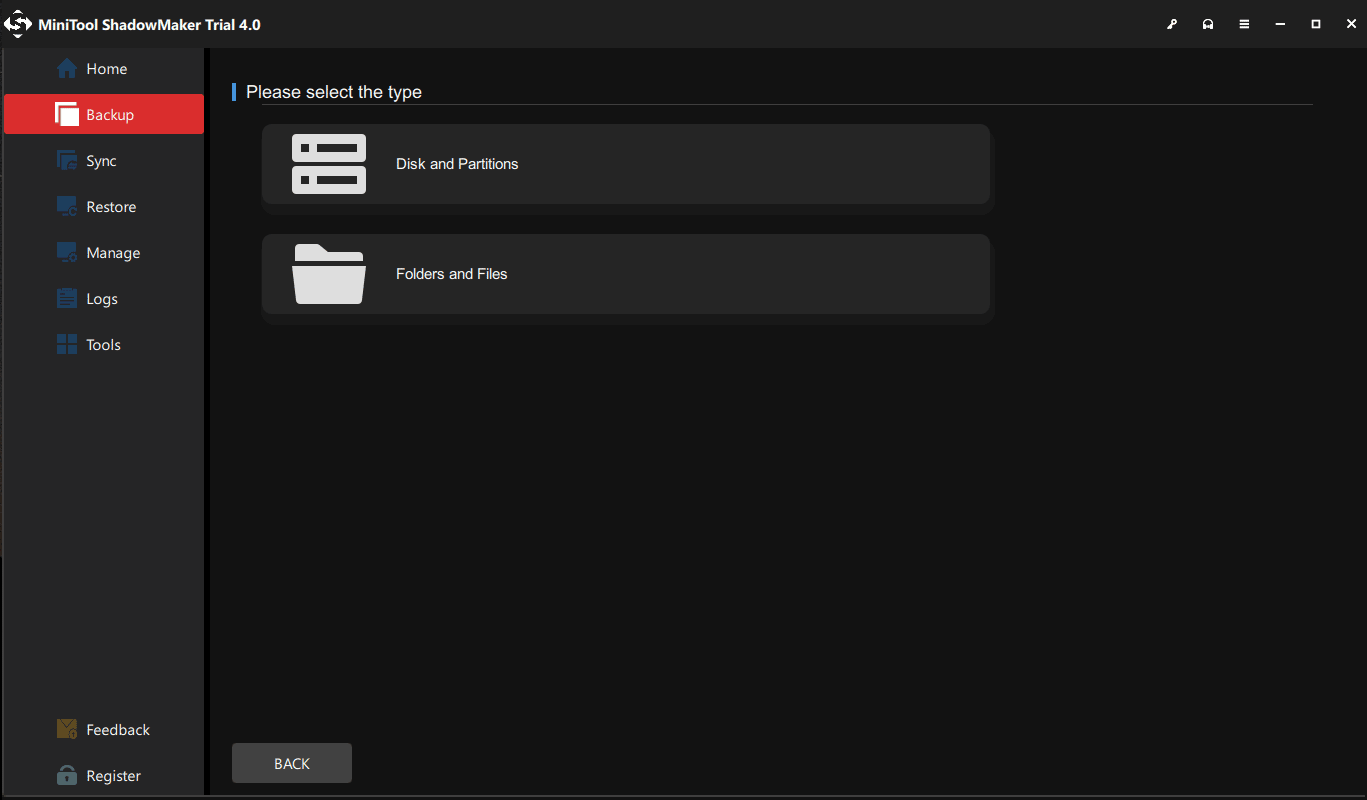 Step 3: Go back to the Backup page and click Back Up Now to start the backup.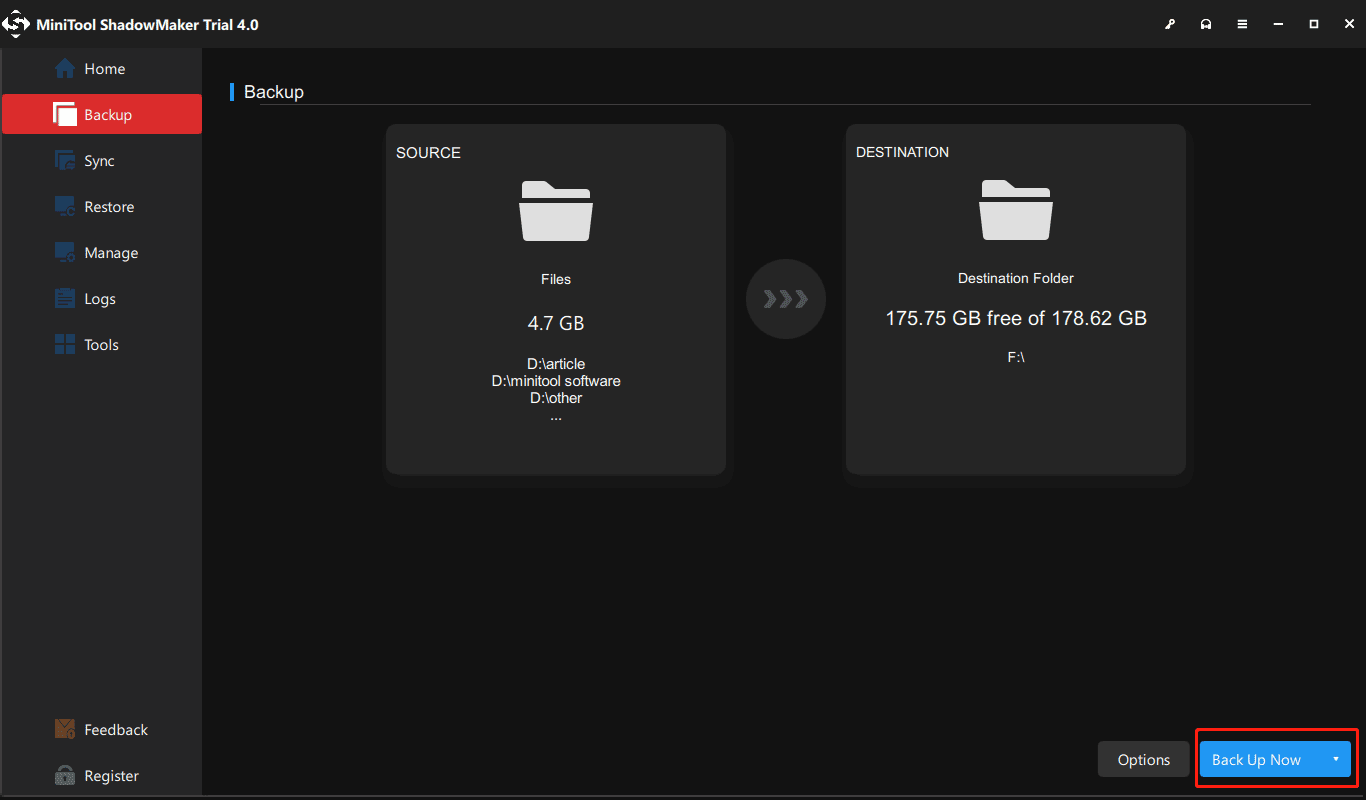 Uninstall Windows 7 KB971033 update
Since the computer has now been backed up, you can uninstall the Windows update to fix "this copy of Windows is not genuine build 7600/7601".
Click the Start button, and open Control Panel window.
Choose the System and Security section.
Go to Windows Update part, and click View installed updates option. Or click on View update history and hit the Installed Updates link at the top.
Find the update of KB971033 and right-click on it to choose Uninstall button.
After completing the update, Windows 7 not genuine issue should be solved. If the message still exists, try the following method.
②Using SLMGR -REARM Command
In Windows, there is a built-in Windows 7 not genuine removal tool you can use to make Windows 7 genuine. 
SLMGR, short for Windows Server License Manager Script, is the command prompt version of Microsoft licensing tool. And REARM command will help reset the licensing status of your machine.
Now, you can use SLMGR -REARM command to remove "this copy of Windows is not genuine 7601/7600 issue".
Go to Start menu and search for Command Prompt. Right-click on cmd.exe in the search result and choose Run as Administrator.
Type SLMGR -REARM command in the pop-up window, and press Enter.
A pop-out window shows that your command has completed successfully and requires you to restart the system. Click OK to let all changes take effect.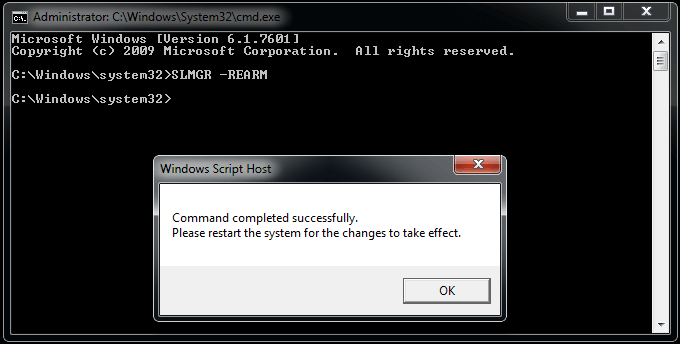 After finishing the activation, you can use the version of Windows for 30 more days.
You can choose to reactivate it every 30 days for 3 times. That is, you essentially get 120 days for this version of Windows.
To break the limit, here is what you can do:
Open the Run window by hitting Win + R keys, input regedit.exe in the text box and press Enter to launch Registry Editor.
Navigate to HKEY_LOCAL_MACHINE > Software > Microsoft > WindowsNT > Current version > SoftwareProtectionPlatform.
Find SkipRearm and right-click it to choose Modify.
Change the value from 0 to 1.
Restart your computer.
You can now use the slmgr -rearm command for another 8 times, which is another 240 days. In total, you will get free Windows 7 for 120 + 240 = 360 days.
③Turn off the Windows Automatic Update
In addition to the above three methods, you can try to disable Windows updates. When Windows Update is turned on, it will try to keep itself up to date by telling you "this copy of Windows is not genuine".
Steps to turn off the updates:
1. From the Start menu, choose Control Panel to open it.
2. Go to System and Security > Windows Update > Turn automatic updating on or off.
3. Select Never Check for Updates (not recommended) option from Important updates section.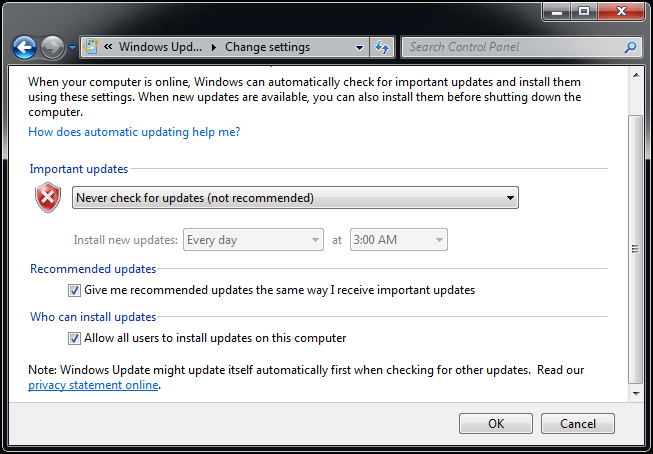 4. Click on OK to change the setting.
④Register Windows Genuine When This Copy of Windows Is Now Genuine 7601 Crack
If you are using a pirated version of Windows, Windows 7 not genuine message might occur every time you turn on your computer one month after installation. There might also be some bugs on the pirated version, causing many problems. Under these circumstances, we suggest purchasing a license key of the genuine Windows.
How to make Windows 7 genuine permanently? Follow these instructions to activate your copy of Windows.
Tip: It is not recommended to buy Windows OS from the third-party e-commerce stores. Always buy it from the Microsoft official website.
In Windows 7, click Start to search for Activate Windows.
Click Retype your product key if you have a key.
Input the license into the text box. After a while, the Windows is registered and Windows 7 build 7601 not genuine message will no longer display on the desktop.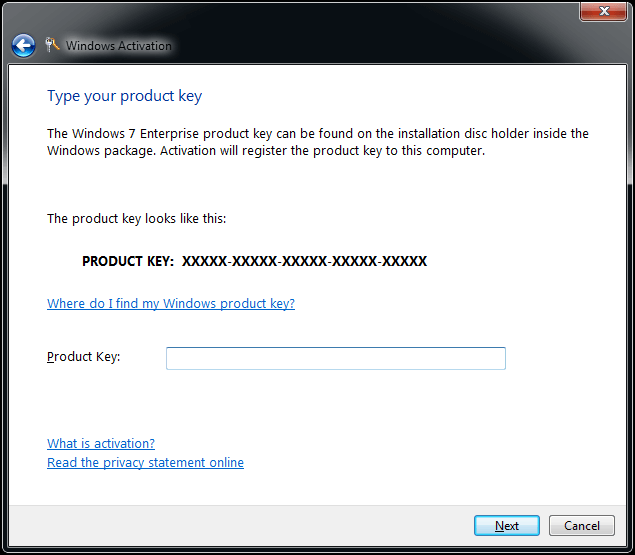 Sometimes you may suddenly receive "this copy of Windows is not genuine" message although you are using a genuine Windows. This is because the license is shared with other persons and Microsoft can stop your certificate due to it being used on multiple computers. In this case, you can ask Microsoft for help.
"I installed Windows 7 build 7601 update, suddenly the screen turned black. Meanwhile, this copy of Windows is not genuine message appeared. I tried the above ways and finally fixed it."Click to Tweet
After learning Windows 7 not genuine fix, some of you may be wondering about the reasons for "this copy of Windows is not genuine" issue and the problems that you may face in case of this issue.
Further Reading: Windows 7 Build 7601 Not Genuine
Why Windows 7 Build 7601/7600 Not Genuine
The major reason causing Windows 7 not genuine is that you are not using the genuine Windows version that Microsoft provides.
You could be using a cracked version of Windows; the chances of its product key being corrupted or removed and virus being injected are high.
Another reason is that you may be using an outdated version of Windows that needs to be upgraded. If you have enabled the setting of automatic update, the system will come in contact with internet access and realizes that it is outdated. Then, the error message "This Copy of Windows Is Not Genuine" appears.
Effects of Windows Not Being Genuine
If you receive "Windows 7 build 7600/7601 this copy of Windows is not genuine" message, there are some irritating and annoying problems you may face:
Your desktop wallpaper will be changed and converted into the black screen. You can reset it, but it might turn black again after 60 minutes until the problem is redressed.
This issue may have a drastic effect on the performance of the computer, as well as the speed.
Windows will deny access to some attributes automatically, for instance, personalization of the desktop screen.
The battery can be drained quickly if this error message displays on your laptop.
This message won't go away while you are working with the important stuff, which could be irritating.
Final Words
It is really annoying to see the error "this copy of Windows is not genuine build 7601/7600" every time you log into Windows. We hope the above methods solved your issue.
On the other hand, remember to tell us if you have any suggestions of making Windows 7 genuine or questions during using MiniTool ShadowMaker to back up the computer. Just leave a comment in the following zone or send an email to [email protected]. 
This Copy of Windows Is Not Genuine FAQ
 What happens if Windows 7 is not genuine?
If you are using a non-genuine copy of Windows 7, you can see a notification saying "this copy of Windows is not genuine". If you change the desktop background, it will change back to black. The computer performance will be influenced.
 Why does my computer say this copy of Windows is not genuine?
Windows has an updated file to detect your Windows operating system. If your Windows is a pirated version, you will get the message "this copy of Windows is not genuine".
 How do I make my Windows 7 genuine?
Uninstall KB971033 Update
Use SLMGR -REARM Command
Turn off the Windows Automatic Update
Register Windows Genuine
How do I activate a non-genuine copy of Windows 10?
In Windows 10, you should purchase a license key for this operating system. And then, go to Settings >Update & Security > Activation to activate it.