If you want to learn what Win32: MedeClass is and wonder how to remove this virus from your computer, maybe this post can assist you to find the answers. Just read this post from MiniTool to get more information.
What Is Win32:MdeClass
What is Win32:MdeClass? It is a virus, which indicates malicious executable files or potentially harmful programs running in the background. However, it may also be a false positive detection result triggered by incompatible software or driver issues. Win32:MdeClass virus is mainly detected by AVG/Avast on Windows 8/10, and older versions of Windows 7.
Possible Detection Names of the Win32:MdeClass Virus
Since the AV/Avast detection engine uses the database and there are a large number of possible results related to this threat, you may encounter other detection names. The following are the possible detection names of the Win32:MdeClass virus.
Win32:Malware-gen - It is a general result that indicates Trojan horses, worms, PUAs, and other threats affecting the Windows operating system. To learn more information about Win32:Malware-gen, this post is what you need - What Is Win32:Malware-gen and How to Remove It.
Win32:Dropper-gen - It is a virus tested by Avast, which is designed to put other malware files on the infected computer. If you download the malware from the remote server, Win32:Dropprt-gen will trigger more damager on your PC.
Trojan.Win32.Generic – It is a virus tested by Avast detection tools. Trojan.Win32.Generic is used to destroy, block, modify, or copy data, or disrupt the performance of computers or networks.
Also see: Is Avast Safe? Find the Answer and Alternatives to It Now
How Does Win32:MdeClass Destroy Your Computer
This part is about how the Avast Win32:MdeClass virus destroys your computer and you can know the harm of it.
In most cases, Win32:MdeClass will modify system files, create folders, and install other programs. If Win32:MdeClass has more time to run, the operating system may be damaged. Once infected, your computer can be a tool for mining cryptocurrency or the attacker may use computer resources to spread on the associated network.
Win32:MdeClass can trigger other phishing activities and induce you to participate in illegal activities or be exposed to malicious content. Win32:MdeClass can act also as a Trojan horse and information-stealing malware like any other PUPs (potentially unwanted programs).
Besides, the Win32:MdeClass virus may use other malware (such as ransomware) to infect your device. If malware triggers system changes and adds serious Trojan horses or ransomware, it will become more difficult to remove the Win32:MdeClass virus.
When you receive the alert about Win32:MdeClass detection, you should check Task Manager and other places where processes may be running, then search for any suspicious additions on your web browser.
Here is a summary of the harm of this virus:
Disable system functions.
Run or disable the process.
Install harmful programs or malware.
Create the entry in memory.
Collect information directly from the PC.
…
How to Remove Win32: MdeClass
It's unfortunate to be infected by the Win32:MdeClass. But don't worry, you can know how to remove Win32: MdeClass in this section. Before you try to remove the virus from your computer, it's recommended to disconnect from the Internet to prevent further damage. Some viruses are spread via the Internet connection.
Step 1: Access Safe Mode Through the Network
To perform remove Win32: MdeClass, you need to boot your computer into safe mode. Now, here is the tutorial.
Press the Windows key and I key together to open Settings.
Then go to the Recovery tab and choose click Restart Now under the Advanced startup.
Then go to Troubleshoot > Advanced Options > Startup Settings.
Then click Restart to continue.
Press F5 to choose Enable Safe Mode with Networking, but you need to keep your PC disconnected from the network.
Step 2: Close Suspicious Programs
If the malware is running a process, then, you need to close the suspicious programs. Here are the instructions:
Open Task Manager by pressing the Ctrl + Shift + Esc keys together.
Scroll down to the Background Processes section and look for anything suspicious.
If you find a suspicious program, you need to right-click it to choose the Open file location option.
Return to the process, and select End Task. Then, delete the contents of the malicious folder.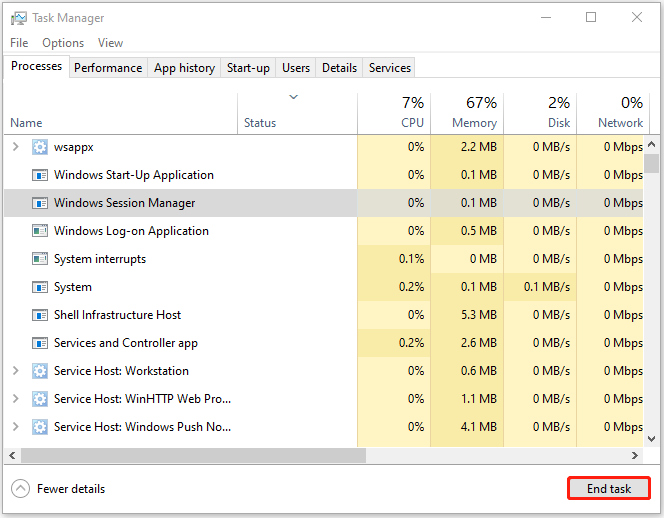 Step 3: Delete Any Temporary Files
After closing the suspicious program, you need to delete any temporary files. Now, here is the tutorial.
Type Disk Cleanup in the search box of Windows 10 and choose the best matched one.
In the pop-up window, choose the drive you want to clean and click OK to continue.
Then it will begin to scan the hard drive.
In the pop-up window, check the Temporary files box and click OK to delete them.
Step 4: Run Virus Scan
Now, it is time to remove the Win32:MdeClass virus. Here, we use Avast as an example. Since your computer is in Safe Mode, you cannot launch Avast as normal though it is still protecting your computer. Thus, you can take the following steps to run a virus scan.
Press the Windows key and R key together to open the Run dialog. Type cmd in the box and click OK to continue.
In the Command Prompt interface, type CD followed by the location of your Avast installation files, such as C:\Program Files\Avast Software\Avast. Then click Enter to continue.
To schedule a boot-time scan for all drives in your PC, type the command sched /A:* and press Enter to continue.
Then the Command Prompt will confirm the Boot-time scan with Scheduled.
Type shutdown /r and press Enter to continue.
Then your computer will begin to restart. The Avast will begin to scan your computer and remove the Win32:MdeClass virus. Besides, it may cost some time and you need to wait patiently.
After all steps are finished, the Win32:MdeClass virus should be removed. And please reboot your computer and check whether your computer is still infected. If this method is not working, you can also perform the system restore to restore your computer to a normal state if you have created the system restore point.
How to Protect Your Computer from Virus
After removing the Win32:MdeClass virus, do you know how to prevent your computer from attack? You need to take some measures to safeguard your PC.
1. Use Antivirus Software
To safeguard your computer, you also need to install a piece of antivirus software on your PC and enable it. Antivirus software can identify and eliminate the threat before you were even aware of it.
2. Turn on Windows Defender Firewall
To keep your computer safe, you also need to turn on Windows Defender Firewall. It can protect your computer from unauthorized access to prevent your computer from viruses. Follow the steps below.
Type control panel in the Search box and choose the best-matched result to open the Control Panel application.
Click Windows Defender Firewall.
Then click Turn Windows Defender Firewall on or off from the left menu.
Check the Turn on Windows Defender Firewall option on the Private network settings part and the Public network settings part.
At last, click OK to save the changes.
3. Keep Everything up to Date
One of the best ways to prevent adware is to keep systems and programs updated. You need to ensure that you have four important types of updates: operating system updates, Internet service provider (ISP) updates, antivirus software updates, and email program updates. Software updates are designed to withstand the latest security threats and fix some bugs. So, it is recommended to keep everything on your computer up to date.
4. Back up the Computer and Files Regularly
When your computer is infected by a Win32:MdeClass virus, the system will be damaged and your files will be destroyed. In this case, if you have backed up files and the operating system before, things would be easier. You can restore files and restore your computer to a normal state when your computer is infected by the virus.
Speaking of backing up data, there is a great backup software - MiniTool ShadowMaker for you. It is also a powerful tool to protect your Windows. It is an all-around and professional backup software designed for Windows 10/8/7, providing you with a data protection & disaster recovery solution. Besides backing up the system, this software can also be used to back up files, folders as well as partitions. 
Here I take file backup as an example:
Step 1: Launch MiniTool ShadowMaker
Launch MiniTool ShadowMaker and click Keep Trial to continue.
Then, enter its main interface.
Step 2: Select Backup Source
Go to the Backup page after you enter its main interface,
Then click the Source module to choose the backup source.
Choose Folders and Files and choose the files you want to back up.
Tip: If you want to back up the system, you should choose Disk and Partitions.
Step 3: Select the Backup Destination
After selecting the backup source, you need to select the backup destination to save the backup images. Click the Destination module to continue.
MiniTool ShadowMaker provides four destination paths to be chosen. You can choose any one based on your own needs. Here I take New Volume(E) as an example.
Step 4: Start to Back up
After selecting the backup source and destination, you can click Back up Now to perform system backup immediately.
After all of the steps are finished, you have successfully backed up your files. With MiniTool ShadowMaker, you can provide better protection for your computer and keep it safe.
From this post, you have known some information about Win32:MdeClass. Besides, you can know how to get rid of the Win32:MdeClass virus and how to prevent it.Click to Tweet
Final Words
To sum up, this post has shown what the Win32:MdeClass virus is, how it destroys your computers, how to perform Win32:MdeClass virus removal, and how to prevent the computer from Win32:MdeClass virus.
If you have any different ideas of the Win32:MdeClass virus, you can share them in the comment zone. If you have any problem with MiniTool ShadowMaker, please feel free to contact us via the email [email protected] and we will reply to you as soon as possible.
Win32: MdeClass FAQ
Is Win32 a virus?
Yes, Win32 is a virus. Win32 spreads by infecting local files, removable, and network drives. The virus attempts to download arbitrary files that may be detected as the Trojan horses. The virus can infect executable files (EXE), drivers (DLL), etc.
How do I get rid of the Win32 virus?
Enter Safe Mode with Networking.
Close suspicious programs.
Delete any temporary files.
Run a virus scan.
What is false positive malware?
False positives occur when antivirus software incorrectly identifies legitimate files or processes as malware.