Windows 10 brings many improvements (we all know this), but data security issues still occur now and then. Thus, a data recovery tool for Windows 10 is a must-have. Besides, you can choose to backup important files and partitions for unexpected needs.
Operating system (OS) plays an indispensable role in computer using. That's why it always catches up the eyes of designers and users.
Executive vice president of Microsoft, Terry Myerson, said the new generation of operating system – Windows 10 will change the application scenarios of large-screen devices, small-screen devices and even no screen devices; it's their first step to embrace the more personalized new era of computing.
You need a piece of powerful data recovery software for Windows 10 in case of any unexpected data loss issues. Good as Windows 10 is, it still can totally get rid of the security risk, the thing that every operating system has to face.
Today, I'll give my suggestion – MiniTool Power Data Recovery. And apart from this, I'll provide solutions to backing up your important information in Windows in easy steps.
MiniTool Power Data Recovery TrialClick to Download100%Clean & Safe
Data Recovery Software for Windows 10 Is Necessary
Everything of Windows 10 revolves around user experience, the vice president of Microsoft Greater China and general manager of consumer channels Division – Zhang Yongli said when having an interview with the reporter from Science and Technology Daily. After upgrading to Windows 10, users can enjoy better operation experience and it will continue to be improved.
But, what if people run into data loss problems in Windows 10? How can they solve it themselves?
Of course, you need an intelligent assistant to help you go out of woods.
How to Retrieve Files in Windows 10 with Power Data Recovery
Windows 10 is a brand new operating system which has a lot of differences when compared to previous Windows OS, there's a great chance that wrong operations will occur during computer using.
But, please don't worry too much; you can get back your files on Windows 10 in just 3 steps.
1. Acquire a copy of MiniTool Power Data Recovery. Then, install and run it to see its main window.
MiniTool Power Data Recovery TrialClick to Download100%Clean & Safe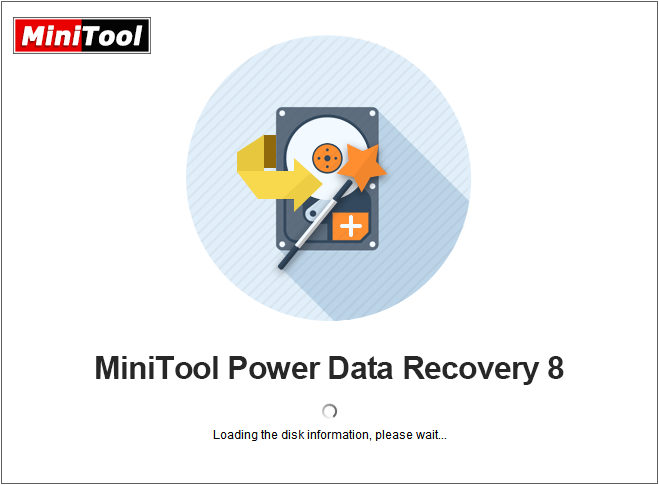 2. You should specify the partition or drive from which the data are lost. Afterwards, click on the "Scan" button in the lower right corner to detect the lost files.
3. You can browse the found files during the scan or after it. Please check your desired data and finally, click on "Save" button to store them to a safe place for using.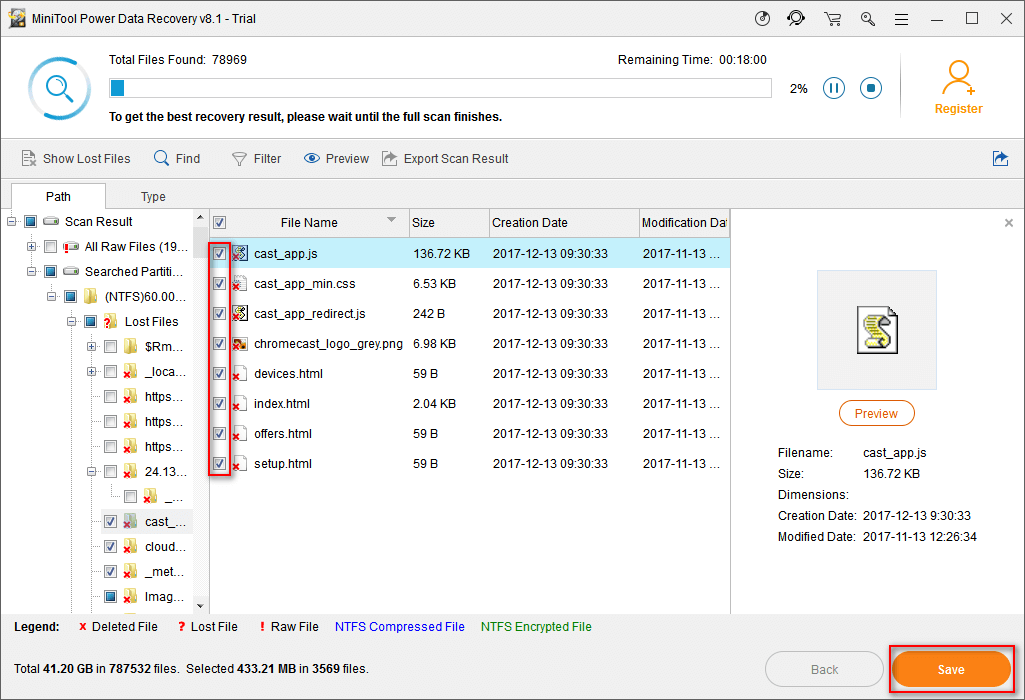 Note:
The Trial Edition only allows you to scan the drive and preview the scan result. If you find this Windows 10
hard disk data recovery software
is able to find what you need, you should get a full edition to recover the lost data actually.
Data Security Issue in Windows 10
In fact, the OS designers have made efforts to try to protect users' data in any situation. It is reported that Microsoft plans to restore the system backup and restore function in Windows 10, and they decide to make it more powerful and perfect, so that users can get more operating authorities.
In Windows 7, the system Backup and Restore function is open for any file or folder. But after the system was updating to Windows 8, users will find Microsoft has this feature abandoned replaced it with a function called File History backup.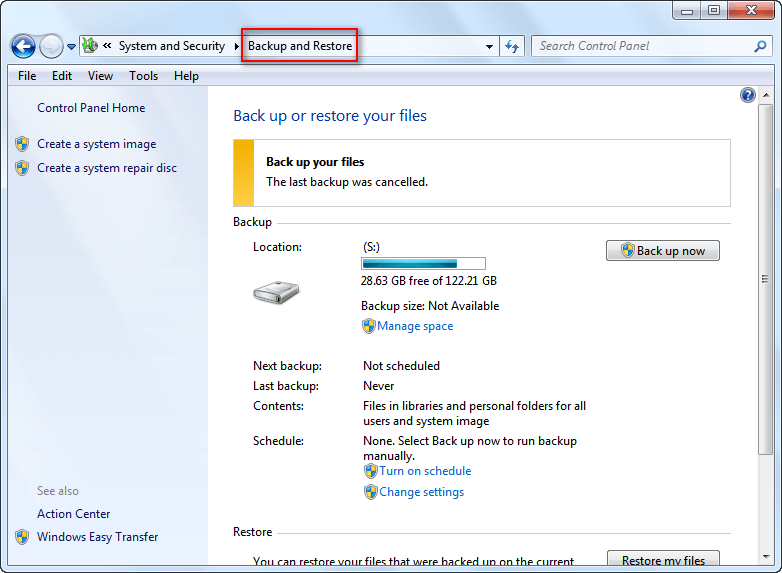 However, the File History has an obvious limitation:
In addition to files or folders like favorites, contacts and pictures, the system files and applications do not support backup functions.
Top Recommendation:
Click here to know how to recover files with Windows 8 File History.
To improve the situation, the Backup and Restore function will exist together with File Recovery function. In this case, Windows 10 users at least have their own right to choose which one to make use of.
Data Backup Solutions
If you know that prevention is always superior to recovery, you'll understand why Windows 10 designers tend to restore that function.
Why don't you take actions right now to make a backup for important data? Two tools are available for you.
Backup Files with Partition Wizard
Two functions are available in this tool.
The first one is "Copy Partition".
Put all important data into one partition.
Open MiniTool Partition Wizard and select this partition.
Click on the "Copy Partition" function from left action panel.
Then, follow the "Copy Partition Wizard" carefully.
The second one is "Copy Disk".
Launch MiniTool Partition Wizard and select the disk with important files
Click on the "Copy Disk" function from left action panel.
Then, do as the "Copy Disk Wizard" tells you to do.
Both functions are easy enough for even inexperienced users. So please don't hesitate to get Partition Wizard to back up your necessary files regularly so as to avoid troublesome data loss problem as much as possible.
Backup Files with ShadowMaker
With MiniTool ShadowMaker, you're able to backup systems, files & folders and disks & partitions in easy steps.
Open MiniTool ShadowMaker to choose a backup type.
Select the files or folders (source) you want to back up.
Specify a location (destination) to save the backup image file.
Click on the "Back up Now" button to start the backup.
New Things Are Added to Windows 10 on Both Computer & Mobile Phone
Windows 10 in Computer
At the end of June 2015, Microsoft pushes a new version of Win10 – Windows10 Build 10158 to Windows Insider fast-track users. This version contains a number of improvements: great stability enhancement, UI optimization and the adding of new characteristics into Edge browser are included. Microsoft declared that no serious bug is found in this release.
Many new features are included in Edge browser.
The function of importing bookmarks from other browsers is added.
The password and form auto-fill feature is included so that users can also save and manage passwords for various sites.
The sound from Edge browser will keep playing when this browser is minimized or running in the background. This is also a strong demand from Windows Insider program users.
Besides, there are improvements in Cortana.
As you can imagine, a dark theme is added to Cortana to be coordinated with the rest of the system.
The new version of Cortana is able to track flights and packages; when users' message contains flights and package information (from supported providers), these messages will be displayed in Cortana, and meanwhile, Cortana will remind users of that.
The new version supports sending mails to multiple people at the same time. The receivers, the mail subject and the content can all be completed by voice. Users can also correct errors by voice. However, this feature is currently only available in the United States.
At the very beginning of July, 2015, Windows10 Build 10159 is out, bringing a visual feast to users. In the user login interface of this version, Microsoft adopts a brand new UI design, making users' wallpaper become the background of the login screen.
At the same time, users' avatars will be shown in the middle position of the login interface. At the moment when users start up Windows10, a brand new interface full of technology sense will be shown in front of users' eyes, which is a long-awaited scene.
Windows 10 in Mobile Phone
Just like Windows 10 in computer, Windows 10 in mobile phone also brings many new things, among which call recording and face tracking are two most eye-catching features. Presumably, this will cause a stir in the mobile phone users.
a). Call recording feature.
After deep excavation, the media have found a default folder named "Recorded Calls" in Explorer of mobile phones equipped with Win10. Documents, downloads, music, pictures, ring tones, videos and other subfolders are included here. We all know that Windows 8.1 does not allow recording users' dialogue, but apparently, Windows 10 provides this function in mobile phones.
In addition, the recorder application has been found to have the permission to use "Recorded Calls" folder. This is another function added to Microsoft Windows 10 mobile phone in response to users' feedback.
b). Face tracking feature.
According to reports from Phone Arena, another new feature is found in Microsoft's latest version of Windows 10 mobile phone – the front camera application gives support for face tracking.
Yet, since the application of Windows 10 on computer is much broader than its application on mobile phone, we'll lay our focus on Win10 computer using in the following content.
Windows 10 Is Not Just a New Generation of OS
Starting from this generation, the operating system's development direction will be changed from supporting PC single terminal device only to a more flexible, natural, interactive and trustworthy direction. Users' applications, service and other information can be accessed through various devices, achieving a simple and seamless operation experience.
User Experience in Windows 10
According to news, the personal intelligent assistant of Microsoft – Cortana will make its debut in Windows 10 and it gives support for both PC and tablet computer.
The new generation of browser – Microsoft Edge – owns better inter-operability, reliability as well as discoverability.
Universal applications of Office provide optimized touch screen experience across different devices.
Users can go on with unfinished business conveniently in different devices by saving and synchronizing suspending object through OneDrive.
Click here to know how to recover data from OneDrive.
What's more, Windows 10 is going to be the world's first holographic computer platform. Excitingly, Windows 10 is able to help developers create holographic experience in the real world through numerous API.
That is to say, it brings the three-dimensional holographic sight into the real world. More surprisingly, it may also be able to find the thing that users are concerned about and understand the content of users' gesture and voice communication.
Service Comes First, Then Comes the Technology
One of the most dazzling ideas in Windows 10 is to give priority to service.
It is said that Windows 10 will reshape the relationship among consumers, developers and business users and write an important new chapter for Microsoft. With the opening of Windows Insider program starting from September 2014, the development of Windows 10 has become Microsoft's largest ever open and joint project. So far, Windows Insider program has about 500 million members enrolled in and millions of feedbacks received.
Now, Windows 10 is seen by Microsoft more as a service than just an OS.
As a matter of fact, Windows is going to be one of the world's largest internet services in the coming years. As any other internet services, the question like "which version you are using" is no longer necessary, and this is definitely a good thing for Windows developers.
Giving support for devices from PC, table computer and PC tablet combo device to mobile phone, Xbox and networking equipment, Windows 10 naturally becomes the operating system with the most widely supported device types.
Conclusion
The release and update of Windows 10 preview version attracts many users' attention. In a very long period of time, Windows 10 has been the hot topic among OS developers, users and mass media.
Despite the new tings Windows 10 has brought to us, it also causes problems, resulting in data loos problems. As a result, I see the necessity of introducing a piece of wonderful data recovery software for Windows 10 to help people find back files quickly and easily.
The latest version of MiniTool Power Data Recovery gives full support for Windows 10.
If you're already a Power Data Recovery user, you can update your software from previous version to retrieve files in Windows 10.
If you have never used this software before, you may as well acquire the trial edition to experience first, and then decide to buy a license for it or not.