Digital evidence is getting more and more popular in all sorts of court trials. I noticed the possibility of digital evidence loss and realizd the importance of forensic data recovery, so I write this to help you go out of the woods.
As you can easily find, a large quantity of data recovery software appeared on the market during past few decades. This indicates the increasing needs for and importance of data recovery. Why do you need to perform data recovery like forensic data recovery? How can you finish this process easily? Questions like those are asked by people in all walks of life.
Forensic Data Recovery Services
What is data recovery exactly? As a matter of fact, in computing, data recovery refers to the process of rescuing inaccessible data from corrupted/damaged/formatted/wiped/dead drives, such as internal hard drive and removable USB device.
Each time when you find the data stored in certain place cannot be accessed as usual, you should firstly think of recovering data, rather than performing operations to try to fix it (unless you're pretty sure that what you're doing will solve the problem and bring back your data).
The Difficulty of Digital Evidence Recovery
The truth is most of the data recovery software on current market is only suitable for home use and small-scale use. That is to say, most software is not perfect enough for special occasions, including forensic data recovery (digital evidence recovery), patient records restore and the recovery of many other high confidential files you can find in the nation.
After taking those factors into consideration, I highly recommend users should choose MiniTool Power Data Recovery to complete digital evidence recovery since it provides high security and simple operations.
It is no exaggeration to say that MiniTool Power Data Recovery could be the best forensic HDD recovery software; it's an ideal choice for data forensics.
Tutorial on Digital Evidence Recovery
The forensic acquisition in full or in part of data stored on non-functioning storage media through the use of sophisticated equipment and techniques for the purpose of presenting the data in a legal forum.

- said by Todd G. Shipley
Steps to get quality forensic data recovery services:
Step 1: get the software and install it to computer. Remember, please don't save it to the drive which includes the lost files you want to restore.
Step 2: run the recovery software and choose the target drive to scan. For instance, to recover deleted data or formatted data, you may select "This PC"; to recover data in lost partition, you may click on the "Hard Disk Drive".
Step 3: press the "Scan" button to search for lost files. You can click on the "Settings" button on the left side of "Scan" to show the certain file types you need during the scan. After that, please click on the "OK" button to confirm your selection.
Step 4: when the scan finishes, all found data will be displayed in the software interface. At this time, all you need to do are:
a. look through the found data one by one and pick out the files you want to recover;
b. click on "Save" button and set a storage path for the files waiting to be recovered (the destination can also be a network drive).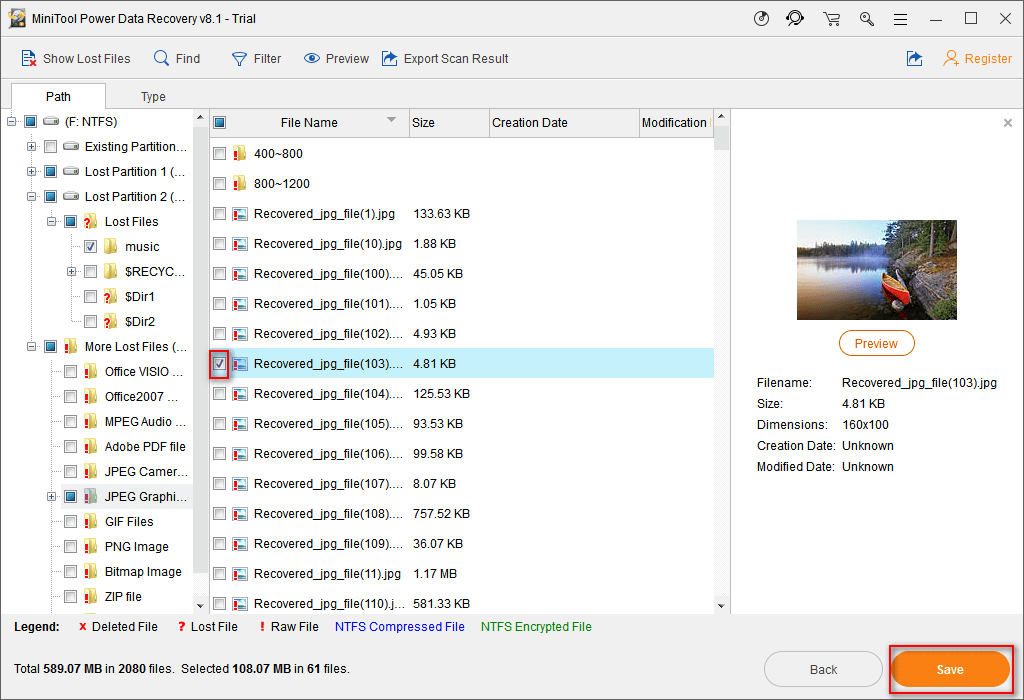 By the way, the software provides a "Preview" function for you to preview text files and pictures.
After all those operations were completed, you can go to check the recovered files and then quit the software.
Note: If your data are lost due to serious physical damage, you may as well turn to professional agencies and let them open your device to check whether there's possibility for electronic evidence data recovery.
Top Recommendation:
Power Data Recovery provides excellent compatibility, so it can support almost all file systems, file types and storage devices. Hence, no matter you want to restore data from just internal hard drive or recover data from NAS HDD, it can be served as a wonderful assistant.
Which License to Choose
As you can see, the forensic data recovery draws the attention of an increasing number of people. Therefore, when selecting the forensic HDD recovery software for recovering electronic evidence, you should focus on high security and confidentiality.
MiniTool Power Data Recovery owns a large number of users and most of them think it is the best recovery software they've ever used. It owns high security but requires easy operations, so it's a wonderful choice for the recovery of digital evidence. And I suggest that you get Enterprise License or Technician License now for recovering digital evidence.
Tracing and recovering electronic evidence have very high requirements for security, so users who need to accomplish such work can't be too careful when they're choosing suitable method for forensic data recovery.
That's the reason why I recommend the Enterprise License & Technician License.
Principle of Data Recovery
In reality, lots of people do not know deleted/formatted data (or data lost due to other operations like virus attack) can actually be recovered; they think once the data are deleted/formatted, they'll be gone for good. However, that's not the case. Now, I'd like to show you the reason why you can get back missing data.
When a file is saving to hard disk, the following information will be recorded to DIR area at first: file name, file size, file modification date (the location of file is not included). After that, the real content will be saved to certain place of DATA area. And at this time, the location of file will finally be recorded in DIR area.
When a file is deleting somehow, the first character of certain file in DIR area will be replaced by E5 (conventional deletion). That is to say, the real content is still intact unless new file is written in to use the place which is originally occupied by deleted file.
Likewise, when files are lost due to drive formatting, it is only the relevant information that has been removed, not the real content.
Therefore, in order to avoid secondary damage, which will result in permanent data loss, I suggest that you stop using the drive with deleted/formatted data immediately and choose reliable recovery methods to regain as much data as possible.
How to Prevent Data Loss
Don't save data to system partition.
Back up important data regularly.
Be careful enough when using files.
To be honest, data loss in today's era is hard to avoid. This can be reflected by the prosperity of data recovery software. Yet, though forensic data recovery could be achieved with powerful software, you still need to do our best to prevent data from being lost suddenly. Here are some useful data prevention measures.
1. Never save your data files to the same drive in which operating system (OS) is installed.
As we all know, most of the text processors will save the file you created to the documents library in computer. But, this is precisely the most unsuitable place for file storage since it is on system drive. When the OS is crashed due to virus attack or other soft failures, you have to reformat the drive to repair/reinstall OS. Thus, new data will be saved here to overwrite the original data.
2. No matter how safe you think the drive is, please backup your data on a regular basis.
It's often not enough to just save your data to computer internal hard drive/removable disk. You need to back up at least your important data to another place and then update the backups regularly. In this way, whenever your original file is lost, you can rely on the backups immediately to avoid any unnecessary losses.
3. Decrease human error as much as possible
I have to admit the fact that data loss is caused by our own improper operations most of the time. One of the most common reasons is mistaken deletion of files. So, I advised users to enable auto save functions in all programs (if there is such function) and be more careful when editing files.
Forensic Data Recovery Analysis
With the rapid development of computer & network, you can easily find out the fact – computer crimes and civil disputes by taking advantage of network are increasing in recent years. In this context, electronic evidence (digital evidence) obtained by electronic forensic starts to step into judicial authentication filed.
Electronic evidence recovery, like deleted data recovery and formatted data recovery, becomes a powerful and commonly used means of evidence collection adopted in forensics.
To put it in a simple way, after the digital evidence acquired by electronic forensic during judicial identification was deleted accidentally or formatted mistakenly, you are now able to get it back by using relevant techniques and tools. In this way, under the proper operations of electronic forensic, reliable evidence can be found to justice criminals through judicial identification.
According to statistics, the work efficiency of electronic forensic teams equipped with high-tech data recovery tools is greatly improved. And a large quantity of crime cases is settled by virtue of forensic data recovery.
About Network Forensics
Network forensics refers to the actions of capturing, recording and analyzing network events, so as to find out the source of security attacks or other issues. This term is introduced by firewall expert Marcus Ranum from the field of criminology and law.
In the view of Simson Garfinkel, an expert specializing in computer forensics and computer privacy issues, network forensics system contains the following two types:
a. "To capture as much as possible" system: in this system, all the packets are captured through certain node and the analyzing results will be written into memory in accordance with the batch mode.A lot of storage space is requiredin this system, so RAID is often adopted.
Top Recommendation:
This will show you all things about RAID data recovery.
b. "Stop, look and listen" system: in this system, each packet each packet goes through fundamental analysis so as to leave some basic information for future analysis. The need for storage space in this system is relatively small, but a fast processor is required to keep up with the input stream.
Please pay attention to the following things:
Accidental deletion of old data is required in both systems to make room for new data.
Network forensics product is sometimes also called Network Forensic Analysis Tool (NFAT).
Computer forensic analyst now becomes a popular and respected career.
Background of Digital Forensics
Since many of today's crimes are provided with characteristics like high-tech and intelligence, the electronic evidence gained in judicial identification is playing an increasingly important role. That is to say, people pay more and more attention to cyber forensics and mobile forensics. And meanwhile, forensic investigation is made popular to the public.
Yet, the digital evidence is intangible, easy-to-damage and unsafe, so it can be easily deleted or formatted. Precisely because of this, deleted data recovery and formatted data recovery technology become extremely important and also form the primary means of judicial expertise.
As a result, a lot of manpower and resources are devoted by law enforcement agencies to enhance the ability to recover deleted and formatted digital evidence. Thus, an outstanding electronic forensic team is formed and proved to play a key role in tracking down the criminals (in fact, this team has found much significant evidence in various judicial identification cases).
Verdict
With the perfection of legal system society, the legal status of electronic evidence acquired in judicial identification becomes higher and higher. Currently, the deleted data recovery and formatted data recovery are playing a very important role in ensuring the integrity and authenticity of electronic evidence.
So users must confirm they have chosen the reliable and effective software to regain lost digital evidence files when necessary. By writing this article, I hope more people could solve their data loss problems easily without privacy leakage.
Forensic Data Recovery FAQ
What is forensic data recovery?
In fact, forensic data recovery refers to the process of getting back data from any damaged evidence in a forensically sound manner (by using high-tech means). The recovered data will be then used as evidence to testify in a court of law.
What can computer forensics find?
Currently, the computer forensics techniques are used widely for analyzing, searching, and keeping information on users' computers. This is a modern way to find potential evidence which may be then used in a court. Of course, lawyers can contest the validity of it.
What is the average cost of data recovery?
In the US, if you hire a data recovery professional to work for you, you'll need to pay about $100 to $300 per hour. The common factors that have an impact on the cost are the professional's proficiency, educational background, and location.
Which data recovery software is best?
Recuva
Stellar Windows Data Recovery Premium
MiniTool Power Data Recovery
PhotoRec
Wise Data Recovery
R-Studio for Windows
Wondershare RecoverIt