It is common to use USB flash drives to store and back up files. But like other data storage devices, USB flash drives can also occur errors. One of them is files turned into shortcuts. To handle this problem, you can read this post from
MiniTool
and use the mentioned methods to recover shortcut files from USB drives.
You might be annoyed when discover your files and folders turned into shortcuts. Actually, you are not the only one who suffers from the troubles brought by shortcut viruses. You can find this real case:
Shortcuts are created in my Flash drive when I connect to my pc
When I connect Flash drive to my PC all the files and folders become shortcuts. I am able to remove the shortcuts by Attrib command. I've scanned my PC using System Center Endpoint Protection, it doesn't show any virus on my PC.

answers.microsoft
Before getting methods to recover shortcut files from USB drives, you need to know more information about shortcut viruses. Therefore, you can know how to prevent viruses from spreading to your devices.
What is Shortcut Virus
A shortcut virus is a malicious program that can hide your files and folders and replace them with shortcuts. This kind of virus mainly affects removable data storage devices such as USB flash drives, external hard drives, and so on.
However, this virus is tricky enough to evade the detection of antivirus software. Thus, when the infected device connects to your computer, your computer will be affected as well. When you open the infected files on the computer, the virus is able to expose to other programs, then spread to the operating system. Besides, the shortcut virus can be spread through website downloads and email attachments.
Recover Shortcut Files from USB Drives
There are two methods for you to recover files infected by shortcut viruses.
Method 1: Recover Shortcut Files with Command Prompt
Command Prompt, abbreviated as CMD, works as an interpreter of command lines. It can execute numerous commands to change operating settings or fix computer problems. This method uses the attrib command to recover files infected by shortcut viruses from your USB drive. You can try this method with the following steps.
Step 1: Connect your USB drive to the computer, then press Win + R to open the Run window.
Step 2: Type cmd into the text box and press Shift + Ctrl + Enter to run Command Prompt as administrator.
Step 3: Type the drive letter of your USB drive and hit Enter. For example, the drive letter of my USB drive is H, I need to type H:.
Step 4: Type del *.ink and hit Enter to delete the shortcut files on your USB.
Step 5: Type attrib -s -r -h *.* /s /d and hit Enter.
By using the attrib command, you can set the file attributes and guarantee the security of files on the drive. After executing all the commands, your files are supposed to be recovered and you can check them on your drive.
Method 2: Recover Infected Files with MiniTool Power Data Recovery
As the best free data recovery software, MiniTool Power Data Recovery is professional and reliable in restoring files under various situations. When you need to recover files from unrecognized external hard drives, inaccessible SD cards, formatted USB drives, and even unbootable computers, MiniTool Power Data Recovery can help you with a few steps.
In addition, this software provides you with a clean and safe data recovery environment. You can retrieve your files safely and no damage will be caused to the original data. Even if you are a novice, it only takes six steps to master this software.
Step 1: Download and install MiniTool Power Data Recovery.
MiniTool Power Data Recovery FreeClick to Download100%Clean & Safe
Step 2: Connect your USB drive to the computer and launch the software.
Step 3: Choose your USB partition under the Logical Devices section and click on the Scan button. You can also shift to the Devices section to select the whole drive to scan.
Step 4: The scan process will take a few minutes. The specific time depends on the number of files and the size of the drive. For the best data recovery result, please wait for the process to complete patiently.
To help you find files from the file list, you can move on to the Type category list. It divides files according to their types, like photos, documents, archives, videos, etc. You can look through the corresponding file list to find the desired one quickly.
Furthermore, Filter and Search functions can also help you narrow down the list and locate your wanted files quickly. The Preview feature works well to check the file correction. You can preview the chosen file before deciding to save it.
Step 5: Choose all the files you need and click on the Save button.
Step 6: Select a proper storage path to save the files and click OK. Please save these files to other drives, otherwise, the file recovery might fail because of data overwritten.
Tips:
MiniTool Power Data Recovery provides many editions to meet different demands. If you choose the free edition, you can perform a whole disk scan and recover up to 1GB of files. For an unlimited file recovery capacity or more technical requirements, you can find advanced editions from the
MiniTool Store
.
How to Remove a Shortcut Virus from USB Drives
When you successfully make a USB file recovery, you need to think about how to prevent your files from being infected by the shortcut virus again. This section offers you some workarounds to help you remove the shortcut virus from your USB drive.
Fix 1: Format the USB Drive
This is the most convenient way to troubleshoot the virus. You can format drives in different ways.
Way 1: Format with File Explorer
Step 1: Press Win + E to open File Explorer.
Step 2: Choose This PC on the left-side pane, then find your USB drive.
Step 3: Right-click on the USB drive and select Format from the context menu.
Step 4: You should choose the correct File system, set the Volume label, and check the Quick Format selection.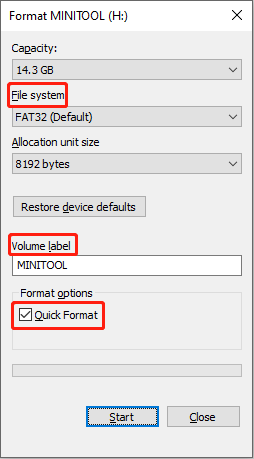 Step 5: Click on the Start button to format your USB drive.
Way 2: Format with MiniTool Partition Wizard
MiniTool Partition Wizard is a comprehensive partition management tool for your computer. Apart from formatting drives, you can use it to create and resize partitions, convert FAT to NTFS, copy disks, and so on.
Step 1: Download and install MiniTool Partition Wizard on your computer.
MiniTool Partition Wizard FreeClick to Download100%Clean & Safe
Step 2: Connect your USB drive to the computer and launch the software.
Step 3: Select the target disk and choose Format Partitions on the left pane.
Step 4: Set Partition Label and File System in the Format Partition window, then click OK to save the change.
Step 5: Click on Apply to fully complete the process.
Fix 2: Delete Dubious Registry Keys
You can delete the suspicious registry keys to remove the shortcut virus. But please keep in mind that Windows Registry is extremely important for the computer's stable performance. Any wrong changes might cause irreversible damage to your computer. Thus, before starting the next steps, you need to back up the registry key to avoid making mistakes.
Step 1: Press Win + S and type Registry Editor into the search box.
Step 2: Hit Enter to open the Registry Editor window.
Step 3: Navigate to HKEY_CURRENT_USER > Software > Microsoft > Windows > CurrentVersion > Run.
Step 4: You can check subkeys on the right pane and delete any skeptical subkeys, such as oswcamszas, OUzzckky, etc.
Step 5: You can restart your computer to fully apply the changes.
Final Words
It is possible for you to encounter the shortcut virus without any warning, you need to rescue your files and remove the virus from your device as quickly as you can. To recover shortcut files from USB drives without any loss, MiniTool Power Data Recovery should be the best choice.
MiniTool Power Data Recovery FreeClick to Download100%Clean & Safe
If you have any trouble using this file recovery software, feel free to contact us via [email protected].