As an artificial intelligence assistant, Cortana in Windows 10 or your phones makes it easier to get stuff done. If you are curious about what can a Cortana do for you and how to use a Cortana, get ready and read this article to find answers.
Cortana is an artificial intelligence assistant developed by Microsoft for Windows 10, Windows 10 Mobile, Windows Phone 8.1, iOS, Android, etc. If you've used Siri on your iPhone or Google Assistant on Android, you're already familiar with this type of technology. Cortana is very similar to them and mainly competes against assistants like them…
Cortana is currently available in the following languages: English, Chinese, Portuguese, French, German, Italian, Spanish, and Japanese, depending on the software platform and region in which she is used.
Cortana is Microsoft's attempt in the field of machine learning and artificial intelligence. She can understand your preferences and habits. What Microsoft wants to achieve is the intelligent interaction between you and Cortana: not simply based on a stored question and answer, but a conversation. She records your behavior and usage habits, uses cloud computing, search engines & "unstructured data" analysis, reads and "learns" data including text files, emails, images, videos, etc. So she can understand your semantics and contexts, achieving human-computer interaction. Simply say, the more she knows about you, the better she will do her job.
Related article: Windows 10 New Search Experience and Volume Flyout May Appear Next Year
What Can Cortana Do for You
In Windows 10, Cortana locates in the search bar. You can see Cortana when you open the search bar. As an artificial intelligence, Cortana is naturally capable of speech recognition, so if you want to start using Cortana, you have two ways to start – talk to her or type commands.
Talk to Cortana: You need a microphone to talk to Cortana, for example, a portable headset can do this. Just connect it to your computer and use it.
Type commands: This method does not require any tools. You just need to know where to type commands. The place to type commands is located next to the Start menu, called search bar.
You can ask almost anything you want to know, and she will try to answer your questions by using information from the Bing search engine (e.g., current weather, traffic conditions, sports scores and more). If the searched result is easy, she will show you a list; if not, she will jump directly to the Bing page. By the way, if you are interested, the U.S. version of Cortana is voiced by Jen Taylor.
Cortana is your digital assistant. She can help you get things done. Here are some things she can do for you:
send emails and text messages.
Track packages, teams, interests, flights and more.
Manage your calendar and keep you updated.
Create and manage lists.
Find facts, documents, locations, or any information you need.
Open any application on your system.
To sum up, Cortana has a lot of features. However, by default, she can act as your personal news and weather channel, so that you might notice this feature first. Simply click on the search bar and you'll see the latest updates.
In fact, Cortana can also be an encyclopedia, an almanac, a dictionary, and a thesaurus… For example, you can type or say things like tell me the story about Adam and Eve and immediately see the result. You can ask what a particular thing is…(e.g. what is a partition?), or what date something happened… (e.g. when was the first moon landing?), how to…(e.g. how to fix iPhone stuck on Apple logo and recover its data?), and so on.
Set a reminder
One of the things Cortana can do is to remind you. She can remind you to do things based on time, places, and people. For example, type or say Remind me to write a letter at 5 o'clock this afternoon, then you will get a reminder at 5 pm.
Extra bonus – If you have a Windows phone or Cortana for your phone, you can set Cortana to synchronize notifications between your PC and your phone.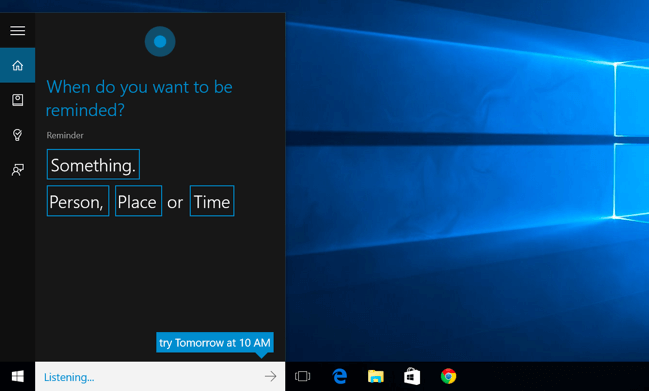 Hey, Cortana!
Set up Cortana to hear you as long as you say Hey, Cortana! Select the search box on the taskbar to open the Cortana home page. Then choose Settings and turn on Let Cortana respond to "Hey Cortana". After that, every time you say Hey, Cortana! Cortana will hear you and wait for your questions or commands to answer or perform.