Perfmon.exe runs the Windows Performance Monitor, a real-time utility for gauging system performance. However, sometimes there are still some issues with it. If you want to learn more about it and find some methods to fix the issues, this post is what you need.
Perfmon.exe
The following is detailed information about perfmon.exe. You will learn what role it plays in the system where it is located, what problems may arise with it, as well as the ways to eliminate them. If you want to know other executable files, then you can visit the MiniTool website.
What Is Perfmon.exe
Perfmon.exe process is responsible for Windows Performance Monitor and is known to consume a lot of CPU resources. Since this process is responsible for monitoring various performance elements on the system, it may be necessary to utilize a large number of resources.
In any case, when it is operating normally, it should never show a utilization rate of 90% or higher continuously for a long time.
Process Description
You can open perfmon.exe by entering the resmon.exe text in the Start menu. In the default state, the file does not represent a threat perfmon.exe has the maximum reliability rating due to the regular verification of digital signatures during the system update.
Location of Perfmon.exe
Now you have known what perfmon.exe is, then I will introduce its location in the system. This is necessary to know to distinguish a virus attack hiding under this name from the real one. The perfmon.exe file should be located in the folder C:\Windows\ServicePackFiles\i386 or C:\Windows\System32. Otherwise, it could be a Trojan.
Possible Issues with Perfmon.exe
There are some possible error messages you may see including:
File not found: perfmon.exe
Cannot find file: perfmon.exe
The device is not recognized missing perfmon.exe file
Because the file is associated with a USB connection to the computer, a keyboard, mouse, or other hardware connected to the computer via a USB cable may cause the error, or it may not function properly due to the error.
These errors are usually caused by conflicts with files or installation configuration files, abuse of files or corresponding directories or malicious attacks on the system.
1. Applications may fail to transfer data between necessary files when there are conflicts on configuration files.
2. When a file or directory is abused or damaged, the entire application may fail to load.
3. Malicious attack or infection on the system may freeze the entire system or make you fail to perform any necessary computing functions.
How to Fix the Issues with Perfmon.exe
When these errors occur, verify that any new hardware or software has been added. If so, simply removing new hardware or software will resolve the issue. Then, I will introduce how to fix issues with perfmon.exe.
Scan for Any Driver Updates for New Equipment
If new equipment or programs have been loaded, they may require updated drivers. Download new, secure drivers and perform a clean system restart.
Step 1: Press the Win + X keys at the same time to choose Device Manager, and then right-click the problematic driver to choose Update driver.
Step 2: Choose Search automatically for updated driver software.
Step 3: Follow the on-screen instructions to finish updating the driver.
Step 4: Reboot your computer and then check if the error is gone.
Download and Install Updates for the Operating System
Regardless of the operating system version you are using, it is always considered the good practice to install the latest security updates.
Step 1: Press the Win + I keys at the same time to open Settings and then choose Update & Security.
Step 2: Click Windows Update and then click Check for updates on the right side of the screen.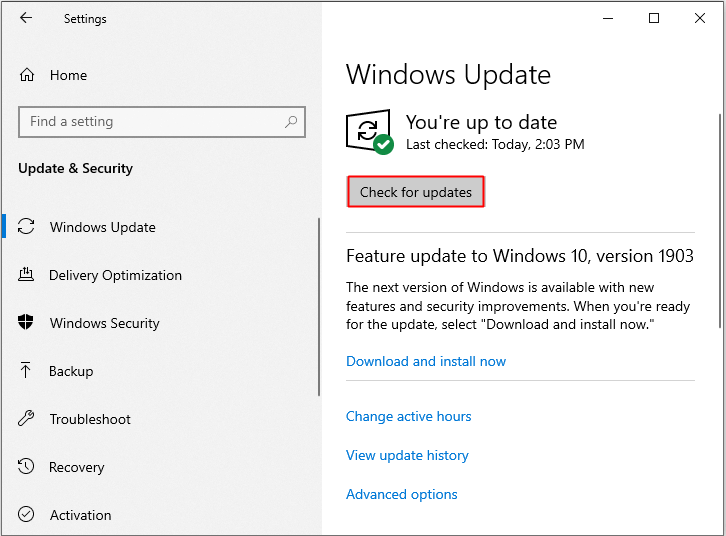 Step 3: If there are updates available, Windows will start to download them automatically. Then restart your computer to perform the installation process.
Step 4: After your operating system is up-to-date, then reboot your computer to see whether the error with perfmon.exe is gone. If not, try the next methods.
Use Antivirus and Antimalware Applications
Most virus scanners will protect your machine from basic threats. To increase your protection, use a malware scanner as well.
Final Words
If a scan displays no malicious threats or viruses, you can also attempt to boot your operating system in safe mode or perform a Clean Boot to fix the issues with perfmon.exe. These methods can assist in identifying if any additional third-party software is causing your issues as well.