This post will talk about a Microsoft technology (hyper v) that can be used to create virtual environments. Besides, it will introduce some other information about hyper v. If you are not clear about it, this post is suitable for you.
What Is Hyper V
Hyper V was previously famous as Windows Server Virtualization, which is a native hypervisor. It was released in 2016 by Microsoft. It is competitive even with VMware's Fusion and Oracle's VM VirtualBox.
Tip:
To get more information about Hyper-V, keep reading this post of
MiniTool
.
Simply to say, Microsoft Hyper-V is a piece of virtualization program that can virtualize software. It includes Windows hypervisor, Hyper-V Virtual Machine Management Service, the virtualization WMI provider, the virtual machine bus (VMbus), virtualization service provider (VSP), and virtual infrastructure driver (VID).
Windows 10 Hyper-V can virtualize items including operating system, hardware components (hard drives and network switches).
Different from Fusion and VirtualBox, Hyper-V won't limited to the user's device. It even can be used for server virtualization. Hyper-V has three available versions containing Hyper-V for Windows Servers, Hyper-V Servers and Hyper-V on Windows 10.
Hyper-V for Windows Server is based on the Windows Server OS. As for Hyper-V Server, it is an only way to manage virtual and specialized server instances. Hyper-V on Windows 10 is a version that you can run on the laptop.
The Benefits of Hyper-V
What can the Hyper-V bring you? It has many benefits, which are summarized as follows.
It is cost-effective and reliable.
It enables you to create a virtual switch without additional cost.
Hyper-V supports multiple operating systems.
It simplifies the live migrations.
It can integrate with other Microsoft products without seam.
How Does Hyper-V Work
Windows 10 Hyper-V is a technology on the basis of hypervisor virtualization. Generally speaking, Hyper-V utilizes Windows hypervisor, which needs a physical processor with specific features. You can check the details of system requirements for Hyper-V on Windows Server by clicking here.
In most time, hypervisor controls the communication between the hardware and the virtual machines. This hypervisor-managed access to the hardware provides virtual machines an isolated environment where they can run.
In some configurations, the virtual machine or the operating system running in the VM can access to the graphics, networking, or the storage hardware directly.
Top recommendation: How to Create a VM with Hyper-V [Virtual PC Windows 10]
How to Set up and Use Hyper V
According to the above information, you can learn that Hyper V offers you much benefits. In addition, a virtual machine will benefit you a lot as well. For instance, a virtual machine allows you to run software that doesn't work on your system, get away from trace, get through dark web safely, etc.
Before using Hyper V, you need to enable it. In order to enable Hyper-V on your Windows computer, you need to get a 64-bit OS. Hence, you should check if own a 32-bit or 64-bit system before enabling the Hyper-V. If your current system is 32-bit, you can upgrade it to 64-bit under the help of this tutorial.
Tip: Hyper-V usually is preinstalled on Windows 10. Therefore, you don't have to download it by yourself. Enabling Hyper-V is not only exclusive to Windows 10. You can do that on Windows 8 as well.
How to enable the Hyper-V? Follow the steps below.
Step 1: Open the Run utility by holding Windows and R keys, and then type control and hit OK to open the Control Panel window.
Step 2: In the next window, click Programs and Features.
Step 3: Click Turn Windows features on or off feature in the left pane, and then find and expand Hyper-V in the prompted window. Check to activate it and click OK to save the changes.
Step 4: Wait for some time. You will receive the window below. Click Restart now option. After that, your Windows will reboot with Hyper-V enabled.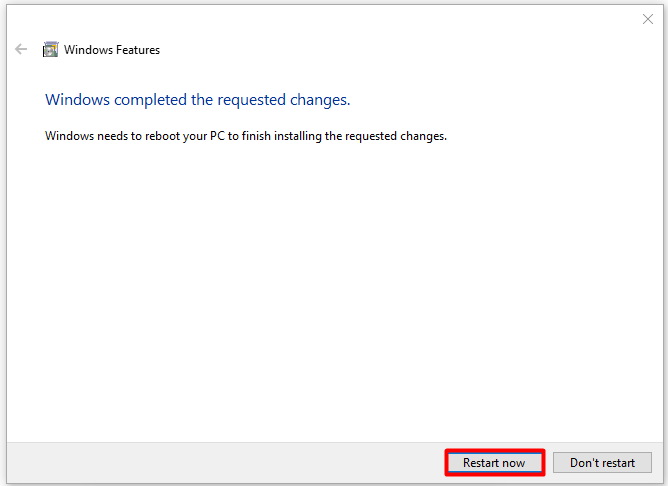 You may also like this: Hyper-V: How to Enable It and Fix Its Assembly Not Found Error
And then you can start the Hyper-V manager and follow the prompted instruction to use the Hyper-V.
Bottom Line
What is Hyper-V? Read here, you may find the answer and have an overall understanding of Hyper-V. Here comes the end of this post.