Have you ever encountered a problem is preventing the troubleshooter from starting 0x8e5e0247? Do you figure it out thoroughly? If not, welcome to visit this article on MiniTool Website to look for fruitful solutions.
Windows Update Error 0x8e5e0247
Windows Troubleshooter helps you to find and fix Windows Update problems while sometimes, it also goes wrong. 0x8e5e0247 is one of the error codes that you might meet when you are trying to use the troubleshooting utilities, Today, we will focus on this topic to find some effective and easy workarounds for you.
How to Winodws Update Error Fix 0x8e5e0247?
Fix 1: Perform SFC
Corrupted system files can interfere with Windows Update or the Windows troubleshooting process and then trigger error code 0x8e5e0247. In this case, it is a good option to scan and repair corrupted system files by running SFC.
Step 1. Type cmd in the search bar to locate Command Prompt and right-click it to choose Run as administrator.
Step 2. In the command window, type sfc /scannow and tap on Enter.
Step 3. This may take a long time, please wait patiently. After the SFC scanning is done, reboot your computer to inspect if 0x8e5e0247 is still there.
Fix 2: Uninstall Intel Matrix Storage
If you are using Intel Matrix Storage but at the same time, you also installed Intel Rapid Storage Driver or AMD equivalent. It is likely that 0x8e5e0247 will appear because of the conflict between the two drivers. Essentially, the two drivers are doing the same things. To avoid this, you can choose to uninstall Intel Matrix Storage.
Step 1. Press Win + R at the same time to evoke the Run dialog.
Step 2. Type appwiz.cpl and hit Enter to open Programs and Features.
Step 3. Scroll down in the list to locate Intel Matrix Storage and right-click on it to choose Uninstall.
Step 4. Follow the instructions on the screen to execute the installation.
Fix 3: Update Intel Rapid Storage Technology
If the error code 0x8e5e0247 crops up after upgrading PC configuration to an SSD or a new hard drive, your previous Intel Rapid Storage Technology may not figure out how to deal with the current drive size. You are able to update the corresponding driver to fix it.
Step 1. Hit here to identify your products and update your drivers.
Step 2. Choose the latest version of Intel Rapid Storage Technology driver and download the SetupRST executable file.
Step 3. After the downloading process is done, double-click on the file to start to install it.
Step 4. Reboot your PC as soon as the installation process is done.
Fix 4: Use System Created Point
You can restore your system to an earlier point where it worked fine by making full use of the previously created system restore point.
Step 1. Open Control Panel and choose Recovery.
Step 2. Press Open System Recovery.
Step 3. Tap on Next and it will list some system restore points for you.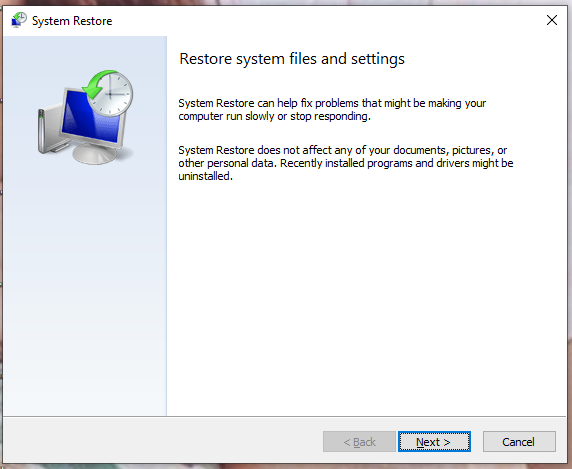 Step 4. Select one and follow the on-screen instructions to execute this restoration process.