Do you know what to do if you get the error code 0xC004C003 when trying to activate your Windows? If you don't know, then this post offered by MiniTool is what you need. This post offers you 4 useful methods to get rid of the error code.
It is disappointing to receive Windows 10 activation error 0xC004C003 after you upgrade to Windows 10 or perform a clean install, but, then why does this error appear?
This error is related to the Windows activation process and it may appear if your product key isn't valid, the activation servers are busy, you didn't perform the upgrade to Windows 10 correctly, or you changed the hardware.
Then how to fix the Windows 10 error code 0xC004C003? This post has collected several methods to fix it, so keep reading to find detailed information.
Method 1: Run Slmgr.vbs Command
Because there are a large number of Windows 7 and Windows 8/8.1 users trying to upgrade to Windows 10, the activation servers may be overloaded and certain connections may be rejected. Therefore, if you meet the 0xC004C003 error when trying to activate Windows 10, you should retry activation after a few hours or a day.
Note: This method may work if you upgrade to Windows 10 from a legal copy of an earlier Windows version.
To activate Windows 10, follow the instructions below:
Step 1: Press the Win + I keys at the same time to open Settings. Choose Update & Security.
Step 2: Go to the Activation tab and then click the Activate button.
Or you can force Windows 10 to activate. Here is the tutorial:
Step 1: Type cmd in the Search bar and then right-click Command Prompt to choose Run as administrator.
Step 2: Type slmgr.vbs –rearm in the window and then press Enter.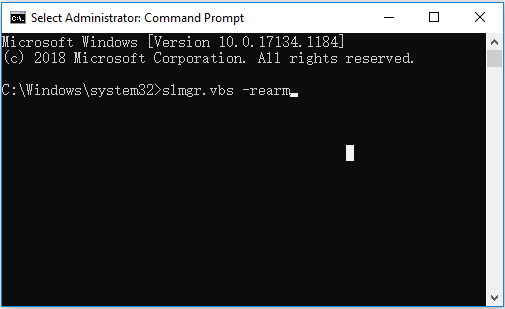 Step 3: Restart your system and then check if your Windows is activated.
Method 2: Double Check If You Have Entered a Valid Product Key
If the Windows 10 error 0xC004C003 appears after you manually enter the Windows 10 product key, then your key might be not valid. In this case, you need to use a different key to activate your Windows.
Method 3: Contact Microsoft After Hardware Change
When you activate Windows 10 for the first time, it will register your hardware configuration with the Microsoft activation server. Therefore, when you reinstall Windows 10, you don't need to enter the product key because the activation will be done using the Digital Entitlement method, which verifies that your hardware is registered.
When replacing major components in your computer, such as the motherboard or hard drive, the activation process using the Digital Entitlement method may be interrupted.
If you do make any changes to your computer and Windows 10 refuses to activate, you need to contact Microsoft Customer Support and let them know about the hardware changes.
Method 4: Perform an In-Place Upgrade
You can also try to perform an in-place upgrade when you meet the Windows 10 activation error 0xC004C003. Performing an in-place upgrade can not only solve many problems but also keep all your files, settings and applications.
You can read this post to get detailed instructions - Windows 10 In-Place Upgrade: a Step-by-Step Guide.
Bottom Line
This post has shown you 4 useful methods to get rid of the Windows 10 activation error 0xC004C003, so if you are facing this problem, try these methods mentioned above.