Do Acer laptops have a warranty? How long is an Acer laptop warranty? How do I check my Acer warranty? To find answers to these questions, refer to this post and MiniTool will give you a guide on Acer warranty check. Let's look through it to find what you need.
Acer laptops are widely used by many users for work, study, and entertainment due to their high cost performance, and perhaps you are also an Acer user. But any malfunctions may overset your plans.
Then here comes a question: do Acer laptops have a warranty? Of course, Acer offers standard limited warranty for its products including laptops, monitors, desktops, Chromebooks, etc. If the laptop is relatively new, you can get it repaired via the brand warranty.
Well then, how long is an Acer laptop warranty? How do you check your Acer warranty? Find details from the following parts now.
Acer Warranty Check/Lookup
How to check Acer laptop warranty? It is a simple thing to do the Acer laptop warranty check. A serial number or SNID is required since they can identify your product specifications and warranty.
Acer serial number check:
The serial number and SNID can be found on the label at the bottom of your laptop. A serial number is composed of 22 alpha-numeric characters while SNID is made up of 11 or 12 digits, with no letters. In addition, the serial number can be found in BIOS.
Besides, you can find it via some Acer programs:
Serial Number Detection Tool: This tool is offered officially by Acer. You can download the Serial Number Detection Tool via http://global-download.acer.com/SupportFiles/Files/SNID/APP/SerialNumberDetectionTool.exe, then run it and you can find the serial number and SNID displayed.
Acer Care Center: Run this tool on your Windows PC and check the serial number & SIND.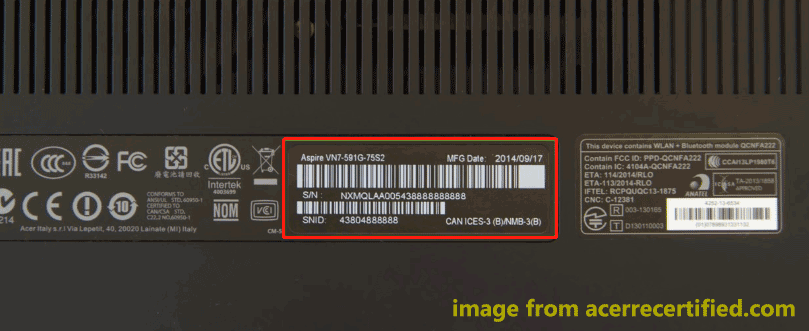 After the Acer serial number check, you can start the Acer warranty check. To be specific, you can check your warranty status by calling the Acer support line at 1-866-695-2237, which supports 24/7 service in US and Canada. Also, you can go to get related information about warranty by going to the shop.
Besides, some third-party webpages can do Acer warranty lookup/check and you can search for one in Google Chrome. Then, type the SNID or serial number to find the information that you need.
Limited Warranty Acer
How long is an Acer laptop warranty? According to Acer, most laptops offer a one-year limited warranty, and see these devices:
Consumer (Aspire, Switch, Swift, Spin)
Consumer (Predator – Manufactured 2019 and after)
Commercial (TravelMate)
For Consumer (Predator – Manufactured before 2019) laptops, a two-year limited warranty is supported.
To learn about the limited warranty on Acer desktops, all-in-ones, monitors, tablets, etc., you can visit the official website - https://www.acer.com/us-en/support/warranty/limited-warranty.
If the Acer warranty period is expired, you can extend the laptop warranty. Just go to visit the Acer support page and purchase extended services online. Or buy a support plan from the third-party service provider – AnswersBy for help.
What Is Not Included in Acer Laptop Warranty?
Acer warranty is limited and this company only deals with any damage to your laptop due to manufacturing defects. Something is not covered under the Acer laptop warranty and let's look at some cases.
Laptop damage, internal damage, and physical damage
Open the case and break OEM Seal – open the laptop by yourself for repair
A laptop is repaired by a shop, not the one authorized by Acer
Failures due to liquid/water spillage
Inappropriate electrical supply
Plastic parts wear and tear & scratch in normal usage
Defective keyboards and missing keys.
Final Words
That's the information about the Acer check warranty. Just follow the given guide to check your laptop warranty. Besides, you can find some information from this post like the limited Acer warranty and the coverage in the laptop warranty.