Overview of Acer Care Center
Acer Care Center (ACC) is a program from Acer that can be used to do many things with its multiple modules.
You can use this software to show you detailed system information about the hardware and software, use PC Checkup to get a diagnosis and status report on your battery, drives, and network, run disk clean, defragment your disk, remove junk files, check for the latest system updates and driver updates, perform recovery management like system settings and networking driver restoration, and Windows reinstallation.
To sum up, Acer Care Center can help to keep your PC fresh and running smoothly and you can use it to get a good experience of the machine. This app is available on any Acer consumer PC that was produced after 2014 and runs Windows 8.1 or later versions like Windows 11 and 10. Note that it is not supported for PCs with Windows 10 in S mode.
Well then, how to install Acer Care Center on your PC? Move to the next part to know how to download and install it for use.
Acer Care Center Download for Windows 11/10
Where can you download Acer Care Center? If this app is not pre-installed on your machine, you can easily get the download file from the official website.
See the guide on Acer Care Center download for Windows 10/11:
Enter your device serial number, SNID, or model number, or select your device.
Expand the Applications category and click the Download button to get a .zip file of Acer Care Center. (Related post: 7-Zip Download for Windows 10/11/Mac to Zip/Unzip Files)

Acer Care Center Install
How to install Acer Care Center on your Windows 10/11 computer? See the instructions:
Unzip the downloaded file and double-click the Setup.exe file.
Accept the license agreement and click the Install Then, the setup process will start.
Click Finish after completing the installation.
How to open Acer Care Center? Go to type Care Center in the search box and click the app to run it. Then, go to the corresponding section to find system information, check up, tune up or update your PC or perform Acer Recovery Management.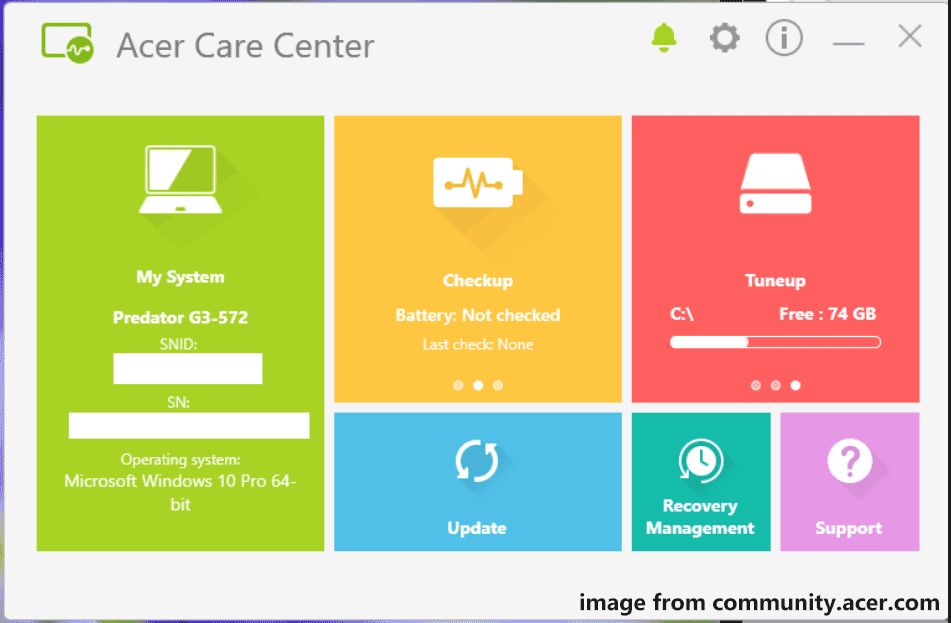 Acer Care Center Remove/Uninstall
Sometimes you don't want to use this app or it is not working, you can remove Acer Care Center from your PC. The task is easy and let's see the steps below:
Go to Control Panel, view all the items by Category, and click Uninstall a program.
In the pop-up, right-click on Acer Care Center and choose Uninstall.
If you are running Windows 11, you can try some other ways and go to find more from this post - Top 7 Effective Ways to Uninstall Programs/Apps on Windows 11