It is pretty disappointing that you cannot hear the voice from your laptop when you play videos. So what should you do if you meet the audio not working on laptop error? If you have no idea, then you should read this post from MiniTool carefully. You can find 4 efficient methods here.
When you want to watch some videos or listen to music, you find that you cannot hear any voice. Then you may ask yourself: "why my audio is not working on my laptop"? There are possible causes:
The connection between the external audio device and laptop is not stable.
The audio driver is out of date.
Your laptop speakers or headphones cannot work.
Then how to get rid of the audio not working on laptop error? Here are several methods listed below, so keep on reading.
Related post: No Sound On Laptop Windows 10: Problem Solved
Method 1: Check Volume
The first method you can try to use to fix the audio on laptop not working error is to check the volume. If you have muted the volume on your laptop by chance, then you can meet the error.
To check your volume, just click the mute button or the Add Volume button on your laptop's keyboard, or click the Speaker button in the lower right corner of the taskbar, then unmute or turn up the volume.

Method 3: Change Audio Device
If you plug in a USB audio device, or you want to connect to an external HDMI monitor without speakers, Windows may direct the audio to the wrong output device, making you think you are troubled with the audio not working on laptop error.
Therefore, to solve the problem, you should change the audio device. Here is what you need to do:
Step 1: Press the Win + I keys at the same time to open Settings.
Step 2: Click System and then go to the Sound tab.
Step 3: In the Output section, click Manage sound devices.
Step 4: Choose the Output device and click the Test button. Try to use every audio device you see until you hear the audio.
Method 3: Check Your Connections
If you meet the audio not working on laptop error, then you should check connections such as headphones, speakers, jacks, and plugs for loose cables or wires, and make sure that they are plugged in and inserted into the correct jack for multiple jacks. If both speakers and headphones are plugged in, please unplug one of them to see if it helps.
Related post: No Audio Output Device Is Installed? Here Are Solutions
Method 4: Update Audio Driver
Outdated or malfunctioning drivers can also cause the audio not working on laptop issue. Thus, you can try updating your audio driver to deal with the problem. Here is the tutorial:
Step 1: Press the Windows key and R key at the same time to open the Run box.
Step 2: Type devmgmt.msc in the box and click OK to continue.
Step 3: In the Device Manager window, expand the Sound, video, and game controllers section.
Step 4: Right-click your sound card or audio device to choose Update Driver.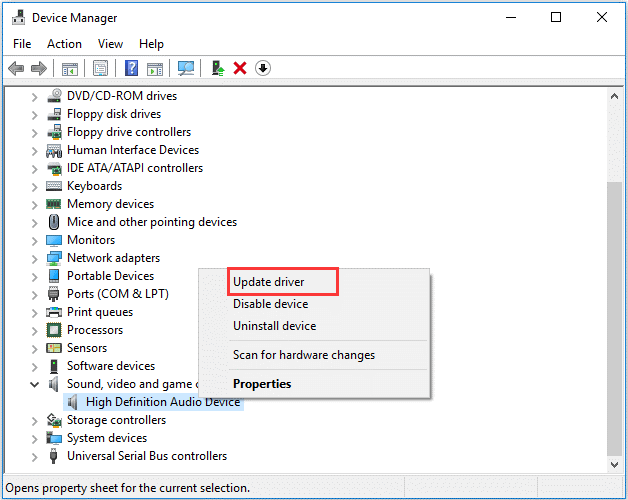 Step 5: Choose the Search automatically for updated driver software option. Then Windows will find and install the driver for your audio device automatically.
Related post: 4 Ways To Fix Audio Services Not Responding Windows 10
Bottom Line
In conclusion, this post has offered 4 useful methods for you to get rid of the audio not working on laptop error. So if you find that the audio is not working, try these methods mentioned above.