The audio services are provided for a large variety of electronic audio equipment in reality. However, the Windows audio services could fail sometimes. If you see the audio services not responding error, it means your sound device is not responsive. At this time, you have to troubleshoot the audio services problems so as to use the sound devices.
Audio Services Not Responding Windows
Undeniably, there are a lot of users have similar experience: they fail to play audio on computer. At this time, most people will choose to run the Windows sound troubleshooter to try to fix the Audio services problem.
Run Windows Audio Troubleshooter
Open Windows Settings by pressing Windows + I.
Scroll down to select Update & Security.
Choose Troubleshoot from the left sidebar.
Click Additional troubleshooters. (Optional)
Select Playing Audio from the list.
Click Run the troubleshooter.
Wait for the process to end and follow the on-screen instructions to continue.
However, some of them will get disappointed since the troubleshooter can't fix the problems with their sound devices and display this error message: Audio services not responding.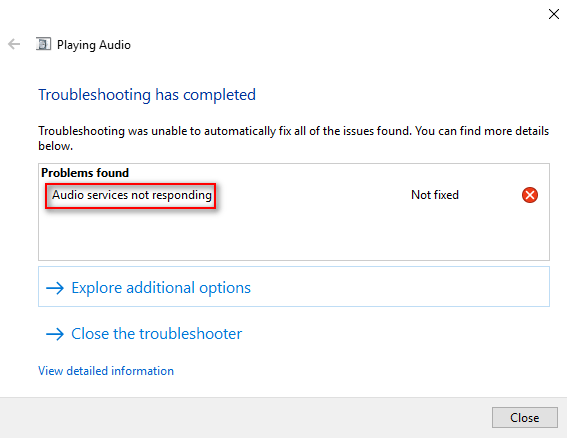 Don't be worried if you happen to encounter Windows audio services problems. You can fix it quickly by yourself, without asking professionals for help.
No Sound On Laptop Windows 10: Problem Solved.
Open Services App to Check
When your Windows audio is stopping/not running on Windows 10, it's possible that the Windows audio service is not enabled Windows 10. You should check the audio related services settings: press Windows logo key and S -> type services -> press Enter to run -> find Windows Audio -> check the Status column. If Windows says "the Audio service is not running", it means it's Stopped and you need to fix this issue now.
4 Fixes for Windows 10 Audio Services Not Responding
The Audio Service is not running or Windows audio service stopping is a very common error which indicates you have unresponsive sound devices. This, complained by some Windows 10 users, is caused after upgrading Windows by using the Windows Update.
The Audio Service Is Not Running Windows 10
When you find the audio service is not responding on Windows 10, you should run Services to check the status of "Windows Audio" service (Windows sound service). If it's not running, please fix it by modifying in CMD or Registry, updating drivers, or in other ways.
Run services.msc and select Windows Audio in Services to Restart.
Use Command Prompt to add services.
Modify Registry: change the value data of ServiceDll.
Check audio components in Services.
Reinstall the audio driver in Device Manager.
Install the default sound drivers.
Use System Restore or do a clean install.
Restore registry key from antivirus.
Method 1: Start Windows Audio Service
Press the Start button and find Windows System folder.
Expand the folder to select Run to open the Run dialog box.
Type services.msc into the text box and click OK.
Navigate to Windows Audio in the Services list.
Right click on the service and choose Restart.
After that, you should check whether the Startup Type of Windows Audio is set to Automatic.
If it does, just keep it unchanged.
If it is set to Manual or Disabled, you should right click on Windows Audio > choose Properties > select Automatic after Startup type > click Apply > click OK.
Repeat the restart process and startup type settings process for Windows Audio Endpoint Builder & Plug and Play.
Method 2: Use Command Prompt
Type cmd into the search box on taskbar.
Right click on Command Prompt to choose Run as administrator.
Type net localgroup Administrators /add networkservice into Administrator: Command Prompt and hit Enter.
Type net localgroup Administrators /add localservice and hit Enter.
Wait for the completion of the commands.
Restart your PC (how to retrieve deleted files on PC?).
In addition to managing disks and configuring system, the Command Prompt is also useful when you need to recover files from hard disks or USB drives:
Method 3: Modify Registry
Open the Run dialog box.
Type regedit into the textbox.
Click on the OK button to open Registry Editor.
Expand HKEY_LOCAL_MACHINE, SYSTEM, CurrentControlSet, Services, and AudioEndPointBuilder one by one.
Select Parameters.
Find ServiceDll from the right pane and check the information under Data column.
If the value data is not %SystemRoot%\System32\AudioEndPointBuilder.dll., please change it.
Close Registry Editor and restart your computer.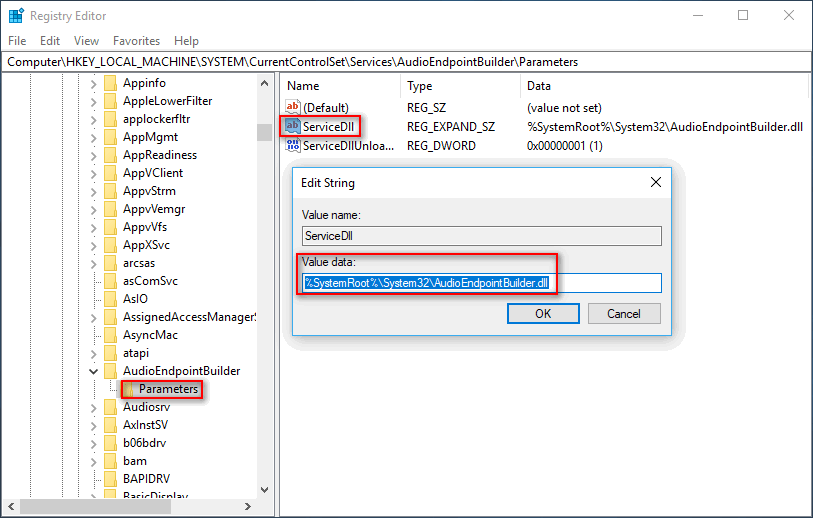 Method 4: Check Audio Components
Open the Run dialog box.
Type msc and hit Enter.
Scroll down to find Windows Audio service.
Right click on the service and choose Properties (you can also double click on it directly to open the Windows Audio Properties window).
Shift to the Dependencies tab.
Expand to see all the components under This service depends on the following system components.
Make sure all the components are Started and Running in the services.msc.
Restart the Windows Audio services and reboot PC.
If all above methods failed, you should try to fix Audio services not responding error by these ways:
Reinstall the audio driver
Install the default sound drivers
Use System Restore or do a clean install
Restore registry key from antivirus