How do I backup my drivers? You may be looking for the answer to this question. Now, you come to the right place since MiniTool Solution will give you a detailed guide on Windows 10 drivers backup and restore. Just see how to do the work.
Sometimes It's Necessary to Backup Drivers Windows 10/11
Whether you perform a clean install or reinstall Windows 10, all the device drivers must be installed so that the Windows operating system can work with the peripheral and hardware connected to your PC. But now, this is not a problem anymore.
In Windows 10/11, the system can automatically detect most of the device drivers. Besides, you can go to get the latest drivers from the manufacturers. Nevertheless, sometimes Windows 10 cannot install certain drivers or the supplier stops offering drivers for a particular device.
Luckily, you can backup every driver installed on your PC with the built-in command tool before reinstalling Windows 10 or the clean install. In the following part, we will show you how to backup drivers and restore drivers.
How to Backup Drivers Windows 10/11
There are two methods for you to backup Windows 10 drivers including using DISM (Deployment Image Servicing and Management) and PowerShell. Now, let's go to see them.
Tip: Before you start, make sure you have admin privilege with your account.
Use DISM for Driver Backup Windows 10/11
DISM is a command-line tool that is included in Windows 8 and the later versions of the Windows system. It is often used to service and prepare Windows images, as well as scan and repair the Windows images. Additionally, it can also be used to back up the device drivers.
See these steps for driver backup:
Step 1: In File Explorer, create a folder named Driver Backups in your computer anywhere other than the drive where Windows is installed. Here, we create a folder in drive D.
Step 2: Go to the search bar, input cmd and right-click Command Prompt to choose Run as administrator.
Step 3: Type the command: dism /online /export-driver /destination:"D:\Driver Backups" and press Enter.
Step 4: This command will export some drivers in your computer to the created folder and you can go to that folder to see the backup of the drivers.
Note: You can only make a backup of those .inf drivers using this method. Windows Installed or other driver package types including .msi and .exe are not supported by the DSIM command. That is, these drivers aren't backed up.
Backup Drivers Windows 10/11 via PowerShell
In addition, you can also use PowerShell to backup drivers but the command is different. Just follow these steps below:
Step 1: Create a new folder in File Explorer.
Step 2: Right-click the Start button and choose Windows PowerShell (Admin).
Step 3: Type the following command and press Enter:
Export-WindowsDriver -Online -Destination "D:\Drivers Backup"
Step 4: Wait until the process is completed and you can go to the created folder to view the backed up drivers.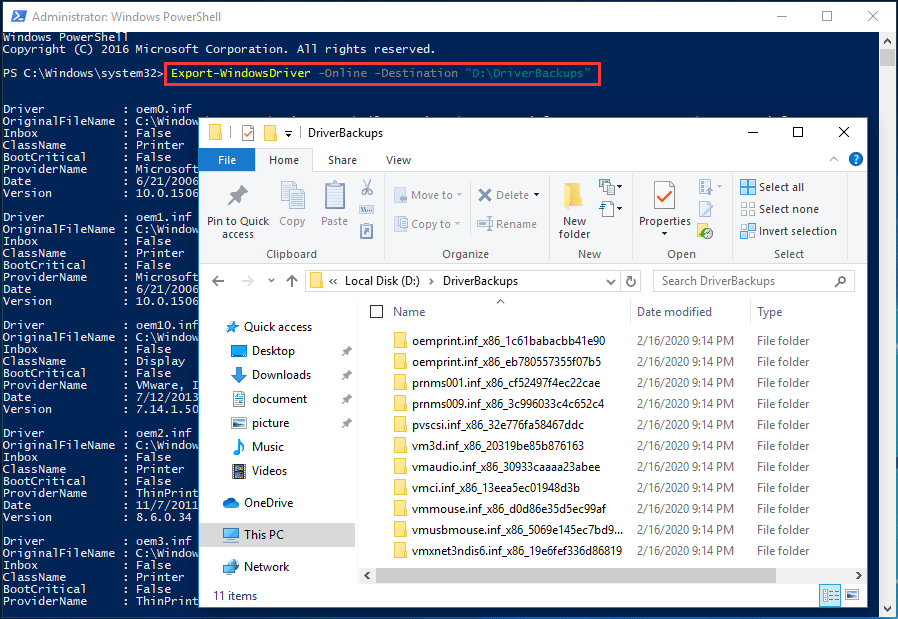 How to Restore Drivers Windows 10/11
When there is a need, you can restore your drivers one by one in Device Manager. Here is what you need to do:
Step 1: Open Device Manager in Windows 10/11.
Step 2: Right-click your device driver and choose Update driver.
Step 3: In the pop-up window, choose Browse my computer for driver software.
Step 4: Click Browse to find and locate your folder like Driver Backups or DriverBackups, check the box of Include subfolders and click Next.
Step 3: Windows will start to search for the folder and restore the driver for your device.
Windows 11/10 PC Backup Recommended
Windows issues always happen and sometimes the system cannot load. Besides, data loss is a common issue. Thus, you are recommended to back up your operating system and files on a regular basis. In terms of PC backup, using a professional Windows 11 backup software - MiniTool ShadowMaker is recommended since it allows you to back up system, files, folders, disks, and partitions. Incremental and differential backup are supported.
The End
After reading this guide on driver backup Windows 10, you know how to easily backup your drivers for some devices and restore them. Just have a try if you have a need.