Can I backup my installed programs? Does Windows Backup include programs? How do I backup all my installed apps? From this post, you can find out the answers to these questions. Besides, why backup programs in Windows 11/10 is also introduced. Let's focus on the guide from MiniTool about an application backup now.
Why Backup Programs in Windows 11/10
You may ever reinstall your Windows operating system after the PC goes wrong. However, the app reinstallation is tedious and time-consuming. If you need many programs at work, it is a bit annoying since you need to install the app one by one. So, you want to look for a way to backup Windows installed programs so that you can restore these apps without reinstallation in case the PC malfunctions accidentally.
Besides, if you purchase a new PC and want to remove apps from the old PC to the new one, app backup is a good way.
Well then, how to backup installed software in Windows 11/10? Move to the next part to find 2 useful ways.
How to Backup Programs in Windows 11/10
To backup Windows installed programs, you can run the built-in backup tool called Backup and Restore (Windows 7) or third-party software like MiniTool ShadowMaker to make a system backup. This could back up all the data on the system, including files, installed applications, settings, registry, and other configuration values.
When system issues happen on your PC, you can directly perform a system recovery without reinstalling Windows and your needed programs.
How to Back up a Program Using Backup and Restore
Backup and Restore (Windows 7) is the inbuilt tool in Windows 11/10 and it enables you to create a system image (installed programs included) and back up folders. How to backup a program for reinstallation via making a copy of the system with this tool?
Follow the guide now:
Step 1: Open Control Panel via the search box on Taskbar.
Step 2: View all the Control Panel items by large icons and click Backup and Restore (Windows 7).
Step 3: Tap on Create a system image from the left side.
Step 4: Choose an external hard drive to save the backup.
Step 5: In the new screen, system-related partitions are selected as the backup source.
Step 6: After confirming the backup settings, click Start backup to backup programs and other content in the system.
Sometimes when backup programs by creating a system image with Backup and Restore, some common issues always appear, for example, backup stuck, error code 0x80780038, there was a failure in preparing the backup image, etc. Besides, it is not flexible with limited features. To successfully backup Windows installed programs in a reliable way, you can choose to use MiniTool ShadowMaker.
Backup Programs Windows 11/10 via MiniTool ShadowMaker
As a piece of professional and free backup software, MiniTool ShadowMaker is popular with many people. This is because it is comprehensive in features. With it, you can easily back up the system, disk, partition, file, and folder. Scheduled backup, incremental backup, and differential backup can be also created by this software. In addition, file/folder sync and disk cloning are supported.
If you need to backup installed programs in Windows 11/10, download this tool via the following button and install it on the PC.
MiniTool ShadowMaker TrialClick to Download100%Clean & Safe
Then, see the steps below to know how to backup installed apps in Windows 10/11 by making a copy of the system.
Step 1: Open this backup software to its main interface.
Step 2: Under the Backup tab, you see system partitions are chosen as the backup source. Just choose the external drive as the target by clicking DESTINATION.
Step 3: Click Back Up Now to start to back up your system including installed programs.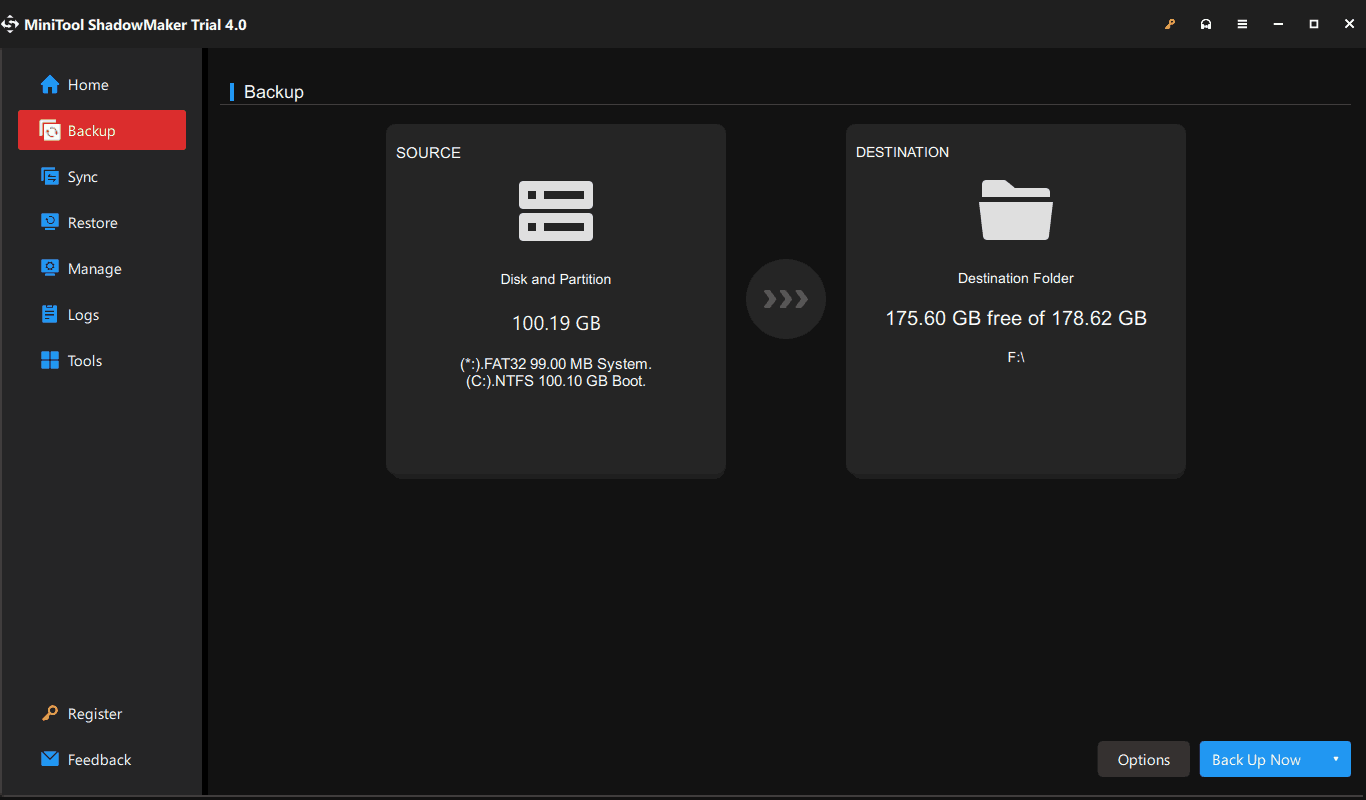 After the backup, you had better go to Tools > Media Builder and create a bootable USB drive so that you can perform an image recovery in case the PC cannot boot.
Final Words
How to backup programs in Windows 11/10? After reading this post, you can find out what you should do. Some of you may ask why not directly backup Windows installed programs by creating a copy for the app folders in the Program Files folder of C drive.
This is because this way may cannot completely backup your applications. When you restore the apps, they may not function properly. Thus, the best way is to create a system image where installed programs are included.