Does Blizzard have a launcher? How to free download Blizzard launcher and install it on your Windows 10 PC or Mac? See this post from MiniTool and you can find what you should do to play games via this platform.
Blizzard Entertainment offers an online game, social networking service, and digital distribution platform. Via it, you can download various games for Windows, Mac, Android, and iOS. When reading here, you may ask: does Blizzard have a launcher to download? Of course, this company offers the Battle.net desktop app for Windows PC and Mac, as well as the Battle.net mobile app for iOS and Android.
The Blizzard launcher allows you to install, patch, and open all Battle.net games from one app. This is very convenient. Well, how to free download Blizzard launcher for your device? See the guide here now.
Blizzard Launcher Download Windows 10, Mac, iOS & Android
Battle.net Download/Install for PC & Mac
As mentioned above, there is a Battle.net desktop app that is available on your Windows PC and Mac. To get this desktop app, try these steps:
Step 1: Visit the page of Battle.net App.
Step 2: Click the button of Download for Windows to get the Battle.net-Setup.exe file.

To install Blizzard launcher on your Windows 10 PC, see the guide:
Step 1: double-click on the .exe file you have downloaded and click Run to go on.
Step 2: Choose a language and go on by clicking Continue.
Step 3: Specify an installation location by clicking Change. By default, it is C:/Program Files (x86)/Battle.net. To run this app on startup, check the box of Launch Battle.net when you start your computer. Then, click Continue and the installation process is starting.
Tips:
If you want to uninstall Battle.net from your PC, go to Control Panel, click Uninstall a program from Programs, then right-click on Battle.net and click Uninstall/Change.
If you want to use Blizzard launcher on your Mac, click the link of MacOS, tap on Battle.net® Desktop App, and click Mac to get the Battle.net-Setup.zip folder. Then, extract files from this .zip folder via a professional tool like WinRAR or 7-Zip. Then, use the setup file to install this desktop app on your Mac.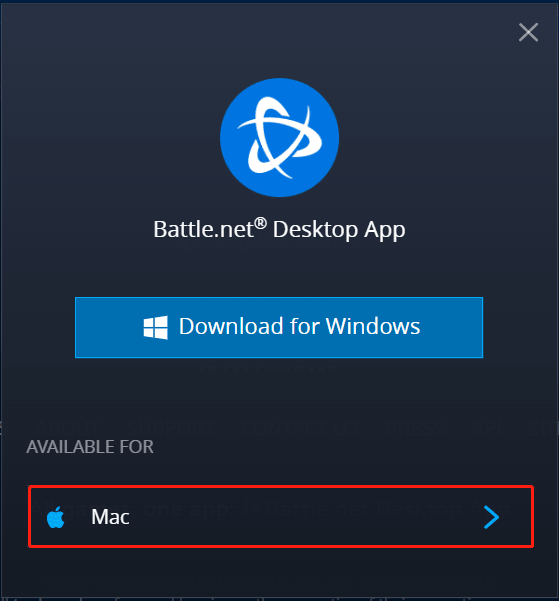 After the installation, you need to log in to this app. If you don't have an account, create a new one and sign in. Then, you can download some games and play them on this platform.
Blizzard Launcher Download Android & iOS
In terms of Battle.net launcher download for Android and iOS, you need to go to the corresponding app store. For Android, open Google Play, search for Battle.net, and install it. For iOS, visit Apple App Store, search for Battle.net, and install this app.
Can't Install the Battle.net App on PC
After getting the Battle.net app download and installing this app on your Windows PC, sometimes you may encounter a failure. What if you are unable to install Blizzard launcher?
Power cycle your connection hardware since cached data in your modem or router may cause the installation failure.
Update or temporarily uninstall any antivirus program that may block from installing Battle.net.>
Use antivirus software to remove any viruses and malware attacks.
Close all the background apps via Task Manager to remove any software conflicts.
Final Words
That's all the information about Blizzard launcher download & install on your Windows 10 PC, Mac, iOS, and Android device. Just follow the given instructions to install this app for use. Hope you can play games smoothly on the app.