Nowadays, many web browsers have the ability to remember the website URL you have visited. Google Chrome is just such a browser and the corresponding is Autocomplete searches and URLs.
If you have entered a website earlier from your system, the Google algorithm will save the search and URL results so as to give you future suggestions and predictions according to the loaded web results.
Usually, the Autocomplete searches and URLs service allows you to perform a quick search because the browser has store your search habits to highlight the predict queries close to what you plan to enter in the drop-down list when you are typing URL in the search field.
However, not everyone likes this service. The autocomplete URL suggestions can't be correct all the time. If it guides you to a wrong site you don't want to visit, you will think it wastes your time and want to let Chrome delete autocomplete URL.
Here is one real case from Google support:

"How do I get Google chrome to stop showing previous searches?" You will ask this question. There are two ways to solve this issue: let Chrome delete autocomplete URL and turn off Google search suggestions.
In this post, we will show you how to delete the autocomplete URL suggestions when necessary as well as how to turn off Google search suggestions when you want.
How to Make Google Chrome Delete Autocomplete URL?
2 ways can be used to delete autocomplete URLs on Google Chrome: delete all the autocomplete suggestions that you no longer use and deleted individual URL autocomplete suggestion you want to use.
Now, we explain these two ways separately as follows:
Delete All the Autocomplete Suggestions You No Longer Use
If Google Chrome shows you some website URLs you don't need to use any more, you may want to delete them from the browser to stop Google Chrome from showing these sites.
To do this job, you can follow these steps:
Open Google Chrome.
Go to Settings.
Scroll down to the bottom of the Settings page and press the Advanced Or, you can just press Advanced from the left list to unfold its submenu.
Go to the Privacy and Security
Press the last option Clear Browsing data and switch to Advanced. Then, you can choose to clear everything or erase data for last 24hrs or for All time, or other options you can choose from the drop list of Time range.
Deleted Individual URL Autocomplete Suggestion
If you only want to delete some specified URL suggestions, you need to follow these steps:
Open Google Chrome.
Press the three-dot menu on the top right corner of Google Chrome and go to History.
Find the website you don't want to visit and press the corresponding three-dot. Then, choose Remove from history. Besides, you can also quickly delete the URL by selecting it and press the Delete button and Enter button successively on the keyboard.
How to Turn off Google Search Suggestions
Some of you may just want to disable autocomplete URL suggestions on Google Chrome. Here is a step-by-step guide:
1. Open Google Chrome.
2. Go to Settings > Advanced > Privacy and Security.
3. Press the first option: Sync and Google services.
4. The first option, Automatic searches and URLs, is the exact one you need to manage. Turn its button to off.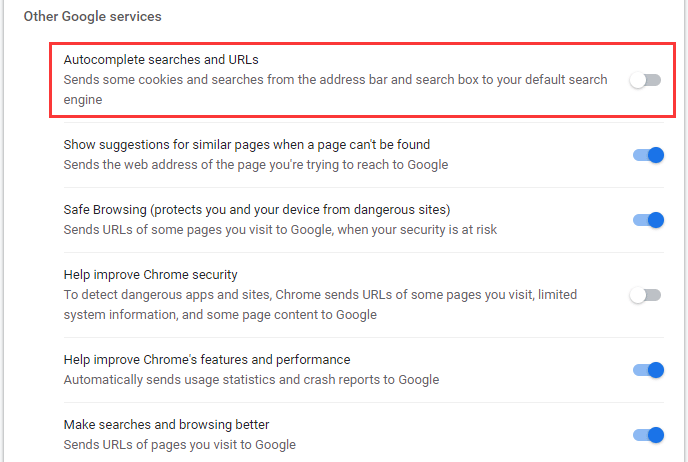 Then, you can restart Google Chrome, type something to the URL search filed, and you will see that Chrome will not show previous searches automatically.
To let Chrome delete autocomplete URL or to turn off Google search suggestions, you can make a decision by yourself.