Summary :
If you are HP, Google, Samsung, ASUS, Lenovo Chromebook users, you may be plagued by Chromebook keyboard not working. How can you fix this problem? You come to the right place since MiniTool collects some useful solutions to this situation for you.
Google/ASUS/Lenovo/Samsung Chromebook Keyboard Not Working
A Chromebook is a tablet or laptop that runs the Linux-based Chrome OS. Many manufacturers have Chromebooks, including Acer, ASUS, Lenovo, Dell, Samsung, etc. But a Chromebook doesn't always work well; and some issues may occur unexpectedly, for example, Chrome won't turn on, Chromebook OS missing or damaged, and so on.
Today we will show you another common problem. According to Samsung, Lenovo, Asus, and Google users, the Chromebook keyboard doesn't work. They cannot type anything with it or give any commands with the keyboard. If you are also one of them, you may be frustrated.
Any technical issue, application, keyboard hardware failure, etc. can lead to Chromebook keys not working. Now, let's see how to fix this frustrating problem.
Fixes for Chromebook Keyboard Not Working
Reboot Chromebook
Sometimes keys not working on Chromebook is caused by a simple technical reason and you can fix it with a basic troubleshooting tip.
Turn off your Chromebook and power it on after 2 minutes.
Unplug all devices connected to the Chromebook.
Reboot this machine and see if you can use the keyboard as normal.
Reset Your Browser on Chromebook
When using a browser to search the Internet, numerous apps and scripts access your machine, interfering with the keyboard. As a result, Chromebook keyboard not working occurs.
To fix it, you can reset the browser on Chromebook. Note that Google Chrome is the default browser on your Chromebook, so here we will show you how to reset Chrome.
Go to Settings by clicking three dots.
Click Advanced and then choose Restore settings to their original defaults.
Click the Reset settings button.
Power Wash Your Chromebook
According to users, power wash can be also another useful fix for Chromebook keyboard not working. Do this by following these instructions:
Sign out of your Chromebook account.
Press Ctrl+Alt+Shift+R at the same time and click Restart.
Click the Powerwash button.
Confirm Powerwash by clicking Continue.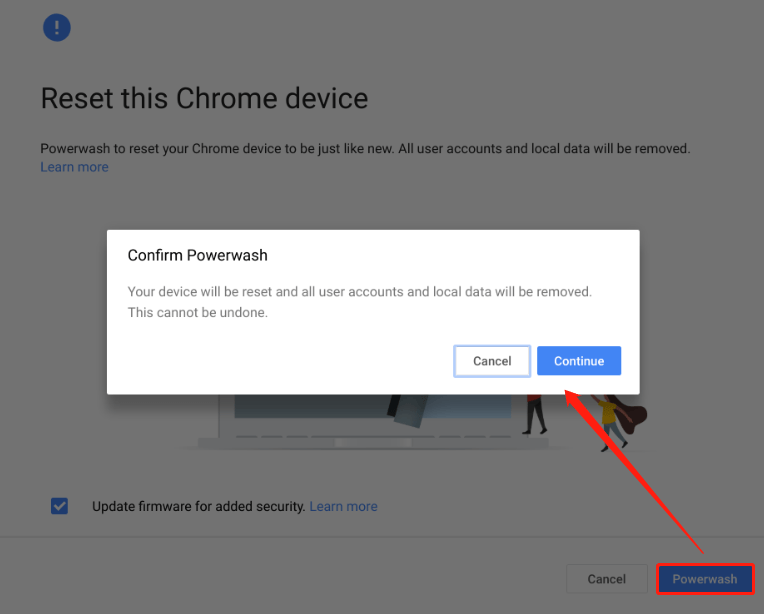 Finish the operation via the on-screen instructions. Then, you should use the keyboard. If it still fails to work, try another way.
Perform a Hardware Reset
A hardware reset is a good way to fix an unresponsive keyboard since this can reboot all the Chromebook's hardware components.
Follow these steps to do a hardware reset:
Completely power off your Chromebook via the Shut down option.
Press and hold the Refresh key.
Press and hold the Power button. You still need to hold the Refresh button at the same time.
Hold both keys for 10 seconds.
Firstly release the Refresh button but still hold the Power button.
Release the Power key.
Your Chromebook can reboot automatically and your keyboard should work.
EC Reset Your Keyboard
If none of these above ways can work to fix Chromebook keys not working, try to perform the EC (embedded controller) reset. This can discharge the controller and reset your Chromebook. It is a powerful reset method to fix keyboard-related issues.
Do these steps:
Turn on your Chromebook.
Remove the power cords.
Remove the battery from your Chromebook.
After waiting for a few seconds, put the battery back.
Is your Backspace, Spacebar, or Enter key not working in Windows 10/8/7? If yes, read this post and it will give you some simple methods to fix the issue.
Final Words
Is your ASUS, Lenovo, Google, or Samsung Chromebook keyboard not working? Try to fix it by following the above methods. If all of them cannot help you, you may need to go to your manufacturer and ask for help.