This essay composed on MiniTool official site introduces you with a common keyboard shortcut "Ctrl + F". It elaborates on the hotkey's function in different situations. Also, this post teaches you how to find a specific item with an iPhone webpage.
What Does Ctrl F Do?
Usually, Ctrl + F is the keyboard shortcut for launching a finding box. It is also known as "Control+F" and "C-F". Then, you can locate a specific character, word, or phrase within a document (e.g. Word or Excel) or a webpage by simply inputting it in the finding box. This hotkey is extremely useful for quickly finding something in a long article.
How to Operate Ctrl+F Hotkey?
It is just a piece of cake to use the Ctrl F shortcut. There are two Ctrl keys on a keyboard. Just press and hold either Ctrl key, then press the F key, finally, you will see a find box appearing on the screen of your current using document or web page.
Tip: For Ctrl on Mac, the corresponding shortcut that plays the same role as Ctrl-F on Microsoft Windows operating system (OS) is Command + F.
How to Use Ctrl F on Windows?
In general, the usages for hotkey Ctrl + f are similar in different situations.
Ctrl + F in Word
In the Microsoft Office Word app, you can use the Ctrl+f keys to find what you are looking for, text, comments, pictures…anything you want. Moreover, you can let it show the location of the target in Results (exactly where the target is), Pages (within which pages the target is), and Headings (on which headlines the target locates).
Ctrl + F in Excel
Being similar to its function in the Word document, Ctrl f is used for searching for a specific item in Microsoft Excel table contents.
Ctrl + F in PDF
Also, the same as in Office apps like PowerPoint and text document, if you want to find something specific in your PDF, just press Ctrl and F to trigger the search box and then type in the target characters.
Ctrl + F in Web Browser
For common Internet browsers including Google Chrome, Mozilla Firefox, Microsoft Edge, and Opera, the shortcut ctrl + F enables you to find a specific item out of the numerous information on the current webpage. 
Ctrl + F in Outlook
While in the email application Microsoft Outlook, instead of finding a specific text, ctrl+F forwards an email.
How to Ctrl F on iPhone?
Since there is a corresponding hotkey on Mac for the finding function, is there such a shortcut on iPhone to do that? Unfortunately, there is not. Yet, there is a way that can help you do the same thing. Just read the following methods for finding a specific item on the destination webpage on Safari.
Way 1. Search and Find from Safari Share Option
Step 1. Open Safari on your iPhone and navigate to the target webpage.
Step 2. When the page is fully loaded, tap the Share icon (a box-shaped icon with an arrow pointing out from the top) on the bottom of the screen.
Step 3. Next, a half menu screen will pop up. Just swipe the half screen up and find the Find on Page option and tap on it.
Step 4. Then, a keyboard with a search bar will appear. There, you can carry out your search for specific items on the target webpage.
Way 2. Search and Find from Safari URL Bar
Step 1. When the target page is fully loaded on Safari, tap on the URL link bar at the top and type the text you plan to search within this page.
Step 2. The page appearance will change. Just scroll down and find the On This Page column.
Step 3. Under the On This Page section, tap the find "<your text>" option to show the matched items on the target web page.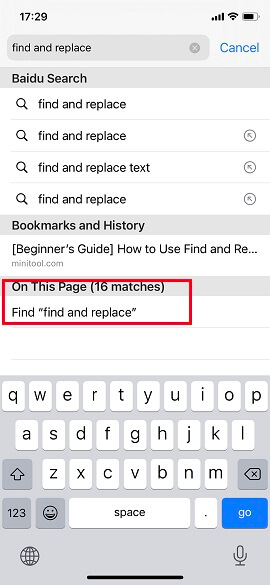 If you are using other web browsers on your iPhone, you can still do a quick search. For example, if you are using Chrome, you can tap the three dots on the bottom of the screen, tap the Find in Page option in the popup menu, and type in what you want to find.