What Does Ctrl+Z Do in Windows 11/10?
Ctrl+Z can reverse the last action you have taken on your Windows computer.
For example, Ctrl+Z in Word can delete the letters you have added in your last type. It can also reverse the letters you have deleted in your last action. On the desktop or in a folder, you can use Ctrl+Z to undo/redo deletion, undo/redo new, and more.
The keyboard shortcuts can make your operations easier. However, when Ctrl+Z not working on your computer, it will be an annoying thing if you are used to using keyboard shortcuts. For example, if Ctrl+Z in Word not working, you need to use the Backspace key to delete your last input or re-type the deleted word or sentence.
This issue can be fixed. We collect some easy solutions and show them here.
What If Ctrl+Z Not Working in Windows 11/10?
Solution 1: Restart Your Computer
The quick and easiest method to fix Ctrl+Z not working in Windows 11/10 is to restart your computer. This can remove the corrupt temporary files that might cause this issue. You can click the Windows icon > the Power button > Restart to restart your device.
After restarting your device, you can use Ctrl+Z again to check whether it can work normally again.
Solution 2: Update/Reinstall Your Keyboard Driver
If the keyboard driver is not up-to-date, Ctrl+Z not working issue can easily happen. To rule out this possibility, you can update your keyboard driver to have a try.
Right-click Start and select Device Manager.
Unfold Keyboards and right-click your keyboard. Then select Update driver or Uninstall device.
Follow the on-screen guide to update or uninstall your keyboard driver.
Restart your computer to execute the changes. If you uninstall the driver, Windows will automatically reinstall the latest version of the keyboard driver on your device.
Solution 3: Run Windows Troubleshoot to Fix the Keyboard
Windows has a snap-in troubleshooter that can be used to troubleshoot issues of your computer's components like the mouse, keyboard, camera, etc.
Go to Start > Settings > System > Troubleshoot > Other troubleshooters.
Scroll down to find Keyboard and click the Run button next to it.
The troubleshooter begins to run to detect issues on your keyboard. You should wait until the process ends. Next, you can follow the prompts to repair the keyboard.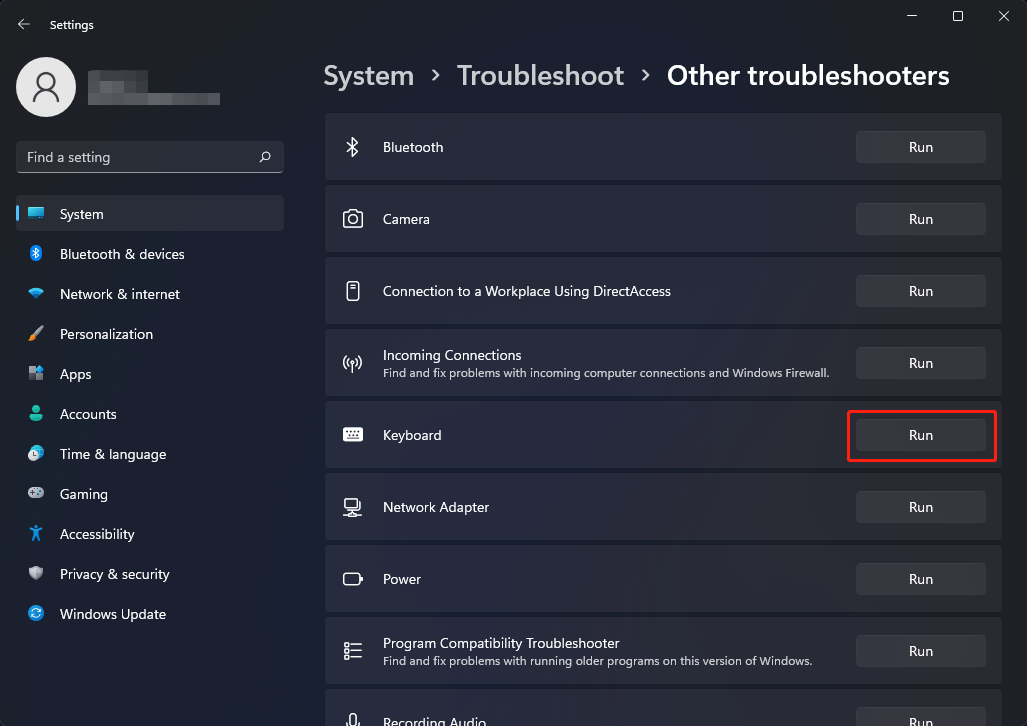 How to Undelete Files when Ctrl+Z Not Working in Windows 11/10?
When you delete a file or a folder by mistake, you can use Ctrl+Z to undelete it immediately. But this shortcut can't work all the time. If you can't use Ctrl+Z to undo delete, what should you do to restore your deleted files?
You can first go to Recycle Bin to check whether you can find your needed files. If yes, you can restore them from Recycle Bin.
If the files are permanently deleted, you will not find them in Recycle Bin. Then, you can use professional data recovery software to recover them. You can try MiniTool Power Data Recovery, which can recover data from all kinds of data storage drives like internal hard drives, external hard drives, memory cards, SD cards, and more.
You can first use the trial edition of this software to scan the drive you want to recover data from. If you can find your needed files from the scan results, you can use a full edition of this software to recover them to a suitable location.
Bottom Line
Ctrl+Z not working in Windows 11/10? After trying the methods mentioned in this post, the issue should be solved. If you have other issues that need to be fixed, you can let us know in the comments.