"D3dx9_43.dll is missing" error message usually appears if you don't have the necessary version of DirectX installed. If you have no idea, then you should read this post from MiniTool carefully. This post will show you how to fix it.
D3dx9_43.dll Is Missing
The d3dx9_43.dll file is one of many files included in the DirectX software collection. Since most Windows-based games and advanced graphics programs use DirectX, d3dx9_43.dll errors usually occur only when using these programs.
D3dx9_43.dll errors can show up on your PC in many ways. Here are several of the more common specific d3dx9_43.dll error messages you might see:
1. DLL Not Found
2. The file d3dx9_43.dll is missing
3. File d3dx9_43.dll not found
4. Dll not found. Reinstalling might help fix this.
Then, I will introduce how to fix the "d3dx9_43.dll missing" error.
How to Fix the "D3dx9_43.dll Missing" Issue
Method 1: Reinstall DirectX
If you do not have the required version of DirectX installed, the D3dx9_43.dll missing error message usually appears. To fix this, you can download DirectX directly from the Microsoft website.
Method 2: Update Your Device Drivers
You can also try manually updating drivers through Device Manager. Check the how-to guide below.
Step 1: Open Device Manager.
Step 2: Double-click the device category and select the device that you want to update its driver.
Step 3: Then right-click it to choose the Update driver option.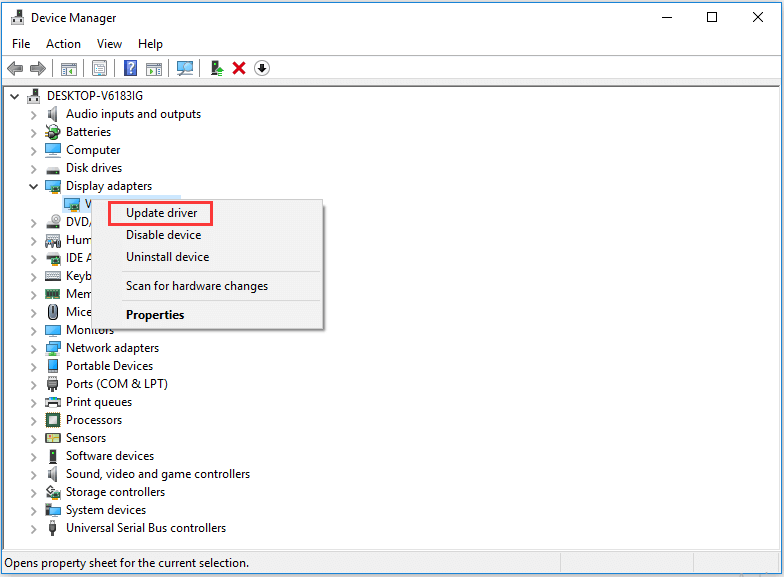 Step 4: After that, you can choose the Search automatically for updated driver software option, and Windows will search your computer and the Internet for the latest driver software for your device.
If there is a newer update, it will be downloaded and installed automatically. Then, check to see if the d3dx9_43.dll problem still exists.
Method 3: Perform an SFC and DISM Scan
Windows system files corruption can cause the issue. In such an event, you can use two command-line utilities – SFC (System File Checker) and DISM(Deployment Image Servicing and Management) to fix your Windows system files.
Here is how to use SFC to fix corrupt system files:
Step 1: Input Command Prompt in the search bar and click Run as administrator from the context menu.
Step 2: Type the following command and press Enter.
sfc /scannow
After the verification is 100% completed, you can check the scan results to see if there are some errors found. If some errors are found, you can run the SFC command several times to try to fix them.
Then here is how to use DISM to fix the corrupted system files, read this post - Repair Windows 10 Image with DISM and Other Useful Tips for DISM.
Method 4: Install the Latest Updates
Regardless of the operating system version you are using, it is always considered the good practice to install the latest security updates.
Step 1: Press the Win + I keys at the same time to open Settings and then choose Update & Security.
Step 2: Click Windows Update and then click Check for updates on the right side of the screen.
Step 3: If there are updates available, Windows will start to download them automatically. Then restart your computer to perform the installation process.
The End
Here is all the information about d3dx9_43.dll. You can also know how to fix the missing issue of it from this post. If you encounter this error, you can try the methods mentioned above.