Deleting temporary files is a good way to free up some disk space. If you don't clean temporary files regularly, they can take up much storage space and cause the PC to run slowly. It is safe to delete temporary files in Windows 11 and MiniTool Software will show you some effective ways.
On your Windows 11 PC, there may be many temporary files from application data, error logs and data, browsing data, window updates, installation files, and more. These files occupy a lot of space on the hard drive, having an influence on the computer performance. Clearing them periodically can guarantee the system's efficient functioning.
Related article: What Are Temporary Files and How to Delete?
A Simple List of Temporary File Types in Windows 11
Downloads
Windows Update Cleanup
Windows Upgrade Log Files
Windows ESD Installation Files
Temporary Files
Temporary Internet Files
Thumbnails
Microsoft Defender Antivirus
Device Driver Packages
If a file type is not displayed on your Windows 11 computer, perhaps it doesn't exist. Well then, is it safe to delete temp files? Just as its name implies, temporary files only contain information for temporary use and you can delete them, which won't affect the original file. In the following part, we will show you how to delete temporary files in Windows 11.
How to Clean Temporary Files in Windows 11
There are multiple ways to delete temp files in Windows 11 and now let's get started.
Remove Windows 11 Temporary Files via Settings
1. Click the Start button from Taskbar and choose Settings. Or you can directly open the Windows Settings app by pressing Win + I.
2. On the System page, go to Storage, wait for a while and click Temporary files.
3. You can see the temporary file types on your computer. Just check the box of the files that you want to delete and uncheck the ones that you want to keep, then click Remove files to delete them.
Delete Temp Files Windows 11 via Disk Cleanup
Disk Cleanup is a utility in Windows that is designed to free up the disk space of your computer. It can search and analyze the hard drive for files that are out of use and then delete these unnecessary files.
Here is how to delete temporary files in Windows 11 using Disk Cleanup:
Type disk cleanup to the search box of Windows 11 and run it.
Select a drive that you want to clean up and click OK to continue.
After finishing the scan, this program lists the files that can be deleted. Tick the box of files that you want to delete and click OK.
If you find this only frees up a bit of space, you can use Disk Cleanup to delete system files. Just click Clean up system files, select a drive, check the boxes of files to be deleted, then click OK and choose Delete Files.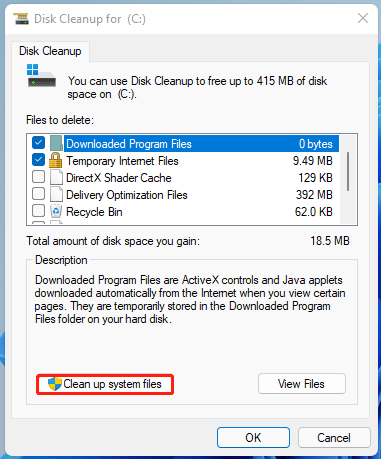 Clean Temporary Files in Windows 11 via Command Prompt
If you are a terminal enthusiast, you may use Command Prompt to delete temporary files on your computer.
Open Command Prompt or CMD in Windows 11 with administrative privileges.
Paste and copy the command – del /q/f/s %TEMP%\* to the CMD window and press Enter. The temporary files will be removed from your computer.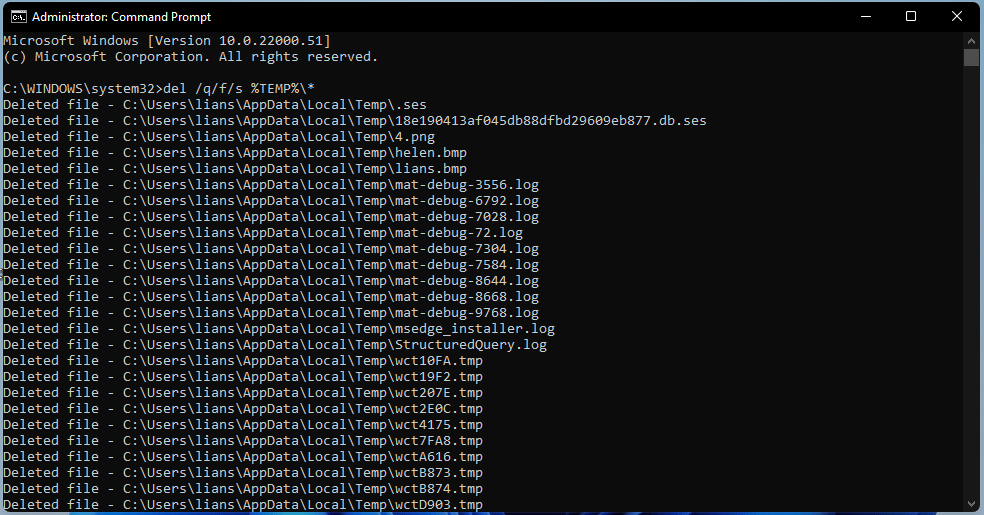 Delete Temporary Files via File Explorer
You can manually delete Windows 11 temporary files in File Explorer. These files go to Recycle Bin and you can recover them if needed.
Press Win + R to get the Run window, type %temp% and click OK to open the Temp folder in File Explorer.
Press Ctrl + A to select all the files in this folder, right-click on them and choose Delete from the context menu to delete them.
Use Storage Sense to Automatically Delete Temporary Files
In addition to deleting temporary files manually, you can configure Storage Sense in Windows 11 as per your requirement to automatically clean these files.
Open Windows 11 Settings and go to System > Storage > Storage Sense.
Turn the toggle of this feature to On.
Click on the Storage Sense section and then configure various options under Configure cleanup schedules. Also, make sure the box under Cleanup of temporary files is checked. It will automatically delete temporary files on your system depending on your settings.
Tip: To use Storage Sense to clean temporary files right away, you can click Run storage sense now.
Those are all the ways to delete temporary files in Windows 11. This can free up some disk space but this is not enough. To get more space, you can also try other methods in this post – 10 Ways to Free up Disk Space in Windows 11/10.