Microsoft is so considerate that it notices users' huge needs for protecting sensitive data and provides them with a built-in option to encrypt the hard drive on PC. MiniTool Solution will discuss on the topic – device encryption Windows 11 – in this article to help Windows 11 users prevent their personal data from being accessed by others.
What Is Device Encryption Windows 11
Encryption is a popular way to help people secure digital data using one or more mathematical techniques and providing a password or security key used for decrypting the information. Encrypting sensitive and important data is a good choice for you to protect them from being viewed or edited by other people without your permission.
Well, device encryption Windows 11 refers to the feature designed to protect users' data on Windows 11 devices. Actually, the device encryption is also available on other Windows systems like Windows 10, in addition to Windows 11.
How To Fix The Device Encryption Is Temporarily Suspended Error?
Tip: You'd better get a powerful data recovery tool that works with Windows 11 to protect your important files from lost permanently due to mistaken deletion, virus attack, or any other types of disasters.
MiniTool Power Data Recovery TrialClick to Download100%Clean & Safe
Device Encryption vs. BitLocker
Lots of people are curious about Windows Device Encryption vs BitLocker, so I'd like to discuss it in brief.
Both device encryption and BitLocker drive encryption are security features designed by Microsoft to help Windows users protect their data.
Device encryption uses one or more mathematical techniques to secure data while BitLocker device encryption uses the AES encryption algorithm in cipher block chaining (CBC) or XTS mode to secure data.
Here's the biggest difference between device encryption and BitLocker Device Encryption: Device encryption is available on devices that support Modern Standby and it is available on all Windows 11 editions; the standard BitLocker encryption is only available on supported devices running Windows 11 Pro, Windows 11 Enterprise, or Windows 11 Education (it's not available on Windows 11 Home edition).
FYI: device encryption is available on supported devices running all the editions of Windows 10 while BitLocker is a full volume encryption feature included in Windows 10 Pro, Enterprise, or Education (BitLocker is not available on Windows 10 Home edition).
What about Automatic Windows Device Encryption
The automatic device encryption is very awesome; it allows your Windows system to encrypt the system drive automatically as long as you have completed the setup of your system.
Is automatic device encryption available for all users? Of course not.
The SSD (Solid-State Storage) or Emmc and nonremovable RAM is required for the implementation of Windows automatic device encryption.
The automatic device encryption is only supported when your system meets the requirements and satisfied the Connected Standby or Modern Standby specifications.
The automatic device encryption will only be started when 1). the OOBE (Out-Of-Box Experience) is finished; 2). a Microsoft Account is used on users' system.
How to Use Device Encryption Windows 11
How to make use of Windows Device Encryption on Windows 11? By enabling device encryption, you're able to protect your data from being accessed by people who haven't been authorized. However, the device encryption feature is not available on all devices. If you can't find it on your device, please go to turn on the standard BitLocker encryption instead.
Device Encryption Not Showing/Found/Appearing On Windows.
How to Enable Device Encryption on Windows 11
How to enable device encryption?
Open Settings app by pressing Windows + I.
Select Privacy & security from the left pane.
Click Device encryption from the right pane.
Flip the switch of Device encryption to On.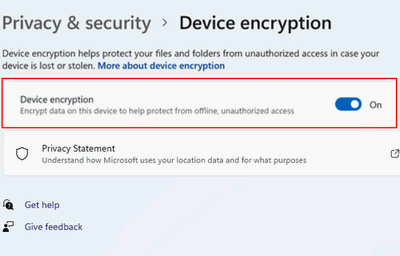 How to disable device encryption? You should repeat step 1 ~3 and then turn Off the Device encryption feature.